Protesters Flood Boston Airport After CBP Allegedly Detains Iranian Student With Visa and Tries to Deport Him
Dozens of protesters flooded Boston's Logan International Airport on Monday to demand the release of an Iranian university student who was allegedly barred from entering the country and detained by the U.S. Customs and Border Protection agency, despite having a valid visa.
Attorneys for Shahab Dehghani, a 24-year-old economics student at Northeastern University, have maintained that the Iranian national had all the right permissions to enter the U.S., having obtained an F1 student visa to attend school for the spring semester.
In a Twitter post, one of Dehghani's attorneys, Susan Church, called for residents in Boston to join the growing protest at the Logan International Airport's E terminal.
"Don't deport Shahab, stop deporting students," protesters chanted, holding signs calling on officials to "stop discrimination against Iranians" and to "protect students."
According to a legal filing provided by Church to The Boston Globe, Dehghani had initially been admitted to Northeastern for the 2018-19 academic year and had submitted his visa application 2018.
The background checks for the visa application ended up taking nearly a year, however. So, when Dehghani finally received his student visa from the State Department last week, he decided to make his way to the U.S. to prepare for the spring semester.
"He went through an extensive processing period," Church told The Globe. The investigation, the attorney said, involved having "overseas investigators investigate his family...they speak to employers, they do a very thorough investigation."
Despite that, the 24-year-old student still reportedly found himself being detained at Logan International Airport and informed that he would not be permitted entry into the country.
With the help of attorneys, the Northeastern student was able to obtain an emergency stay of removal from a judge. According to a tweet from Church, he is expected to appear before a judge at 10 a.m. Tuesday in U.S. District Court in Boston to fight his case.
Dehghani "does not pose any threat of terrorist activity and has no criminal record in any country," the filing obtained by the Globe reportedly states. "It is unclear why [Customs and Border Protection] would now decide, after conducting a full visa issuance process, that Plaintiff's student visa should be revoked."
In a statement sent to Newsweek, CBP said the agency was "not at liberty to discuss an individual's processing due to the Privacy Act."
"CBP officers are charged with enforcing not only immigration and customs laws, but they also enforce over 400 laws for 40 other agencies and have stopped thousands of violators of U.S. law," the spokesperson said.
"Applicants must demonstrate they are admissible into the U.S. by overcoming all grounds of inadmissibility including health-related grounds, criminality, security reasons, public charge, labor certification, illegal entrants and immigration violations, documentation requirements, and miscellaneous grounds."
It is unclear how exactly the statement might apply to Dehghani's case.
While many have called on officials not to "deport" Dehghani, CBP makes clear in its terminology that deeming someone inadmissable at a U.S. entry point is not the same as someone being deported. With Dehghani expected to appear in court on Tuesday morning, however, it is unclear whether his removal would qualify as being denied entry into the U.S. or being deported, given the lack of information around the circumstances of his case.
Protests at the Logan International Airport, which drew dozens of people on Monday, quickly drew the attention of 2020 Democratic hopeful Sen. Elizabeth Warren, who joined calls for Dehghani's release with a statement on Twitter.
"Shahab Dehghani is an Iranian student with a valid F1 visa, returning to finish his education," Warren wrote. "CBP already held him overnight. His deportation must be halted, and we must fight the Trump administration's xenophobic policies," she said.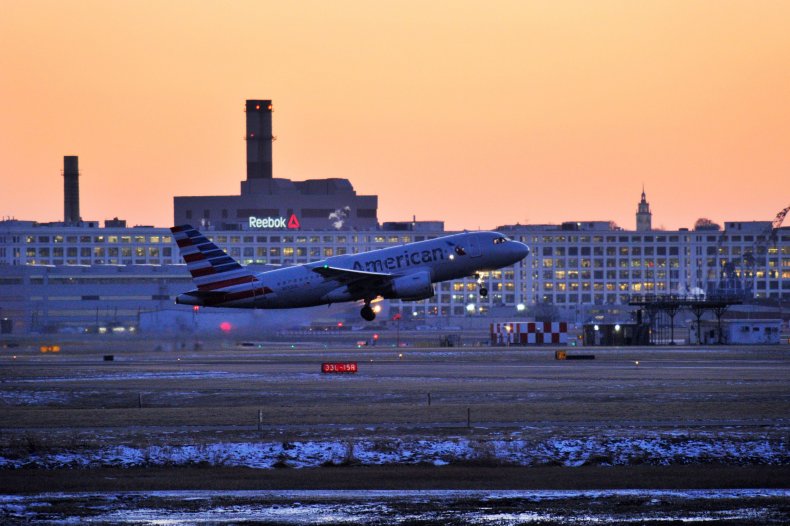 Massachusetts Rep. Joe Kennedy III also weighed in on the situation, sharing a video of the protests and warning the Trump administration that "turning away those who make this nation a better place is no way to govern."
"This president treats every immigrant as a terrorist—that's not what this nation was founded upon," Kennedy said. "Let him stay."
Newsweek has contacted Warren and Kennedy for further comment.
In a statement sent to Newsweek, a Northeastern University spokesperson said the school was in touch with federal officials about the case of an Iranian student being denied entry to the United States.
"We have been in touch with federal officials to learn more about this case and to provide our student with the appropriate assistance to facilitate a successful return to Northeastern," the spokesperson said, adding that the school "welcomes thousands of international students and supports them with an array of resources."
According to Church and at least one other immigration attorney, Dehghani is not the only Iranian student to be "deported" from the U.S. by CBP agents operating at the Boston airport.
In a tweet, Mahsa Khanbabai, an Iranian American immigration attorney who serves as the chair of the American Immigration Lawyers Association's (AILA) New England branch, said Dehghani was one of "many Iranian students 'deported' by CBP Logan since [August] 2019."
Those students, Khanbabai said, were "legit students, vetted thoroughly by many agencies, granted visas & then treated like this by CBP w/ no explanation."
The incident comes after CBP faced widespread scrutiny after dozens of Iranian Americans reported being detained for hours and interrogated on their ties to Iran at a border crossing in Washington state earlier this month.
CBP repeatedly denied the alleged incidents in a blanket statement, however, claiming that "social media posts that CBP is detaining Iranian Americans and refusing their entry into the U.S. because of their country of origin are false."
Washington state's own Lt. Governor Cyrus Habib, who is Iranian American, accused the agency of lying and "gaslighting" the Iranian American community, with the politician asserting that he had heard first-hand accounts from people he has known for years who said they were detained and questioned at the border crossing.
At the time, CBP had been operating with an enhanced posture at its ports of entry amid high tensions between the U.S. and Iran.
Contacted for comment, a White House spokesperson referred Newsweek to the National Security Council, which did not provide an on-the-record response.
The graphic below, provided by Statista, illustrates how the Trump administration's travel ban has resulted in a reduction of immigration from affected countries.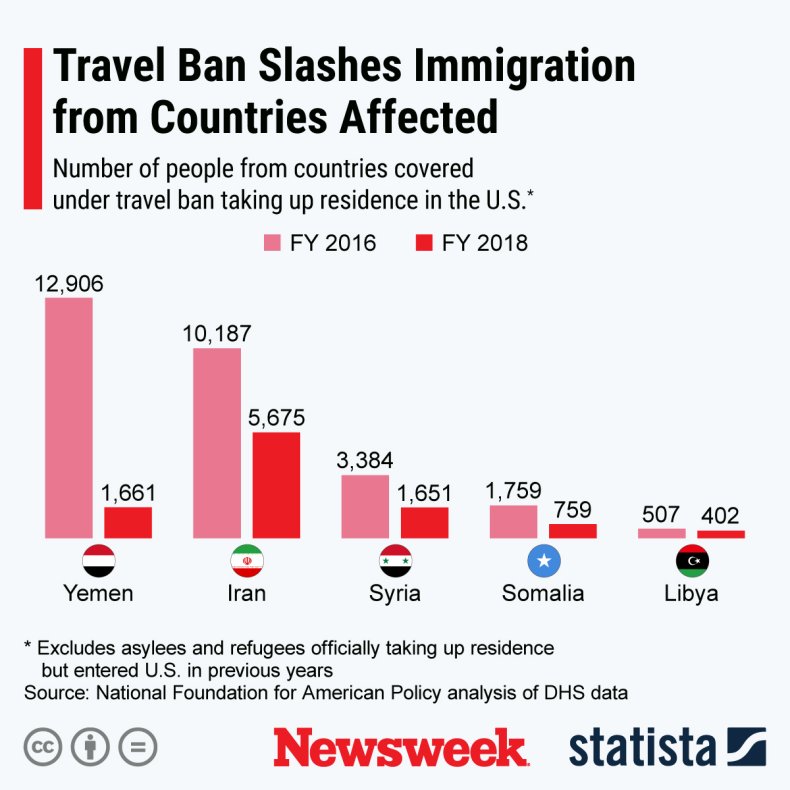 Updated: This article has been updated with a statements from CBP and Northeastern University. This article was updated to include an infographic.