Iraq Battles Aircraft After Strikes Blamed on Israel and U.S. Against Iran Allies
Iraq's paramilitary forces opened fire on a spy aircraft near the capital shortly after vowing to defend the skies from foreign foes in the wake of recent strikes blamed on Israel and the United States.
In a video posted Thursday by the media wing of Al-Hashd Al-Shaabi, or Popular Mobilization Forces, an Iraqi state-sponsored group of militias with ties to Iran, fighters of the 12th Brigade can be seen shooting an anti-aircraft gun at what was said to be "a reconnaissance aircraft flying over the headquarters of the brigade in the Baghdad Belts" that connect the capital to the suburbs.
"It appears that the air defenses of Al-Hashd thwarted the mission of the enemy aircraft," an accompanying statement read.
The following day, unnamed U.S. officials speaking to various outlets such as the Associated Press, The New York Times, The Wall Street Journal and Fox News confirmed Israel's involvement in recent strikes targeting Popular Mobilization Forces positions. At least one of the strikes were said to have been launched from within Iraq, further lending to local suspicions that the U.S. was also involved.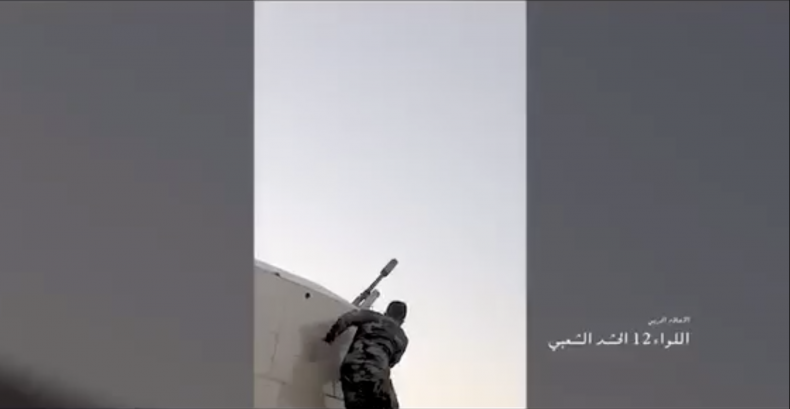 Baghdad, once a bitter foe of Washington and Tehran, has considered both allies in the years following the 2003 U.S.-led invasion that overthrew Iraqi President Saddam Hussein. As U.S.-Iran tensions arise, the country has repeatedly vowed to not allow itself to become a battleground for the two longtime adversaries only briefly brought together in their common interest of battling the Islamic State militant group (ISIS).
Iran helped to rally the Popular Mobilization Forces, a largely Shiite Muslim collective that also included Sunnis, Christians, Yazidis and other minority communities, while the U.S brought together a coalition of nations and redeployed some troops to defeat the attempted jihadi takeover. With ISIS declared defeated in late 2017, however, the U.S. and Iran have once again turned on one another, while another old Iraqi foe entered the mix.
As the U.S.-Iran drama played out in the Persian Gulf in recent months, a series of explosions have hit bases of the Popular Mobilization Forces throughout the country. The latest struck on Tuesday near the Balad Air Base in Salaheddin province just days after an earlier blast at the Al-Saqr base killed at least one person and injured dozens more near the capital, prompting Iraqi Prime Minister Adel Abdul-Mahdi to enact tighter air regulations.
On Friday, Iraq's National Security Council confirmed this decision to "cancel flight approvals for all types of aviation in Iraqi airspace, except with the approval of the commander-in-chief of the armed forces or his authorized representative." The council also reiterated the country's support for the Popular Mobilization Forces, even as it became increasingly clear that Israel was behind these attacks.
Israeli Prime Minister Benjamin Netanyahu himself has helped stoke existing speculation as to Israel's involvement in the ongoing attacks, telling reporters last Thursday that "Iran has no immunity, anywhere" and that "we will act — and currently are acting — against them, wherever it is necessary" in comments reminiscent to the leadup of Israel's years-long campaign against Iran-backed militias in neighboring Syria.
On Thursday, the Israeli leader appeared to all but confirm his country's role in Iraq. Asked by Kan TV if Israel was behind the strikes, he responded: "We act in many arenas against a country which desires to annihilate us. Of course, I gave the security forces a free hand and the instruction to do what is needed to thwart these plans of Iran."
Popular Mobilization Forces deputy commander Abu Mahdi al-Mohandes then issued a statement Wednesday officially blaming Israel, whose drones he said the U.S. helped smuggled into its bases in Iraq via Azerbaijan. He warned: "We have no choice but to defend ourselves and our headquarters with our existing weapons and to use more sophisticated ones."
"We have waited for this period until all our investigations have been thoroughly completed," he added. "We have informed the Joint Operations Command that we will consider any foreign aircraft flying over our headquarters without the knowledge of the Iraqi government hostile aviation and will deal with it accordingly, using all methods of deterrence to prevent an attack on our headquarters."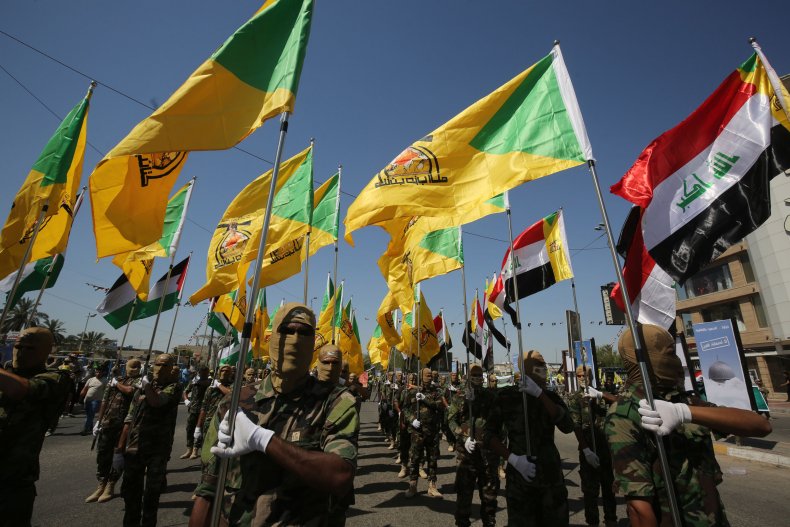 The U.S.-led coalition responded in a tweet saying that its mission "is solely to enable our Iraqi Security Force partners in the mission of an enduring defeat of Daesh," using the Arabic-language acronym for ISIS. "We operate in Iraq at the invitation of the Government of Iraq and comply with their laws and direction."
Iran, which just unveiled a new surface-to-air missile system of its own, has vowed to defend Iraq from Israel as it did ISIS. While Israel has continued to launch semi-regular raids against forces suspected to be Iranian or under Iranian control in Syria, Iranian Defense Minister Amir Hatami emphasized during a meeting earlier this week with Iraqi Interior Minister Yassin Taher al-Yasiri that "we consider Iraq's security to be our own security and we strive for Iraq's stability and security as much as our own."
Meanwhile, one Popular Mobilization Forces group with particularly close ties to Iran and already designated a terrorist organization by the State Department, issued a new threat to the U.S. over its involvement in recent events. In a statement released Thursday, Kataib Hezbollah sent "a final warning to the American enemy that any new targeting of any Iraqi site will be punished by a cruel and crushing response, in which you will taste a violent death."
"Your forts will not protect you, for they are all under the range of our missiles and their horrible roar," the group added. "You must only go with your illusions, for we are people of words and actions you can be sure that if the confrontation begins, it will not end until you have been permanently removed from the region and you will then known the price you will pay."