U.S. Now Needs Iraq's Permission to Drop Bombs There
The United States and its coalition allies against the Islamist State militant group (ISIS) in Iraq have agreed to new, stricter airspace regulations issued by the government after a mysterious explosion that caused dozens of civilian casualties.
No official cause has been identified for the blast Monday that rocked the Al-Saqr military base, killing at least one person and injuring more than a dozen others, but theories ranged from an accident to airstrikes by Israel against the site known to house arms belonging to Iran-backed militias within the Iraqi armed forces. Iraqi Prime Minister Adel Abdul-Mahdi ordered an investigation and, citing the leader, Defense Ministry spokesperson Yahya Rasool announced Thursday "the cancellation of all approvals for aviation in Iraqi airspace."
The decision applied "to all Iraqi and non-Iraqi parties" and included "reconnaissance, armed reconnaissance, fighter planes, helicopters and drones of all kinds." Anyone wishing to fly would now need the "exclusive approval of the General Commander of the Iraqi Armed Forces or his authorized representative," otherwise aircraft "will be deemed to be hostile aviation and handled immediately by our air defenses."
On Friday, the U.S.-led coalition issued a statement saying it "immediately complied with all directions received from our Iraqi partners as they implemented the Prime Minister's order."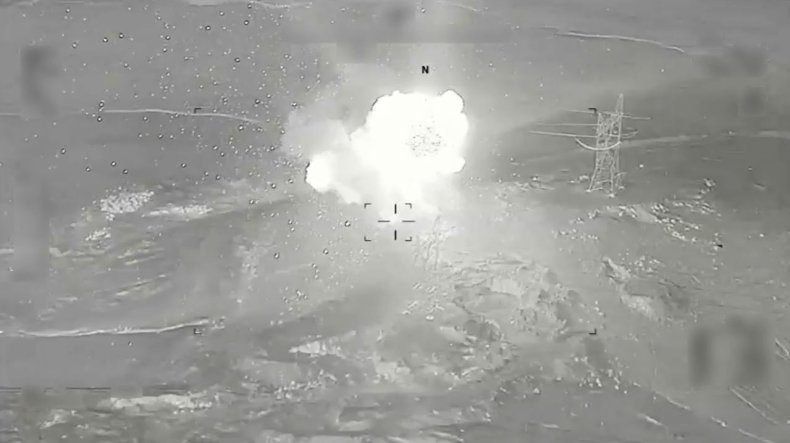 The U.S. Air Force and its allies have been operating over Iraq with or without the country's permission for over 25 years and especially so since invading and overthrowing the Iraqi President Saddam Hussein in 2003 — a decision based on claims of weapons of mass destruction production and Al-Qaeda ties that later proved untrue. As the U.S. occupied and consolidated power in the destabilized country, its forces were faced with a violent Sunni Muslim insurgency led by Al-Qaeda along with opposition from Shiite Muslim paramilitary groups backed by Iran.
As a new majority-Shiite Muslim administration was formed in Baghdad and the U.S. withdrew troops in the following years, Al-Qaeda merged with like-minded jihadis into what eventually became known as the Islamic State militant group (ISIS). As the new Islamist organization began to take over the country in 2014, Iran helped again to mobilize Shiite Muslims and other communities into what became known as the Popular Mobilization Forces while the U.S. formed an international coalition to halt and reverse ISIS' rapid gains.
As noted in Friday's statement, the U.S.-led coalition's forces "operate within Iraq at the request, and under the protection, of the Government of Iraq and in partnership with Iraqi Security Forces." While the Popular Mobilization Forces were initially just allied with the Iraqi military, they have since been totally integrated into the armed forces since victory was declared over ISIS in late 2017.
The paramilitary organization consists of several groups of mostly Shiite Muslim in character, but also including minorities such as Sunni Muslims, Christians and Yazidis. Of the organization's member groups, Kataeb Hezbollah has been officially designated a terrorist organization by the U.S., and Washington has blacklisted others like the Harakat Hezbollah al-Nujaba and Asaib Ahl al-Haq.
Whereas the Washington and Tehran both operated on behalf of the government in the fight against ISIS in Iraq, they were at odds in Syria, where the jihadis also spread, taking advantage of a 2011 rebellion backed by the U.S. and its regional allies. Iran also managed to facilitate the deployment of mostly Shiite Muslim militias in support of the Syrian government, which in 2015 received direct backing from Russia, largely swinging the conflict in Damascus' favor.
As pro-Syrian government forces staged a cross-country offensive, the U.S.-led coalition officially allied itself with a mostly Kurdish group, leaving behind the increasingly Islamist opposition in Syria. With ISIS largely defeated, the two rival campaigns established themselves as the top actors in Syria, with Damascus and its international allies taking the lion's share of the country.
The proliferation of Iranian forces and militias suspected of being under the command of Iran has raised concerns not only for the U.S., but for Israel, which has conducted hundreds of strikes against such forces it deemed to be a threat to its national security. Frustrated by these attacks, Iran has reportedly moved a number of forward missile bases into Iraq, where Israel has also publicly threatened to strike.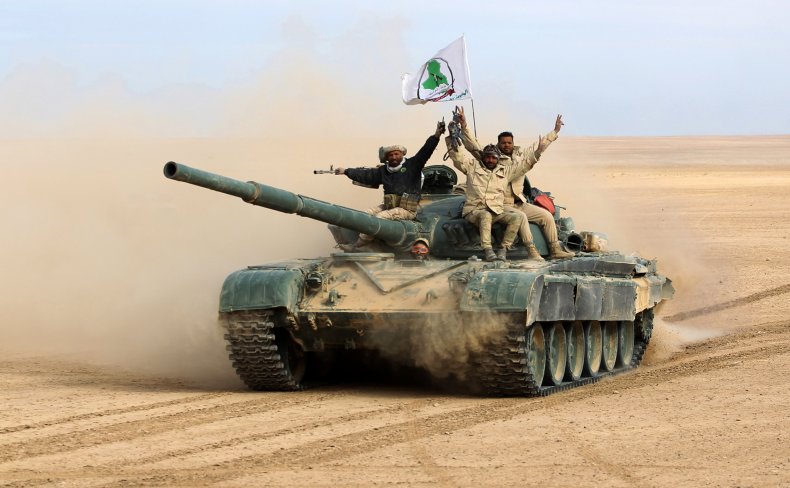 Citing Western diplomatic sources, Saudi Arabia's Asharq Al-Awsat newspaper reported late last month that Israel was behind airstrikes against what was purported to be storage depots for rockets used by Iran and its allies at the Amerli base in Salaheddin province and Ashraf military base in Diyala province. The U.S.-led coalition said its forces "were not involved" in the first incident and many began to point to Israel, which long refused to reveal its years-long campaign in Syria.
Asharq Al-Awsat reported Wednesday, again citing an unnamed security source, that Israel was behind the most recent strike. Former Iraqi Deputy Prime Minister Baha al-Araji also blamed Israel in a tweet Wednesday, but the current Iraqi leader has opted to wait for the results of what is to be a week-long investigation.
If true, they would be the first Israeli strikes against Iraq since a 1981 air raid that targeted a nuclear reactor southeast of Baghdad. It may also complicate U.S. efforts to distance neighboring Iraq and Iran as Abdul-Mahdi warned he would not allow his country to become a battleground for rising tensions between the longtime foes.