Explosions rocked once again rocked military positions in Iraq just days after the country imposed new airspace restrictions and Israel hinted it would target Iran there.
Iraq's Civil Defense announced Tuesday that firefighters managed to contain a fire that broke out at a site in Balad, a city in Salaheddin province north of Baghdad, following a series of blasts of yet undetermined cause. Iraqi Defense Minister Najah al-Shammari also flew to the nearby Balad Air Base, an installation known to host U.S. forces and contractors, and visited the site, confirming there were no casualties and ordering his men to search the premises.
Various outlets such as Al Jazeera and BBC cited unnamed Iraqi officials who identified the site of the explosions as a base for one of the state-sponsored militias comprising the Popular Mobilization Forces, a mostly Shiite Muslim gathering with ties to Iran. Reuters cited one paramilitary official as saying the site was targeted by air.
The incident comes just over a week after another arms depot explosion killed one person and injured more than a dozen others outside of Baghdad and a month after two more explosions at sites elsewhere in Salaheddin and the Diyala province, fueling speculation that Israel had expanded its anti-Iran campaign in neighboring Syria.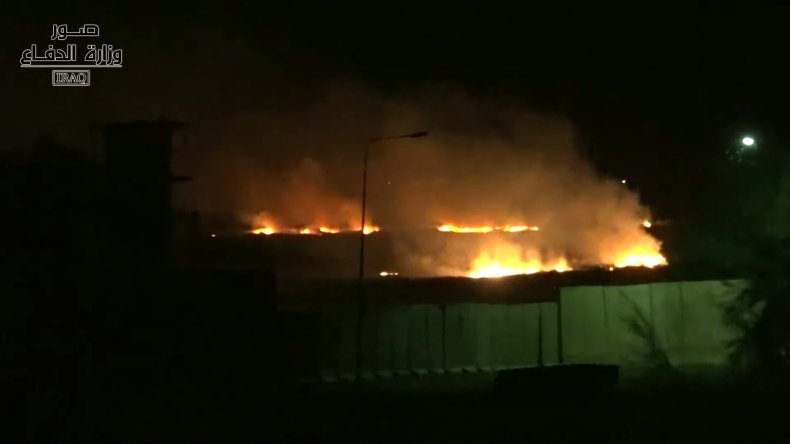 Since overthrowing the government in 2003, Washington has generally worked alongside Baghdad, while remaining critical of Tehran's close ties as all three tried to tackle a growing Islamist insurgency led first by Al-Qaeda and later by the Islamic State militant group (ISIS). With the jihadis largely defeated and U.S.-Iran tensions on the rise, however, Iraqi Prime Minister Adel Abdul-Mahdi has warned he would not let his country become a battleground for the two foes.
The U.S.-led coalition against ISIS has denied its participation in the previous attacks, however, and announced Friday it would comply with new, stricter regulations announced by Iraq. The new policy canceled all previous permissions granted for Iraqi and non-Iraqi aerial forces and stated that parties much ask new permissions or be treated as "hostile aviation." As an investigation into the most recent blasts continued, eyes were on another suspect, Israel, which has launched hundreds of attacks against alleged Iran-associated sites in Syria and has vowed to take this campaign elsewhere too.
Israeli Prime Minister Benjamin Netanyahu further fueled this speculation told reporters Thursday that "Iran has no immunity, anywhere" as quoted by The Times of Israel. He added: "We will act — and currently are acting — against them, wherever it is necessary."
Netanyahu gave similar statements ahead of revealing Israel's years-long campaign in Syria, where Iran has also been accused of using allied groups to set up forward bases. Like Washington, Tehran has argued the presence of its forces and those of partnered fighters were necessary to battle terrorism, though both foes accuse one another of sponsoring militant groups responsible for destabilizing the region.
Such claims led President Donald Trump's administration last year to abandon a 2015 nuclear deal with Iran that was opposed by Israel but endorsed by China, the European Union, France, Germany, Russia and the United Kingdom. Despite Tehran's compliance with the agreement, Washington has slapped the Islamic Republic with strict sanctions designed to undermine its economy and leadership.
Tensions accelerated between the longtime foes in the Persian Gulf region in recent months as the U.S. accused Iran of attacking commercial vessels in the Gulf of Oman and both claimed to have downed one another's drones in the Strait of Hormuz. The Trump administration has called for a multinational maritime security initiative to safeguard the flow of goods in the region, but so far the only participant was the U.K., which recently released a detained Iranian oil tanker despite an appeal by the U.S. not to.
Israel too has expressed interest in joining such a coalition, angering Iran and frustrating U.S. allies on the Arabian Peninsula who do not formally recognize Israel but have informally joined it in a coalition meant to isolate Iran. As he sought to muster regional opposition toward Israeli presence in the region, Iranian Defense Minister Amir Hatami said earlier this month that such a move "could be very provocative and have disastrous consequences for the region."