Iraq, Syria Oppose Trump's Middle East Peace Plan, Creating Further Tensions Where U.S. Troops Deployed
Iraq and Syria, two Middle Eastern powers where U.S. troops are deployed in active combat zones, have come out against President Donald Trump's Israeli-Palestinian peace plan, further raising questions about Washington's foreign policies at a time of heightened tensions across the region.
The political side to Trump's "Vision for Peace, Prosperity and a Brighter Future" that was introduced Tuesday envisages giving Israel control over internationally-unrecognized Jewish settlements in the West Bank and East Jerusalem along with the Jordan Valley eastern border region in exchange for some new Palestinian desert territories in the southwest and a tunnel linking the West Bank and Gaza Strip. Palestinians would also be given a path to potential statehood with a prospective capital in East Jerusalem, but—particularly controversially—on the outskirts of the holy city, almost all of which would remain under Israeli control.
The proposal was immediately rejected by Palestinian leadership, which did not participate in formulating the roadmap, and it received mixed reviews across the region, including among close U.S. partners. On Wednesday, the Iraqi Foreign Ministry issued its own opposition.
"Iraq stands with its Palestinian brothers in their legitimate rights guaranteed by international legitimacy, Security Council resolutions and their right to return to their homes and lands," the ministry said, arguing that Jerusalem and its holy sites were "still under occupation" and calling for a Palestinian capital there, along with "the restoration of all occupied lands to Syria and Lebanon."
Across the border, the Syrian Foreign Ministry expressed on Wednesday its "strong condemnation and absolute rejection of the so-called 'deal of the century,' which represents a prescription to surrender to the usurping Israeli occupation." Like Baghdad, Damascus called for international support in "guaranteeing the legitimate rights for the Palestinian people, above all, the right to return and to establish an independent sovereign Palestinian state with Jerusalem as its capital."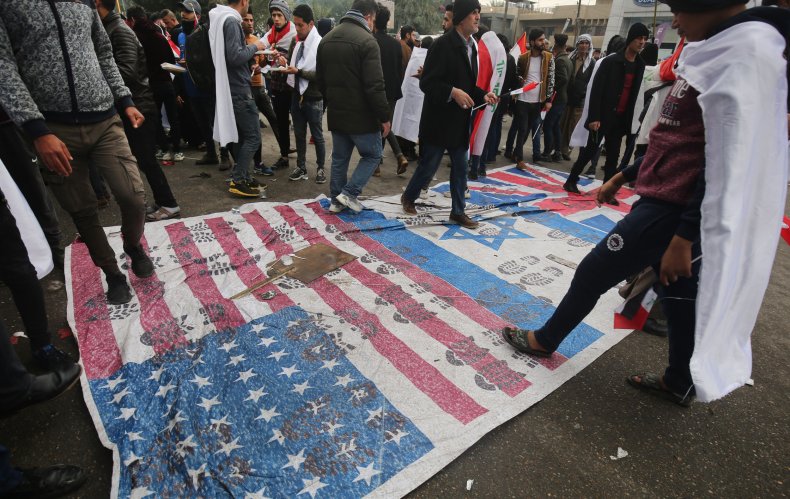 The U.S. currently has an estimated 6,000 troops in Iraq and 800 in Syria as part of a Pentagon-led international coalition against the Islamic State militant group (ISIS) launched in 2014. These deployments came at Baghdad's request but without permission from Damascus, and, with ISIS' defeat in recent years and newfound tensions between the U.S. and Iran, both countries have increasingly called for the United States to withdraw.
Tehran considers Baghdad and Damascus allies and helped the two governments battle ISIS, especially through the mobilization of mostly Shiite Muslim militias from across the region. These groups, which style themselves as part of an "Axis of Resistance," are also deeply hostile to the U.S., Israel and Saudi Arabia, all three of which they view as being the principal cause for the instability in the Middle East.
Iran has portrayed itself as the region's primary champion of the Palestinian struggle against Israel and has also actively backed Palestinian Sunni Muslim movements such as Hamas, which controls the Gaza Strip. Iranian Foreign Minister Mohammed Javad Zarif dismissed Trump's peace plan as "a nightmare for the region and the world" and a "Highway to Hell."
Israel has in recent years waged a semi-secret campaign in both Iraq and Syria against militias accused of moving missiles and setting up bases on behalf of Iran. The U.S. had long largely avoided engaging with such groups in both countries but launched a series of strikes against the Iran-backed Kataib Hezbollah movement positions in Iraq and Syria after a rocket attack killed a Pentagon contractor at an Iraqi base.
These incidents set off a rapid spike in tensions as pro-militia protests hit Washington's embassy in Baghdad and the U.S. assassinated Iran's Revolutionary Guard Quds Force commander Major General Qassem Soleimani, Iraqi Popular Mobilization Forces militia deputy chairman Abu Mahdi al-Muhandis and several others with them near Baghdad International Airport. Iraq's parliament then voted in favor of a U.S. military withdrawal and Iran retaliated against its top military leader's slaying with missile strikes against Iraqi bases housing U.S. and allied personnel.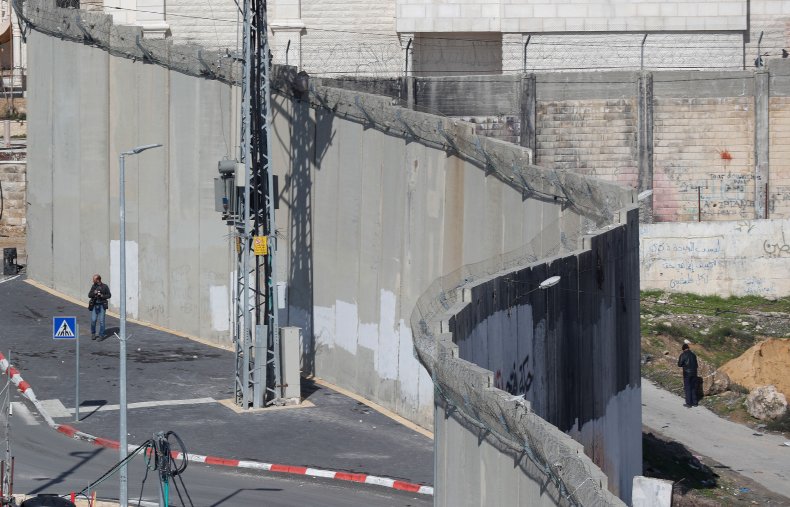 U.S.-Iran relations have plummeted since the Trump administration's decision to abandon a 2015 nuclear deal and impose strict sanctions on the Islamic Republic. The decision was accompanied by additional U.S. military deployments and increased unrest across the Middle East, where Iran has warned that its armed forces and allied militias could target U.S. bases, the Arab countries hosting them and Israel should a war break out.
Upon this troubled backdrop, regional nations were split over whether to back Trump's peace proposal, which was unveiled after years of false starts. The plan has so far received initial support from Saudi Arabia and the United Arab Emirates, which joined Bahrain and Oman in sending its ambassador to attend Trump's unveiling of the plan Tuesday at the White House.
Egypt also expressed appreciation at the Trump administration's efforts, calling on both sides to carefully study the framework while urging a solution that gave Palestinians "full legitimate rights through the establishment of their independent sovereign state over the occupied Palestinian territories, in accordance with international legitimacy." Jordan said it supported all attempts to make peace but warned against "unilateral Israeli measures in violation of international law and provocative actions that push the region toward more tension and escalation."
Cairo and Amman are the only two Arab governments to have struck peace treaties with Israel. Turkey, a NATO member that also has relations with Israel, immediately shot down the initiative, considering it "stillborn" over its endorsement of Israeli control over territories considered occupied by the United Nations.