Iraq Says U.S. Strikes Killed Soldiers, Police and One Civilian, Wounded Iran Allies
The Iraqi military has lashed out against U.S. airstrikes that it said killed only soldiers, police and a civilian, while only wounding members of the attack's stated target—a militia supported by Iran.
Iraq's Joint Operations Command issued its "strong condemnation" Friday against what it called U.S. airstrikes that "targeted the Iraqi military establishment and violate the principle of partnership and alliance between the Iraqi security forces and the parties that planned and carried out this treacherous attack."
In its statement, the command warned of "consequences that will resonate with everyone" and released the toll of the attacks. The airstrikes reportedly hit the Babil province areas of Jurf Al-Nasr, Al-Saeedat, Behbehani, the old Al-Ashter military-industrial facility, as well as the northeast Karbala Airport, which is under construction. Among the Iraqi army's ranks, the 19th Commandos Division's losses were three deaths and four wounded, two of them in critical condition, according to the command.
Babil province's 3rd Emergency Police Regiment suffered two deaths and two wounded, but the Iraqi military noted that "the bodies of martyrs are still under the rubble." At Karbala Airport, a civilian worker was said to have been killed, along with another injured in the holy province that the Popular Mobilization Forces told Newsweek on Thursday aircraft were banned from operating over.
The 46th Brigade of the Popular Mobilization Forces, a collective of Iraqi state-sponsored mostly Shiite Muslim militias, was said to only have suffered injuries despite being the intended target of the operation. The brigade is manned by Kataib Hezbollah, an Iran-linked group the Pentagon blamed for a Katyusha rocket attack Tuesday that killed two U.S. and one U.K. soldiers at the Taji military camp north of Baghdad.
Shortly after Newsweek reported on Wednesday's strikes against central Iraq, including the wounding of Popular Mobilization Forces personnel and the killing of a civilian, the U.S. military released a statement acknowledging its role in the attacks. The Pentagon said it had "conducted defensive precision strikes against Kata'ib Hizbollah (KH) facilities across Iraq," including "five weapon storage facilities" allegedly used by Shiite Muslim militias such as Kataib Hezbollah.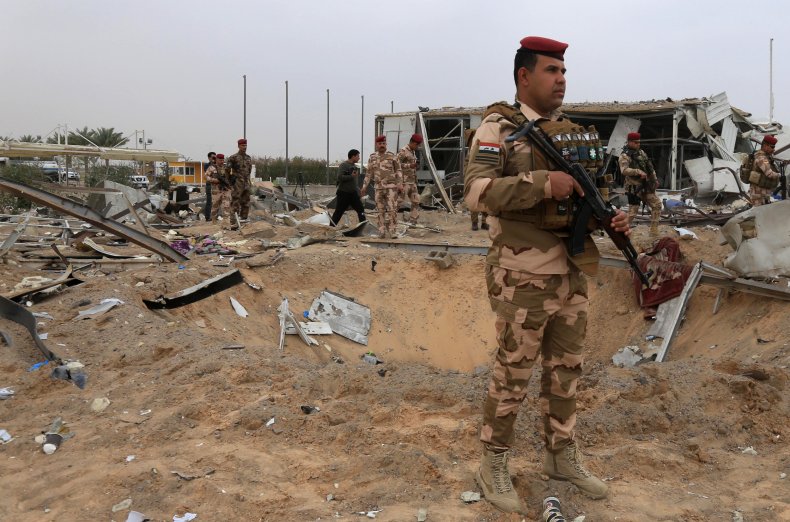 At a press conference Friday, U.S. Central Command commander General Kenneth McKenzie identified the five sites targeted as the Al-Arab Nawar Ahmad "rocket storage facility," the Jurf al-Sakher "IRAM storage facility," the Karbala "KH advanced conventional weapons storage facility," the Al-Musayyib "terrorist weapons storage facility" and Jurf al-Sakher "propellant production facility and storage sites."
McKenzie said he believed "the collateral damage is going to be very low."
The Pentagon has not yet responded to Newsweek's request for comment on casualties but on Friday did identify the names of the two U.S. personnel killed on Tuesday's attack on Taji. They are Army Specialist Juan Miguel Mendez Covarrubias 1st Battalion, 227th Aviation Regiment, 1st Air Cavalry Brigade, 1st Cavalry Division and Air Force Staff Sergeant Marshal D. Roberts of the 219th Engineering Installation Squadron, Oklahoma Air National Guard.
The U.K. Defense Ministry identified its casualty as Lance Corporal Brodie Gillon, a reserve with the Scottish and North Irish Yeomanry.
Kataib Hezbollah did not claim responsibility for the Taji rocket attack but did "ask God to bless those who carried out the accurate jihadi operation" and declared that it was "time to resume national and popular jihadi operations to expel the evil aggressors from the land of the holy shrines." The State Department designated the group a terrorist organization in 2009 as it fought U.S. troops in the wake of the 2003 invasion that toppled Iraqi President Saddam Hussein.
This intervention also stirred a Sunni Muslim insurgency that gave birth to Al-Qaeda in Iraq and, later, the Islamic State militant group, better known as ISIS. Both U.S. and Iran contributed to the battle against these jihadis and Shiite Muslim militias such as Kataib Hezbollah became part of the Popular Mobilization Forces, playing a critical role in anti-ISIS operations.
With the group largely defeated and President Donald Trump pulling out of a multilateral nuclear deal with Iran, however, Washington and Tehran's longstanding tensions have resurged, with Iraq as a primary battleground. As unrest gripped the Persian Gulf over the past year, rocket attacks blamed on Shiite Muslim militias have repeatedly struck Iraqi military installations housing U.S. and allied personnel, while suspected Israeli strikes have hit the Popular Mobilization Forces.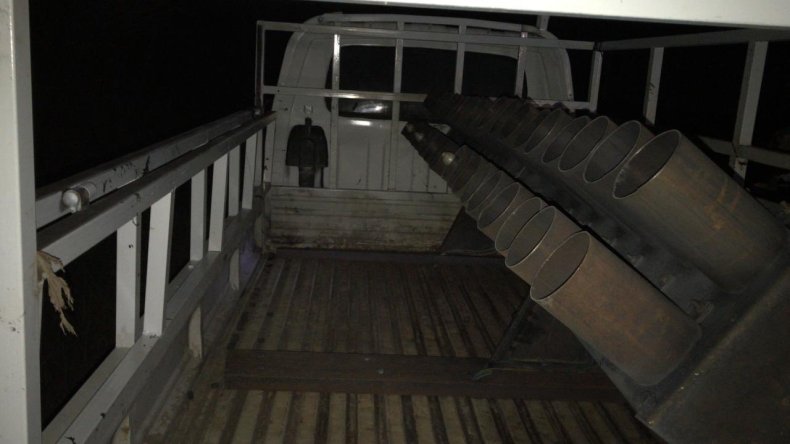 One such attack in December killed a Pentagon contractor and this too was blamed on Kataib Hezbollah, fueling U.S. retaliatory strikes that killed more than two dozen people at sites along the Iraqi-Syrian border. Strikes were also reported near far eastern Syria's city of Al-Bukamal in Deir Ezzor province, though these too remain unclaimed amid activist reports of up to 26 Popular Mobilization Forces casualties.
Late last year's round of U.S. strikes against Kataib Hezbollah triggered pro-militia demonstrations that turned violent against Washington's embassy in Baghdad. Days later, in early January, the U.S. assassinated Iranian Revolutionary Guard Quds Force Major General Qassem Soleimani, alongside Popular Mobilization Forces second-in-command Abu Mahdi al-Muhandis and their companions in a drone strike at Baghdad International Airport.
Soleimani's Quds Force has been instrumental in establishing partnered networks across the world and especially in Iraq, Syria and Lebanon, where mostly Shiite Muslim militias have grown increasingly influential. They have also been accused by critics of attempting to consolidate power and suppress opposition.
The killing of Soleimani and Muhandis was answered by Iran with a series of missile strikes against an Iraqi military base housing U.S.-led coalition personnel. Iraqi lawmakers also voted to expel all foreign forces, something toward which Iraq's Joint Operations Command said "serious discussions are taking place" on Wednesday. The command then called the Taji rocket attack a "dangerous and hostile act" but the following day argued it was a "false pretext" for the U.S. strike.
The latest strike against the Popular Mobilization Forces again stirred outrage among Iraqi leaders and politicians. Iraqi President Barham Salih, who previously referred to the Taji attack as a "terrorist" act, denounced the U.S. retaliatory strikes Friday as "a violation of national sovereignty" and warned that the Iraqi state faced "a systematic and grave weakening of its capabilities and prestige, coinciding with a stage in which Iraq faces massive and unprecedented challenges, politically, economically and financially, security and health."
"These risks, if they continue, would slide Iraq into a condition of statelessness and chaos, especially if the security escalation continues, with present indications of ISIS terrorist elements trying to restore their ability to threaten the security of the homeland and the citizen," Salih said, calling for a show of unity. The militant group remains active in parts of Iraq. Two U.S. Marines were killed Saturday during anti-ISIS operations alongside local security forces, who work alongside the Popular Mobilization Forces on a daily basis.
The Iraqi Foreign Ministry called the U.S. strikes "a hostile action and a violation of sovereignty" that it would raise in two identical letters to the United Nations and the U.N. Security Council.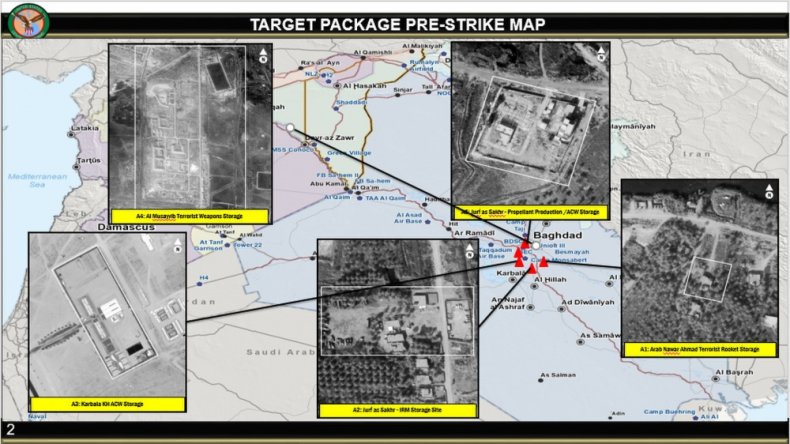 "We deplore the U.S. bombing of military and civilian installations, which led to the martyrdom and injury of a number of security forces and civilians, as well as the destruction of structures and infrastructure and vital installations that have nothing to do with the targeting of the Taji camp or what came before it," Iraqi First Deputy Parliament Speaker Hassan Karim al-Kaabi said in a statement.
Muqtada al-Sadr, one of Iraq's most influential clerics and a leader of the Popular Mobilization Forces' Peace Brigades released a statement in which he said that "in the midst of all the calamities afflicting the world as a whole and especially the people of Iraq, additional tensions, conflicts and plights for Iraq must be avoided." He called for "restraint and peace in our beloved Iraq."
The powerful Fatah Alliance, a coalition led by Badr Organization militia leader Hadi al-Amiri, took a harder line, expressing its "condemnation in the strongest terms of this blatant aggression." The coalition emphasized: "There is no solution except with the exit of foreign forces from Iraq."
Another Popular Mobilization Forces group, the Iran-linked Asaib Ahl al-Haq, also called "condemned in the strongest terms" U.S. attack. The group demanded that the U.S. "occupation forces" heed the Iraqi parliament's decision in January and withdraw all troops immediately.
McKenzie said Friday that the U.S. and Iraq had a "continual level of dialogue of our presence going forward, and I believe that when it's all said and done, the Iraqis are going to recognize the value that we being there." Late last month, however, David Schenker, the State Department's assistant secretary at the Bureau of Near Eastern Affairs, told reporters that, "there is no withdrawal from Iraq."
"We are beginning to engage with the Government of Iraq, such as it is, and I expect in the future in a discussion about the nature of our strategic relationship," Schenker said. "And that will include discussion of economics, of our diplomatic issues, and about our presence on the ground, but we're not talking about withdrawal."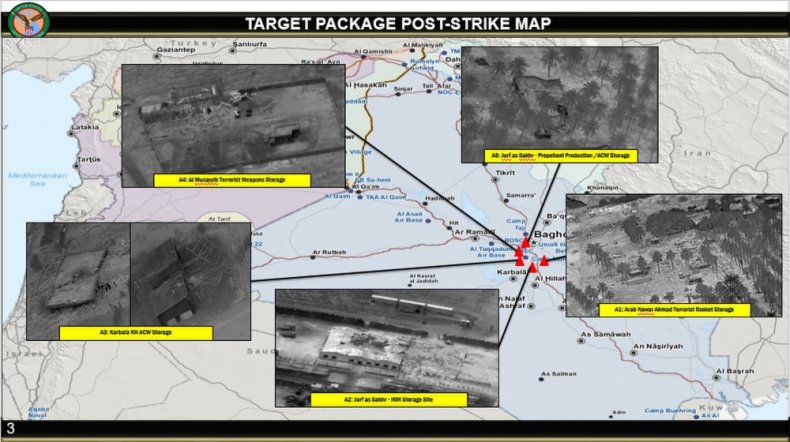 This is a developing news story. More information will be added as it becomes available.