Irina Shayk Receives Backlash for Using Russian War Symbol 'Z'
Fans are demanding answers from Russian model Irina Shayk after she was accused of using the anti-Ukrainian "Z" symbol in a cryptic Instagram post.
Shayk's Instagram story is being discussed widely online as she posted a picture of food with the caption "Russianzz," and many are seeing it as support for Russia's war effort in Ukraine.
She has yet to comment further on the post, or respond to the multiple accusations made against her. Newsweek has reached out to Shayk for further comment.
Despite many online suggesting that Shayk is endorsing the Russian aggression, the model has formerly voiced her opposition to the war. Days after the conflict escalated, she posted "No To War" on her Instagram on February 28, 2022, encouraging people to donate to Unicef and to the Red Cross Ukraine.
On Thursday, Shayk posted a picture of food, which appeared to resemble a potato salad dish. The caption at the bottom read: "Russianzz on Wednaday."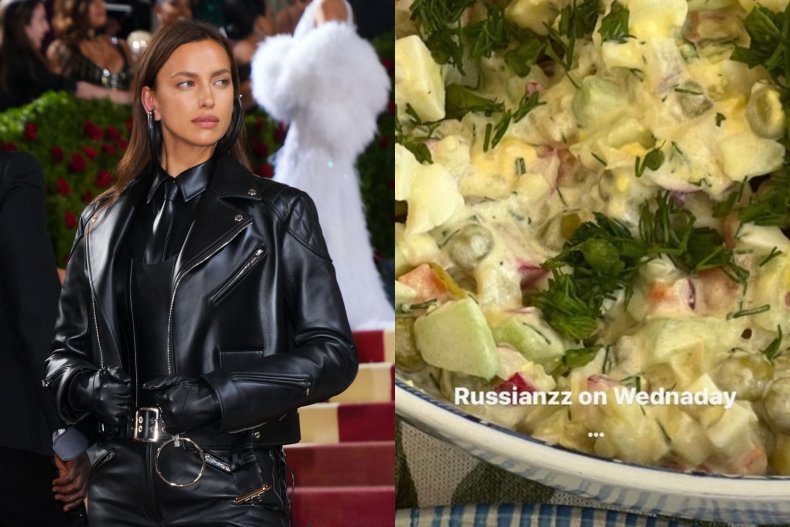 While the motivation behind the post and the spelling choice is unclear, many across social media have leapt to the assumption that it's related to Russian forces' use of the symbol Z in their war with Ukraine.
The letter can be seen on Russian military vehicles such as tanks and helicopters. On March 3, the Russian defense ministry issued a statement clarifying that Z stood for "Za Pobedu," which translates to "For Victory." The symbol is being used in Russia with people displaying Zs on their properties to show their support for their nation.
Ukrainian journalist Maria Romanenko voiced her disapproval and called for brands to cancel their partnerships with Shayk. "I really hope these brands reconsider working with her when Russia uses Z to kill Ukrainians," she wrote, referencing Jean Paul Gaultier, Beyonce and Burberry specifically.
Across Instagram and Twitter there were multiple calls for Shayk to be "canceled."
"It's not acceptable," wrote @m.a.r.y.ta on Instagram, "She used this little hint with "z" end. People who's doesn't see anything bad in her post you are blind. She just can't talk about her war support because she can be canceled."
While it was not possible to publicly comment on Shayk's Instagram story, many rushed to her latest Instagram post to voice their frustration at the model. "Shame on you," many people commented, while others piled in with the hashtag: "Russia is a terrorist state."
Not everyone was quick to accuse Shayk of supporting Vladimir Putin and Russia's war effort. Instagram user @katerossiii got hundreds of likes for pointing out: "It's just a salad."
On Twitter, @chase_thenight backed her up. "Just because Irina Shayk wrote 'russianz' with z doesn't mean she supports Russia and war. These comments under her ig posts are f****** stupid and unbelievable."
Shayk is best known as a Russian model and actress who starred in Hercules alongside Dwayne Johnson, and in a skit on Inside Amy Schumer.
She dated soccer star Cristiano Ronaldo for six years from 2009, before moving on to have a relationship with Bradley Cooper. In 2017, she gave birth to their child, Lea De Seine Shayk Cooper, but the couple broke up in June 2019.
In 2021, Shayk was reportedly dating Kanye West, but the pair broke up not long after.