ISIS Just Started Using Female Suicide Bombers, But Boko Haram Has Been Doing It for Years—And Shows No Sign of Stopping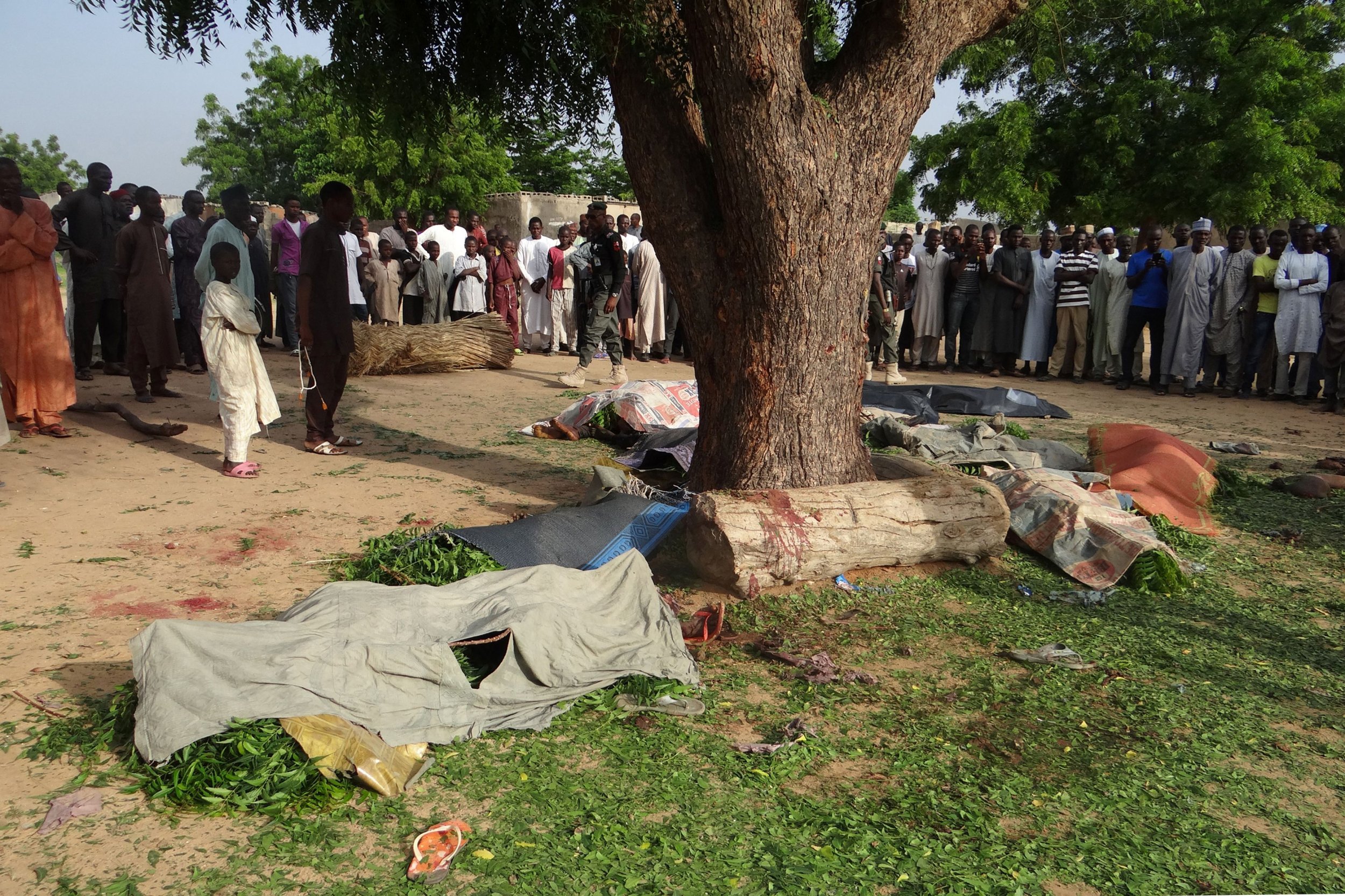 In a desperate bid to cling to the Iraqi city of Mosul, the Islamic State militant group (ISIS) has recently started deploying dozens of female suicide bombers. The development marks a shift in ISIS ideology, which had previously proscribed women from taking front-line roles in battle.
But in Nigeria, Boko Haram has for years been weaponizing women and young girls, sending them into the middle of crowded marketplaces to blow themselves up. In fact, since the Nigerian militants carried out their first recorded suicide operation, in April 2011, more women have been sent on the deadly missions than men—and the number is only likely to continue rising.
Of the 434 suicide bombers Boko Haram has deployed since April 2011, 244—or 56 percent—were identified as female, according to a comprehensive study of the phenomenon by experts at the Combating Terrorism Center (CTC) at the U.S. military academy West Point. Eighty-one of the bombers were identified as children and teenagers; four times as many were girls, the study reported.
The trend for women to be deployed is increasing, too: Since the start of 2017, nearly two-thirds of Boko Haram's suicide attackers were female.
Read more: Why Nigeria's liberated Chibok girls face a long road to freedom
During its eight-year insurgency in northeast Nigeria and its surrounds, Boko Haram was perhaps never at the center of international attention as much as when it abducted close to 300 schoolgirls from their dormitories in Chibok in April 2014. The kidnapping caused global figures—such as then U.S. first lady Michelle Obama—to decry the group's brutality and call for the girls to be returned.
Boko Haram and its then leader, Abubakar Shekau, realized at that point the impact of women and girls being caught up in its insurgency and started to capitalize, says Jason Warner, one of the lead authors of the report and director of the CTC's Africa profile.
"The international outcry over the kidnapping of the Chibok girls demonstrated to Boko Haram the profound potency of gender and youth, underlining that involving the most vulnerable demographics both as victims and perpetrators of violence could demonstrate its resolve to its cause and ruthlessness of intent," Warner tells Newsweek via email.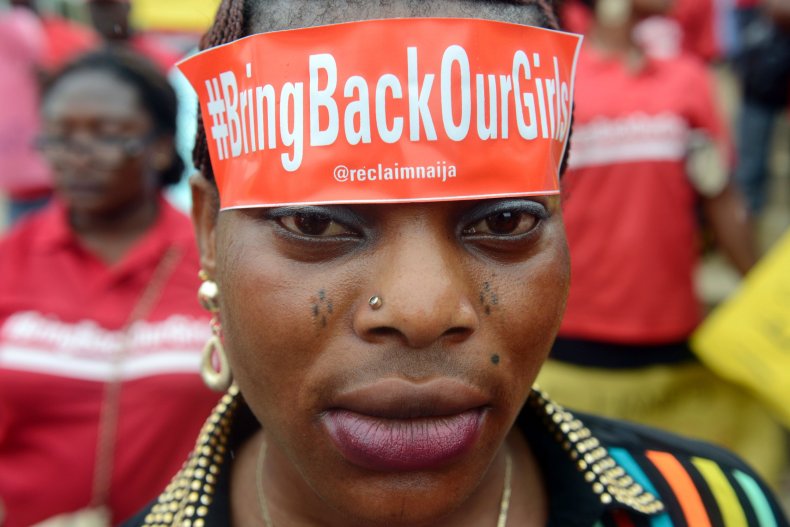 Less than two months after the Chibok abduction, Boko Haram demonstrated its new strategy when a middle-aged woman on a motorcycle blew herself up near a military barracks in Gombe in the northeast, killing a police officer.
Women have increasingly become Boko Haram's trademark weapon of war. Since President Muhammadu Buhari came to power in Nigeria in 2015, the insurgents have hemorrhaged territory to Nigerian forces and reverted to guerrilla warfare. Cheap, low-spec attacks—deploying a suicide bomber costs an estimated $150—are perfect for that cause.
There are practical reasons as to why Boko Haram has turned to women—many of whom were coerced, but some of whom volunteered—to carry out its suicide attacks, according to the CTC study. Women and girls are generally thought to be nonthreatening and are less likely to be searched by male security forces, particularly in an area as socially conservative as northern Nigeria. Women can hide suicide devices more easily, either underneath billowy clothing or even under infants carried on their backs. Women are more easily coerced into such missions than men, and when they do strike, the insecurity that's generated is palpable. "No one, even women and children, can be trusted," says Warner.
Women are also used to hit different targets, according to the report. While male suicide bombers are likely to be sent to attack a government institution or Christian church, women and children are sent to civilian locations, such as markets and camps for those displaced by the insurgency.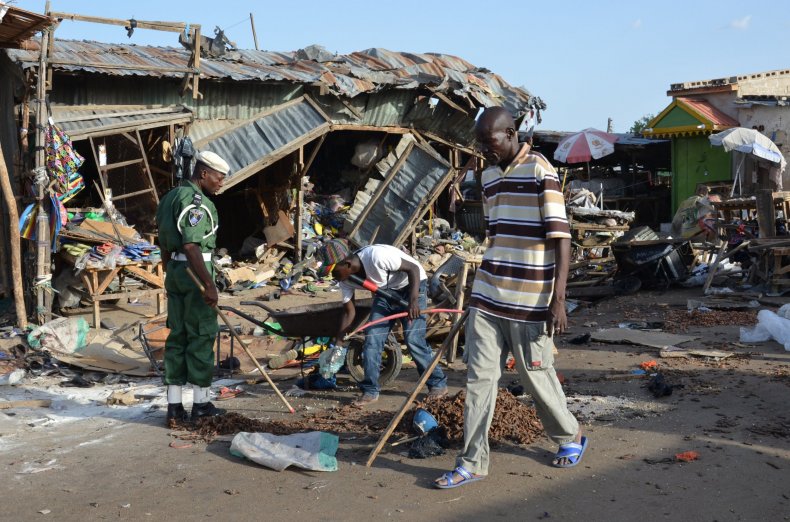 The scale of its use of women as suicide bombers sets Boko Haram apart from other militant groups. The Tamil Tigers deployed 44 female suicide bombers over 10 years in its war in Sri Lanka, a figure that pales in comparison to the Nigerian group's frequent use of women over the past three years.
But the tactic represents a rupture with the ideology of other Islamist groups, such as ISIS and Al-Qaeda, according to Elizabeth Pearson, an associate fellow at the Royal United Services Institute (RUSI) in London. "ISIS and Al-Qaeda, like other Salafi jihadi movements, operate according to clearly demarcated roles for men and for women," says Pearson, who has written a piece on the topic for a forthcoming CTC volume on Boko Haram. "Men are really admired as warriors—male violence is revered—[while] female violence is not permitted and is mostly transgressive."
Pearson points to Shekau as the driving force behind Boko Haram's adoption of female bombers. Shekau, who has led Boko Haram since 2009, pledged the group's allegiance to ISIS in 2015; a year later, Boko Haram split into two factions after ISIS attempted to replace Shekau as its leader.
"For Shekau, publicity was crucial," says Pearson. "[The] Chibok [abduction] permitted him the chance to really cause hysteria and fear with a wave of young female bombers...Although females as combatants are not condoned by a majority of Islamist scholars, he was willing to ignore this to make headlines and to terrify communities."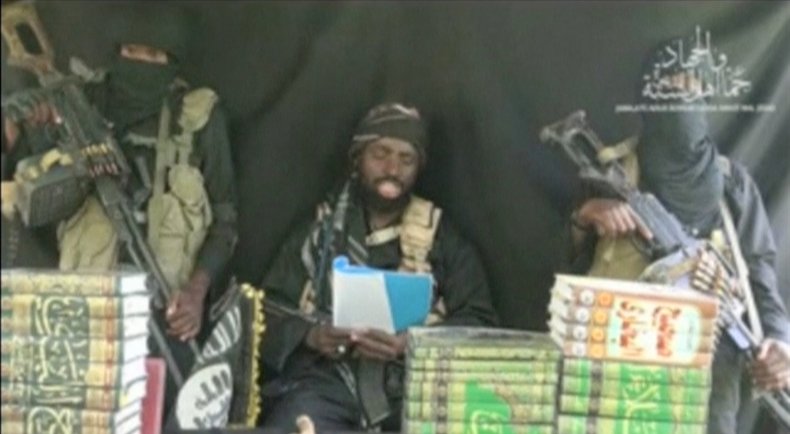 Outside of the recent deployment of women in ISIS's battle for Mosul, there have also been instances of attempted or successful female suicide bombers used by Islamist movements in Bangladesh and Indonesia. Pearson says the mushrooming of women as bombers in Nigeria is partly a function of the local context, but the concept has the potential to spread. "We can't rule it out—and it's possible that in the many ISIS wilayat [provinces, such as the ISIS branch in Egypt's Sinai region], female violence may be more tolerated than in Iraq and Syria, where it's largely been absent."
Warner agrees. Boko Haram has proven women to be a cheap and effective means of spreading terror in northeast Nigeria.
"My prediction is that, increasingly, terrorist groups around the world will learn the lesson that Boko Haram seems to have learnt quickly: that unexpected bombers in the form of women and children offer distinct advantages—physically and operationally—that men cannot," he says.