ISIS Nears U.S. Military Base in Iraq, Slaughters Journalists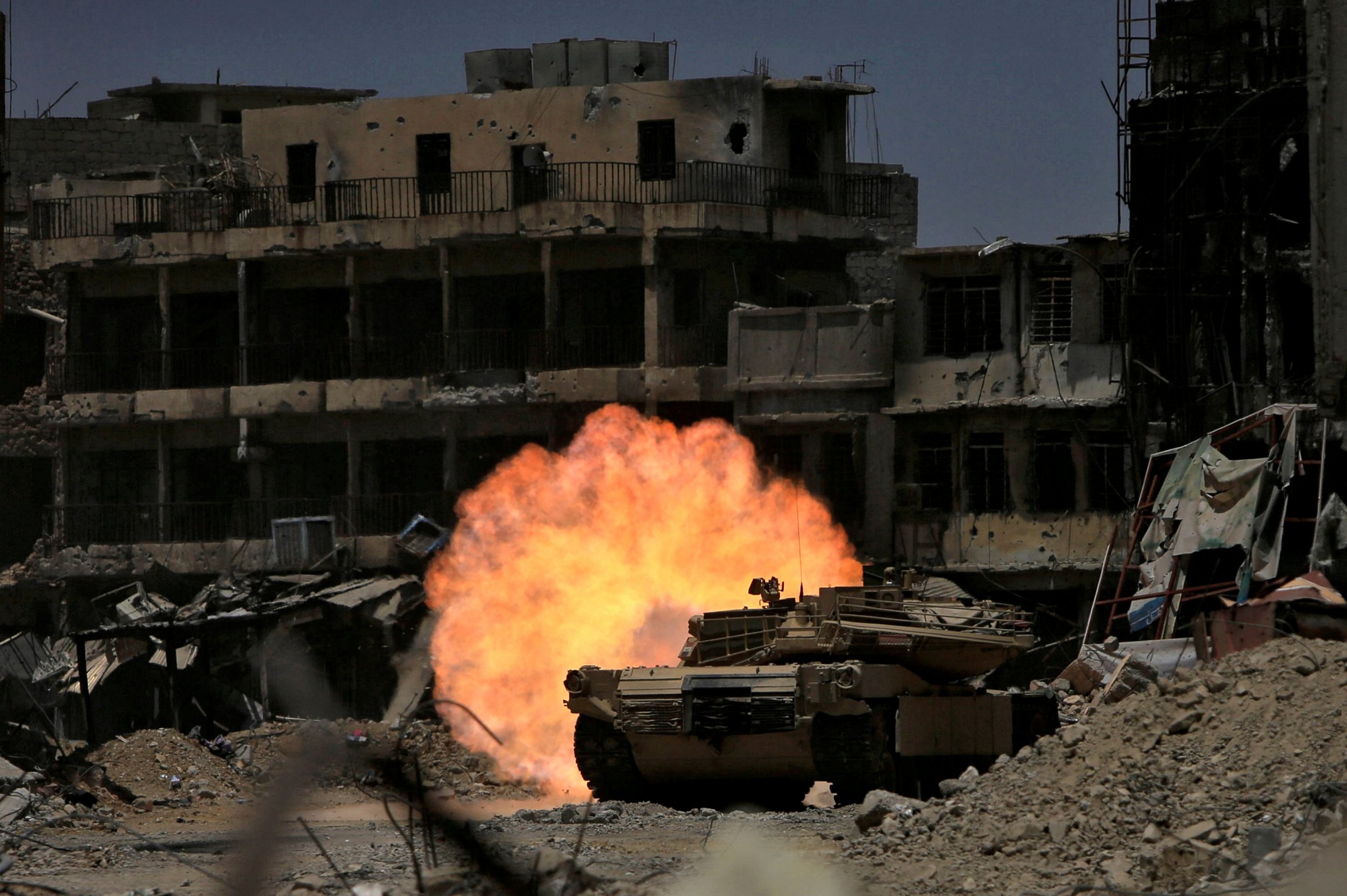 The Islamic State militant group (ISIS) has staged a new offensive against Iraqi forces south of Mosul, slaughtering soldiers and civilians as it nears a U.S. military installation.
Facing sweeping losses in its former stronghold of Mosul, militants loyal to ISIS have attempted to regain territory by entering the village of Imam Gharbi, about 43 miles south of the embattled city. ISIS first stormed the village earlier this week and has reportedly since made gains toward the nearby Qayara air base, forcing U.N. humanitarian staffers to flee the U.S.-controlled site. Amid the jihadist advances, local Iraqi media outlet Hona Salaheddin reported that two of its journalists had been killed, along with a number of Iraqi troops attempting to repel ISIS from the area.
Related: ISIS female fighters use own children as human shields in last desperate moments of Mosul siege
"Colleague Harb Hazaa al-Dulaimi, correspondent for the Hona Salaheddin channel, and Sudad al-Duri, the cameraman for the same station, were martyred," the channel said, adding that another of its reporters, Mustafa Wahadi, was trapped with his colleagues' dead bodies and making pleas for his rescue via social media, according to Agence France-Presse.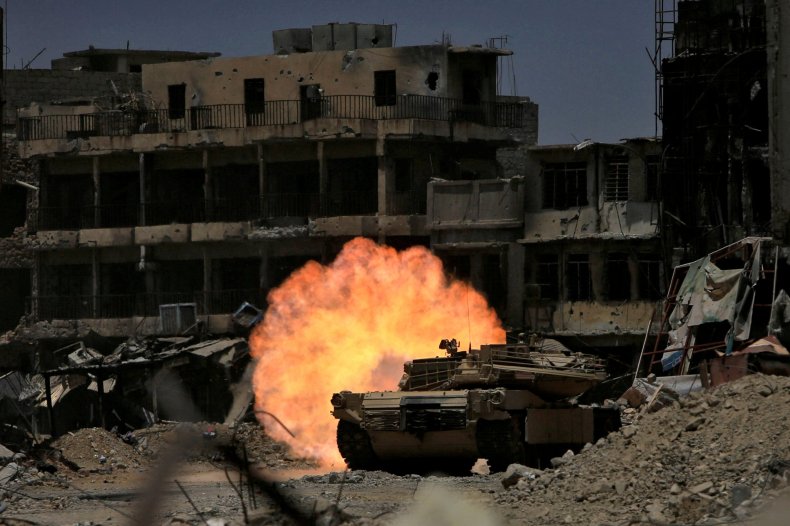 Amid lightning advances that saw ISIS take nearly half of Iraq and Syria in 2014, the group's elusive leader at the time, Abu Bakr al-Baghdadi, declared a global caliphate from Mosul's Grand al-Nuri Mosque. ISIS has since demolished the mosque and Baghdadi has been declared dead, leaving few options for the group as it faces assaults by the Iraqi military, majority-Shiite Muslim militias backed by Iran, Kurdish forces and a U.S.-led international coalition.
ISIS's territory has been reduced to mere blocks in Mosul's Old City as well as pockets along the Syrian border and near Hawija. It was from the latter enclave that ISIS fighters moved Wednesday into Imam Gharbi, ultimately forcing the U.N. to temporarily suspend all operations of its International Organization for Migration (IOM) on the U.S. Qayara airstrip and nearby Haj Ali camp, which house a combined 80,000 people in need of emergency services.
"The situation in Qayara is not currently conducive to humanitarian operations," Vincent Houver, deputy director of IOM's operations and emergencies, said Friday in a statement, which attributed the IOM's decision to "security concerns."
Gunfire could be heard from the airfield as Iraqi forces attempted to repel the militants, according to the Associated Press, and ISIS still held about half of Imam Gharbi as of Friday, according to Reuters. ISIS-affiliated media also shared images purporting to show militants posing with flags and the Qayara department of health building. Another image eulogized fighters that had apparently been killed in suicide vehicle bombings during the offensive to retake the area.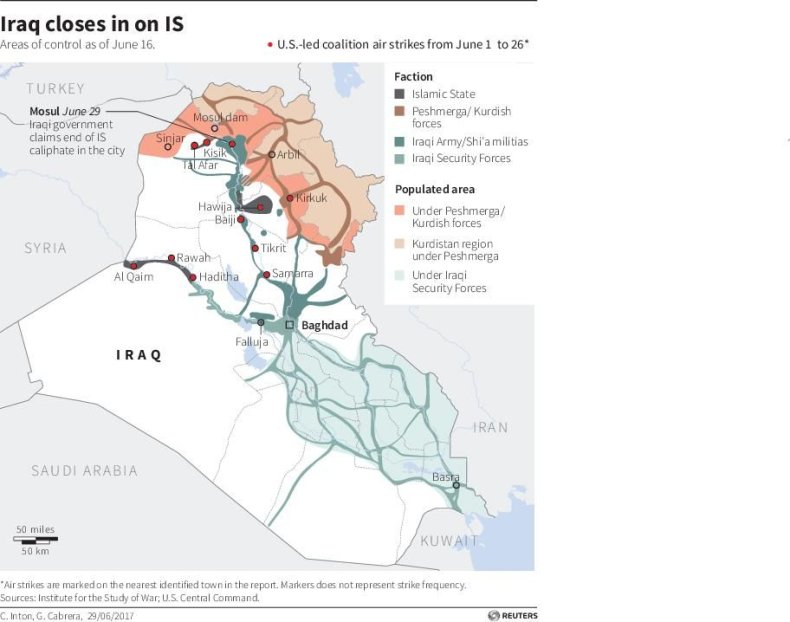 In 2003, the U.S. invaded Iraq and overthrew its leader, Saddam Hussein, accusing him of harboring weapons of mass destruction. The U.S. then occupied the country in an attempt to set up a new government but faced guerrilla attacks from a number of jihadist groups, including Al-Qaeda in Iraq, which later served as the foundation of ISIS. At the height of the U.S. occupation of Iraq, the Qayara airfield included a swimming pool and golf course, earning it the nickname Key West, after the popular resort destination in Florida, Reuters reported.
Iraqi security forces retook Qayara from ISIS in November 2016, but the jihadists set fire to the nearby oilfields as they withdrew, causing large, toxic plumes that briefly stalled the operation to retake Mosul. Last year, the U.S. began rebuilding the Qayara base, which had fallen into ruin. In April, Jared Kushner, President Donald Trump's adviser and son-in-law, visited the area to discuss the administration's policies with local U.S. and Iraqi officials.