ISIS Names New Leader and Spokesperson In First Message Since U.S. Operations That Killed Baghdadi and Muhajir
The Islamic State militant group (ISIS) has released its first official public message since the back-to-back U.S. operations in Syria that killed the group's leader Abu Bakr al-Baghdadi and spokesperson Abu al-Hassan al-Muhajir.
The official ISIS media outlet Al-Furqan released Thursday a new seven-and-a-half-minute audio message that was widely distributed online and attributed to new ISIS spokesperson Abu Hamza al-Qurashi. The individual warned that despite the setback of losing its leadership, ISIS would continue to wage war on those considered to be outside of its ultraconservative Islamist vision.
The man identified as Qurashi also identified Baghdadi's successor as Abu Ibrahim al-Hashimi al-Qurayshi. The name suggests that, like Baghdadi, Qurayshi claimed lineage to Ahl al-Bayt, the family of the Islamic Prophet Mohammed.
The new spokesperson warned that ISIS is "expanding and remaining"—terms often used by members and supporters despite the group's successive territorial losses—"from the East to the West," including in Europe and Africa.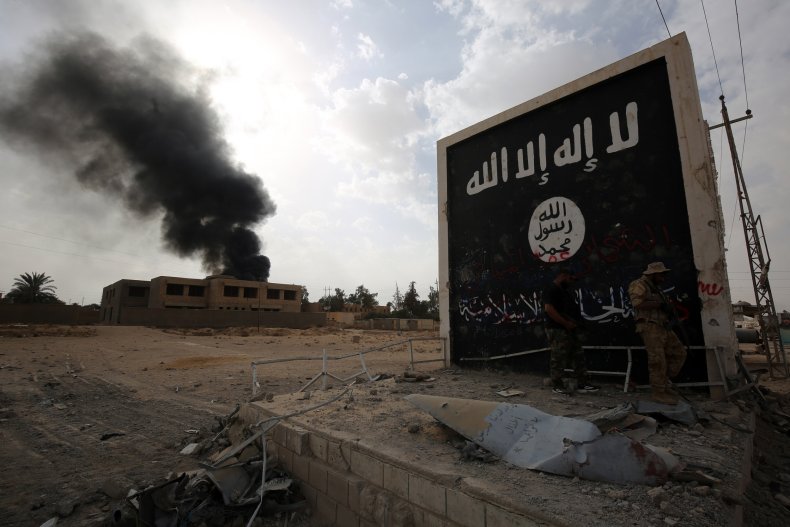 Newsweek reported Sunday—a day after Newsweek broke the news of Baghdadi's death during a Delta Team raid in Idlib and the same day that Muhajir was killed in CIA strikes near Jarablus in Aleppo—that an Iraqi named Abdullah Qardash was the most likely successor. It was unclear if Qurayshi was a pseudonym used to refer to Qardash.
That regional intelligence official who verified that information noted that Baghdadi had become "a figurehead" who "was not involved in operations or day-to-day" affairs. The group has suffered significantly since losing nearly all of its territory across Iraq and Syria in campaigns led by local, regional and international forces including the armed forces of both countries, Iran, the United States and Russia.
Little was revealed about either Qarayshi or Qarashi's backgrounds, though it was made known that the new leader is a veteran of the group's efforts to impose its militant ideology and that late spokesperson Muhajir was a Saudi national. Baghdadi himself was from Iraq, where he was detained following the 2003 U.S. invasion that stirred the Sunni Muslim insurgency he would later lead as part of the Islamic State of Iraq, a merger including Al-Qaeda in Iraq.
Baghdadi took advantage of Syria's civil war between the government and opposition groups—including those backed by the U.S.—to expand across the border in 2012 and, while former associate Abu Mohammed al-Julani refused to merge his Al-Qaeda-tied Nusra Front, what became known as ISIS managed to take swaths of territory across both Iraq and Syria. In 2014, Baghdadi made his first and only public appearance as leader to declare a global caliphate, officially known from then on simply as the Islamic State.
Baghdadi, along with Muhajir, went on to release occasional audio message in the years since, but the elusive leader disappeared entirely from the public eye as his self-styled caliphate crumbled, with frequent rumors of his location and fate surfacing without proof. Defying reports of his death at the hands of U.S. or Russian airstrikes, he appeared in a video released in April.
With his demise now confirmed, the U.S. military has warned it would be ready for any acts of retaliation.
"ISIS is first and last an ideology, so we're under no illusions that it's going to go away just because we killed Baghdadi. It will remain," U.S. Central Command head General Kenneth F. McKenzie, Jr. told a Pentagon press briefing Wednesday.
"I suspect at the highest levels they'll be a little disrupted; it will take them some time to reestablish someone to lead the organization, and during that period of time their actions may be a little bit disjointed. They will be dangerous," he added. "We suspect they will try some form of retribution attack, and we are postured and prepared for that."