ISIS Publishes Purported Photo of Bomb That Downed Russian Liner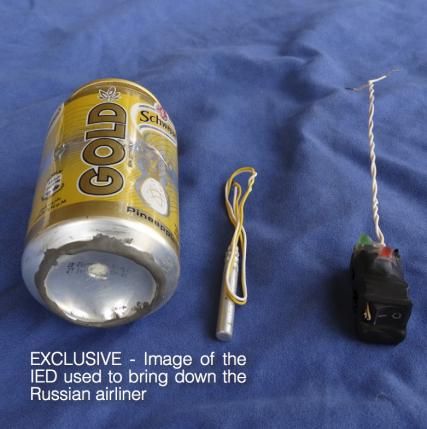 The Islamic State militant group (ISIS) has released images of what it claims to be the makeshift explosive device that brought down the Russian A321 liner in Egypt's Sinai peninsula last month.
In an issue of its English-language propaganda magazine Dabiq, titled "Just Terror" and featuring images of the Paris attacks last Friday on its cover, ISIS congratulates itself on the "blessed attacks against the Russians and the French."
The magazine also features a photograph of a gold Schweppes drinks can containing a handmade explosive device, which it claims was the bomb that brought down the Russian Metrojet liner last month. In the explanation of the attack, ISIS condemns Russia for its "rash decision of arrogance" to bomb ISIS targets in Syria.
The magazine explains that ISIS made a deliberate decision to attack a Russian target after the group allegedly discovered how to compromise the security at the Sharm el-Sheikh Airport from which the Metrojet flight took off. Initially ISIS had wanted to target a nation from the U.S.-led coalition.
"A bomb was smuggled onto the airplane, leading to the deaths of 219 Russians and five other crusaders only a month after Russia's thoughtless decision," the article in the magazine says.
On the subject of the Paris attacks, the magazine praises the "the eight knights" who had "brought Paris down on its knees, after years of French conceit in the face of Islam." The text seemingly refers to the attackers, though French security services are now apparently investigating up to nine alleged gunman and suicide bombers rather than eight.
Security footage of one of the attacks showed on Tuesday night that there may be one more accomplice, currently believed to be on the run. In the early hours of Wednesday morning French authorities also arrested seven more suspects in a raid of the Saint Denis suburb of Paris where a woman also blew herself up during the operation.
Similarly, shortly after the attacks on Paris, ISIS issued a statement claiming responsibility for them but seemed unaware of where they had actually taken place. It wrongly wrote that the attack on the Stade de France had taken place in the Parisian 18 arrondissement. Stade de France is further outside the city in the Saint Denis region.