ISIS Releases Video Purporting to Show Child Soldier Killing Hostage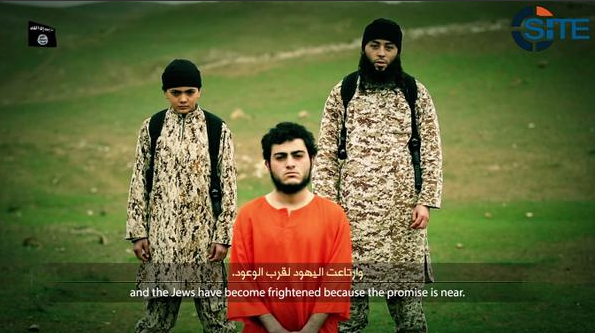 The Islamic State (ISIS) released a video on Tuesday purporting to show the execution of Mohammad Ismail, who the terrorist organization claims was an Israeli spy. In the video, Ismail gives a lengthy confession in which he details his training. In past videos, ISIS has forced similar confessions of their hostages. Boko Haram, which recently pledged loyalty to ISIS, forced hostages who they claimed to be spies to make similar comments in a recent video.
In the video, Ismail is shown wearing orange robes, similar to those worn by Western hostages before they were beheaded. The video is subtitled in English, and it features numerous graphics referring to his passport and locations of his work. The style of this is similar to the execution video of the Jordanian pilot, Muadh al-Kasasbeh, who was burned to death by ISIS earlier this year.
After an eight-minute confession, Ismail is shown being walked outside and forced on his knees by an adult ISIS militant and a child soldier, who appears to be around 12 years old. The young boy did not wear a face mask, though adult executioners usually cover their faces in videos. The boy then shoots the hostage at extremely close range in the forehead. He goes on to shoot him several more times after the man's death.
The video has not yet been authenticated by officials, however, the SITE Intel Group, a jihadist watchdog, believes the video is authentic.