Israel Closes Major West Bank Crossing After 2 Killed by Palestinian Man
Israeli Prime Minister Naftali Bennett announced Friday the indefinite closure of a major northern West Bank crossing near the home of the Palestinian man who fatally shot two people and injured 10 others.
Bennett met with security officials and announced the closure until further notice after the country saw its fourth deadly attack in three weeks. Palestinian women, children, and men over the age of 40 from the West Bank, however, will be allowed to enter Jerusalem for prayers for the holy month of Ramadan, according to the Associated Press.
The shooting took place around 9 p.m. Thursday at a bar on Dizengoff Street, located in the central part of Tel Aviv. The shooter, identified as 28-year-old Raad Hazem, began firing into the crowd, before fleeing the scene.
Israel's deadly shooting is the most recent attack in a "wave of terror," which has left 13 Israelis dead and several others injured in recent weeks. Last month, a Palestinian gunman killed five people in the Tel Aviv suburb of Bnei Brak and an attacker stabbed four people in a shopping mall in Beersheba.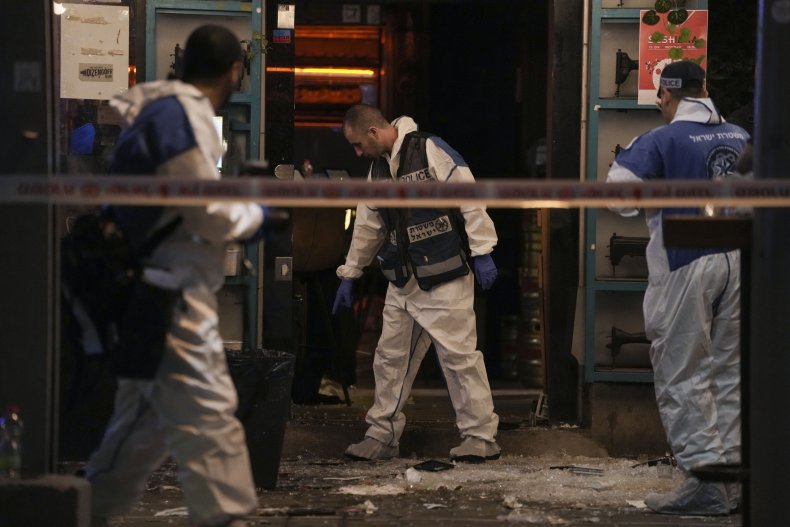 "Let every murderer know that we will find him. Those who aid and abet terrorists need to know that the price they will pay is too high to bear," Bennett said in a statement about Thursday's attack.
Videos posted on social media showed the crowd panicking and running away from the scene after the deadly attack. Footage showed broken glass and debris scattered on the ground and a heavy police presence on site. Authorities began looking for the shooter and told people to remain indoors, the AP reported.
It's estimated hundreds of army special forces, police officers and canine units assisted in the manhunt. They searched in residential neighborhoods before finding Hazem near a mosque in southern Tel Aviv. He was killed during a shootout with authorities, the AP reported.
"During the night, the security forces acted with remarkable speed and professionalism when they located the terrorist, engaged and then eliminated him," Public Security Minister Omer Barlev said according to the Times of Israel.
Authorities say Hazem was from Jenin in the West Bank and it's believed he had entered Israel illegally without a permit. Bennet said somebody helped him organize the attack and assisted in obtaining the weapons, according to The Times.
Update 4/8/22, 10:02 a.m. ET: This article was updated with additional information.
Update 4/8/22, 12:37 p.m. ET: This article was updated with additional information.