Israel Condemns Russia 'Late' as 'Horrific Images' Emerge From Bucha
Israel's foreign minister Yair Lapid issued a sharp rebuke of Russia's actions in Ukraine on Sunday, as bodies of civilians were found in the town of Bucha, which is near the capital Kyiv, after Russian troops retreated.
"It is impossible to remain indifferent in the face of the horrific images from the city of Bucha near Kiev, from after the Russian army left. Intentionally harming a civilian population is a war crime and I strongly condemn it," he tweeted.
During Russia's invasion of Ukraine, Israel has generally been more hesitant to criticize Russia than many of its Western allies. Israeli Prime Minister Naftali Bennett has sought to be a mediator during the conflict, maintaining contact with Ukrainian President Volodymyr Zelensky and Russian President Vladimir Putin.
For years, Israel has also been coordinating with Russia when the Middle Eastern nation's military moves to strike Iranian targets in Syria, according to Reuters.
"israel strongly condemning russia. late but also more challenging given how much israel has depended on russia for cooperation on syria. this is an important move," Ian Bremmer, a political scientist and the president and founder of Eurasia Group, tweeted on Sunday.
In a tweet in February, Israel's foreign ministry said that the country "effectively has a security border with Russia. Russia is the most significant military power in Syria, and our cooperation mechanism with them assists in our determined battle against Iranian entrenchment on our northern border."
Lapid's comments on Sunday doesn't mark the first time Israel has criticized Russia over its invasion of the Eastern European country. Israel supported a U.N. resolution condemning the invasion in February and another last month demanding an end to Russia's war, the Jerusalem Post reported.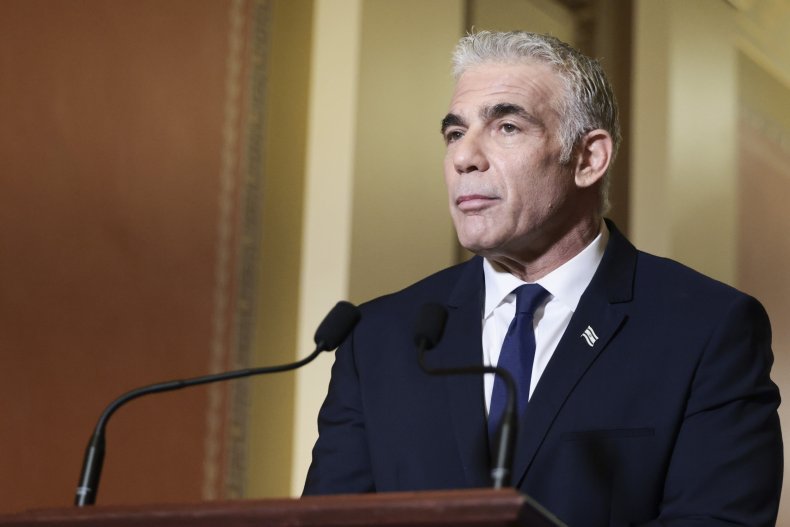 The Associated Press reported last month that Lapid called on Russia to end its attacks in Ukraine. The publication noted at the time that his remarks stood out from Bennett, who "has stopped short of condemning Russia."
Last week, during a visit to Israel, U.S. Secretary of State Antony Blinken lauded Israel's efforts to oppose Russia's invasion.
"We thank the foreign minister for his strong repudiation of Russian aggression against Ukraine and the Israeli promise that Israel will not be used as a backdoor for sanctions violations," Blinken said, according to the Jerusalem Post.
Zelensky has criticized Israel, however, arguing that the country has not done enough to support his country. In a speech to Israeli lawmakers and officials on March 20, he questioned why the country hasn't done more to provide Ukraine with weapons, or impose sanctions on Russia during the conflict.
"We are turning to you and asking whether it is better to provide help or mediation without choosing a side," he said, according to the Jerusalem Post. "I will let you decide the answer to the question, but I do want to point out that indifference kills."
Newsweek reached out to Israel and Russia's foreign ministries for comment, but did not receive responses before publication on Sunday evening.