Israel, Iran War Threats Loom as Hezbollah Fires Rockets, Israel Strikes Lebanon
Threats of military action exchanged by Iran and Israel loom heavily over the Middle East as Iran's Lebanese ally, the Hezbollah movement, fired a new round of rockets across the border and the Israel Defense Forces bombed Lebanon shortly thereafter.
The latest unrest comes just two days after a previous round of rocket fire from Lebanon toward Israel that was left unclaimed and answered by Israeli artillery and rare airstrikes against its northern neighbor on Wednesday.
A day later, Iran's Revolutionary Guard commander Major General Hossein Salami responded to recent threats by Israeli Defense Minister Benny Gantz, who warned the IDF was "ready to attack" Iran and recommended military action, and Prime Minister Naftali Bennett, who said Israel could "act alone" against Iran, which would pay "the price" for its actions across the region.
"Those who speak against us with a language of threats, including the Zionist regime's prime minister and other officials of that regime," Salami said, "must be mindful of the dangerous consequences of their comments and exercise the necessary caution in their calculations."
"We are prepared for every scenario," he added.
Then, on Friday, in a statement sent to Newsweek, Hezbollah said that "in response to the Israeli air raids on open lands in the Al-Jarmaq and Al-Shawakir areas last Thursday night, the groups of the martyr Ali Kamel Mohsen and the martyr Mohammed Qasim Tahan in the Islamic Resistance bombed open lands in the vicinity of the Israeli military occupation sites in Shebaa Farms with dozens of 122mm rockets."
Mohsen was killed during an IDF air raid on Syria last year, and Tahan died by Israeli fire in May as a group of protesters in Lebanon stormed the border in support of Palestinian fighters in Gaza then engaged in an explosive conflict with the IDF.
The Israeli military reported Friday that sirens had sounded near Ein Qiniyye, Kibbutz Snir and Neve Ativ, later stating that "more than ten rockets were fired from Lebanon into Israeli territory."
"Most of the rockets were intercepted by the IDF Aerial Defense System while the rest of them landed in open areas adjacent to Har Dov," the IDF said. "Civilian life adjacent to the Lebanese border continues in full routine."
Then the Israeli side announced retaliation, saying that "the IDF is currently striking the launch sources in Lebanon."
"We will not tolerate any aggression against Israeli civilians and remain prepared for any operational situation," the IDF said in a follow-up statement.
Contacted by Newsweek, the IDF said it had no further comment on the situation.
Hezbollah, for its part, denied that any of the positions from which it fired rockets had been targeted by Israel.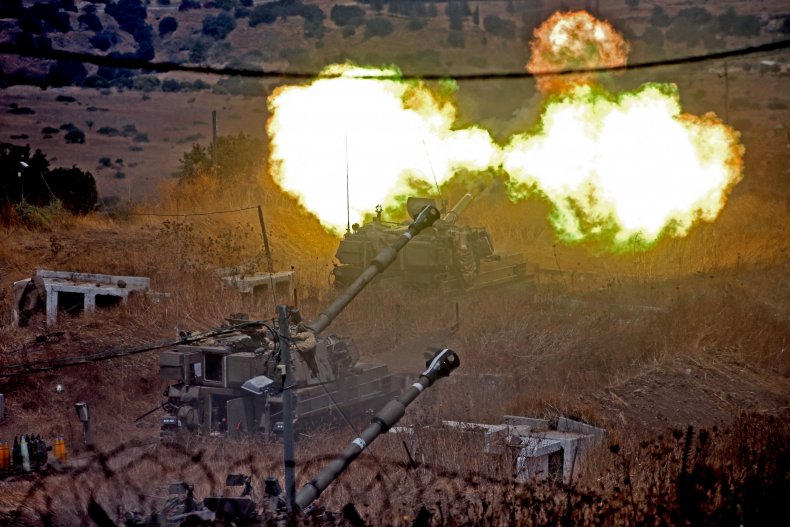 Tasked with maintaining calm at the tense Blue Line boundary between Israel and Lebanon, the United Nations Interim Force in Lebanon also weighed in, pleading for de-escalation for the second time in just three days.
"UNIFIL's Head of Mission and Force Commander Major General Stefano Del Col is in direct contact with the parties," UNIFIL said in a statement sent to Newsweek. "He calls on everyone to immediately cease fire. This is a very dangerous situation, with escalatory actions seen on both sides over the past two days."
The U.N. peacekeeping force said it was working with both sides to draw down the tensions and avoid further hostilities.
"UNIFIL is actively engaging with the parties through all formal and informal liaison and coordination mechanisms to prevent the situation from spiraling out of control," the statement said. "We are coordinating with the Lebanese Armed Forces to strengthen security measures throughout the area of operations."
"UNIFIL calls on the parties to cease fire and maintain calm so we can begin an investigation," the statement added.
Also speaking on behalf of the U.N., Special Coordinator for Lebanon Joanna Wronecka expressed "great concern" in a separate statement.
"Exercising her good offices, the Special Coordinator has activated her political contacts and reached out to all stakeholders concerned," Wronecka's office said. "The potential for miscalculation presents the risk of serious consequences. Maximum restraint is required to prevent further escalation."
The statement called on "all sides to refrain from violence and restore calm, in full respect of Resolution 1701 (2006)," the U.N. Security Council decision that ended the last Israel-Lebanon war, "and to preserve security and stability."
In Tehran, Iranian Foreign Ministry spokesperson Saeed Khatibzadeh delivered another warning to Israel as the two countries remain locked in a shadowy conflict that has most recently played out at sea. Israel has accused its archfoe of orchestrating a deadly attack against an Israel-owned ship in the Gulf of Oman, an accusation that Iran has vehemently denied.
"In another brazen violation of Int'l law, Israeli regime now blatantly threatens #Iran with military action," Khatibzadeh tweeted. "Such malign behavior stems from blind Western support. We state this clearly: ANY foolish act against Iran will be met with a DECISIVE response. Don't test us."
That same day, Iranian deputy permanent representative to the United Nations Zahra Ershadi further denied her country had any role in the apparent drone attack that struck the Mercer Street tanker last week, killing two nationals of Romania and United Kingdom, during a U.N. Security Council stakeout. She counterclaimed that Israel was behind three other attacks on vessels transporting oil to Syria earlier this year.
She also argued Friday that the IDF's airstrikes on Lebanon and other Israeli actions in the region constituted "gross violations of international law and the UN Charter and shall not go unpunished."
And she too delivered a warning.
"The Israeli regime also continues to brazenly threaten to use force against regional States," Ershadi said in remarks referred to Newsweek by Iran's permanent mission to the U.N. "Again, yesterday its defense minister threatened to use force against Iran."
"Iran warns against any such adventurism and miscalculations," she stated. "Yet, Iran will not hesitate to defend itself and secure its national interests."
The United States has also blamed Iran for the attack on the Mercer Street, one of a series of maritime incidents to play out in the periphery of the Persian Gulf since 2019, a year after former President Donald Trump unilaterally abandoned a nuclear deal struck reached in 2015 with Tehran and other world powers. But President Joe Biden has also sought to engage diplomatically with the Islamic Republic to revive the agreement in a series of yet unresolved, indirect talks in the Austrian capital of Vienna, an endeavor opposed by Israel.
Still, the White House has repeatedly backed Israel's "right to defend itself," including in response to Wednesday's airstrikes on Lebanon. On Friday, the State Department released a statement condemning the Hezbollah operation.
"The United States condemns in the strongest terms Hizballah's rocket attacks into Israel," spokesperson Ned Price said. "This violence puts Israelis and Lebanese at risk and jeopardizes Lebanon's stability and sovereignty."
He said Washington "remains engaged with Israeli and Lebanese officials, as well as the Lebanese Armed Forces," and issued an appeal to Beirut.
"We call upon the Lebanese government urgently to prevent such attacks and bring the area under its control," Price said. "We also urge the Lebanese government to facilitate full access for UNIFIL peacekeepers in accordance with UNSCR 1701. We strongly encourage all efforts to maintain calm."
Meanwhile, other Iran-aligned groups such as Hamas in Gaza, Kataib Hezbollah in Iraq and Ansar Allah, also known as the Houthis, in Yemen, praised the Lebanese Hezbollah's actions. An array of Lebanese parties also lauded the rocket attacks, while some critical of the group and its massive arsenal condemned the move, which marked the first operation claimed by the organization against Israel since September 2019.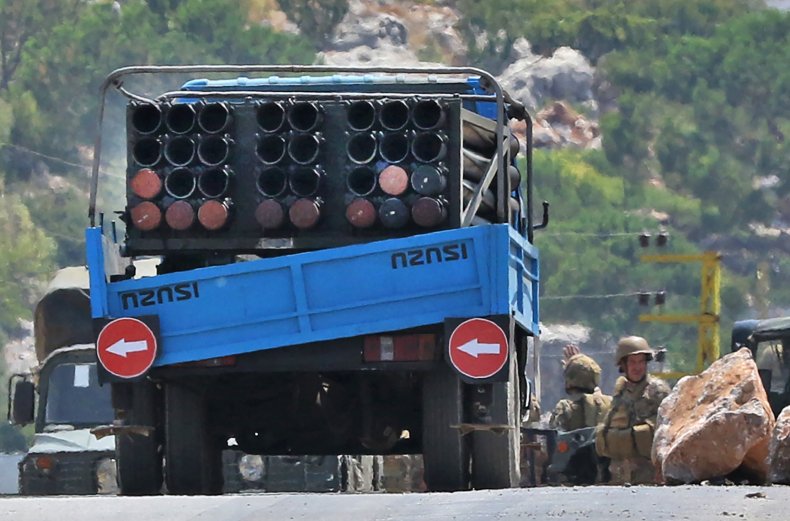 For Lebanon, the eruption of the new series of hostilities Wednesday coincided with the anniversary of a devastating blast that tore through Beirut's port and wrought havoc on the capital, deepening an already deteriorating economic and political crisis.
And faced with domestic turmoil, Hezbollah has sought to carefully balance its security commitments against Israel with mounting dissatisfaction over the country's overall conditions.
Shortly after Friday's Hezbollah operation, footage emerged of a group of what appeared to be civilians stopping a rocket-mounted vehicle operated by Hezbollah in the largely Druze village of Chouaya.
In a comment shared with Newsweek, Israel Nitzan, acting consul general of the Consulate General of Israel in New York, described the video as depicting how "Hezbollah tried to launch rockets from civilian areas and to use the innocent people of Lebanon as human shields."
"This time was different," he added, calling the clip "clear evidence that the Lebanese people have had enough of their lives being endangered by Hezbollah and its backers in Iran."
But in another statement sent to Newsweek, Hezbollah accused Israel of distorting the events and warned of "trial and punishment for anyone who authorizes himself to help this enemy, intentionally or unintentionally."
The statement evoked southern Lebanon's civil war-era history in the 1980s as a battlefield between resistance factions led by the newly formed Hezbollah and the Israel-backed, mostly Christian South Lebanon Army. Israel ultimately withdrew from Lebanon in 2000, but would return six years later for their latest war, which lasted about a month and also ended with an IDF withdrawal.
Sporadic border clashes continue 15 years later, and Hezbollah has remained wary of potential collaborators.
"What happened today is condemned and denounced, and it is surprising," Hezbollah said. "Have we reached the day when we find someone standing in the way of the resistance and defending the Israeli enemy with such insolence?"
The group also reaffirmed that its rocket attack against the occupied Shebaa Farms, annexed by Israel alongside Syria's Golan Heights decades ago without international recognition other than that of the United States, targeted "forested areas totally far from residential areas in order to preserve the security of citizens."
"The Islamic Resistance was, is and will remain one of the most careful for its fellow people, not to expose them to any harm during its resistance work," Hezbollah said, "and it is the one that pays the pure blood of its youth to preserve the security of Lebanon and its citizens."
The Shiite Muslim Hezbollah has also recently faced challenges within Lebanon from rival Sunni Muslim factions in the town of Khaldeh, where clashes over a vendetta led to the death of several people, including four Hezbollah members, and forced the Lebanese military to deploy.
The Lebanese Armed Forces have attempted to stabilize the situation at the border as well, mobilizing across the southern frontier in response to the recent attacks.
In a statement, the LAF said Friday that 10 artillery shells fired by "the Israeli enemy forces" had fallen in the outskirts of the town of Al-Sadanah and 30 in the towns of Bastra and Kfar Chouba, "which led to the outbreak of a number of fires." The Lebanese military also said one of its units in Chouaya had "arrested four people who fired the rockets, and seized the launcher used in the operation."
Footage later shared on social media appeared to show at least one of those detained had been released from custody to a celebratory crowd.
While calm appeared to prevail toward the end of the day, Lebanese media also reported the flight of Israeli warplanes at low altitudes over the towns of Arqoub and Kfar Chouba, as well as maritime violations of an Israeli warship in the waters off of Ras al-Naqoura.