Israel, Palestine Updates: Alarms Sound in Tel Aviv as More Rockets Launched
People in Muslim countries have organized Tuesday to protest Israeli actions against Palestinians.
Palestinians, Lebanese and others marched in Beirut in solidarity with Palestinians.
In Turkey, thousands of people gathered outside of the Israeli embassy and its consulate in Istanbul to protest Israel's actions.
Despite lockdown orders to curb the spread of COVID-19, protestors carried Palestinian flags and chanted "(Turkish soldiers) to Gaza" and "Down with Israel, down with America." according to the Jerusalem Post.
Hundreds of Kuwaitis have also staged a sit-in outside Parliament voicing support for the Palestinians.
These protests come as military actions escalate in the Gaza Strip. Officials say 28 Palestinians and two Israelis have died during the airstrikes and rockets launched across the Strip.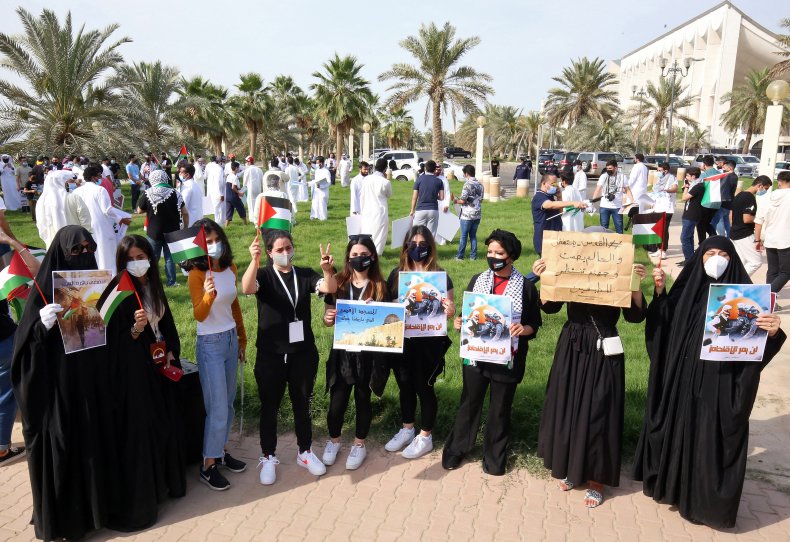 The leaders of several Muslim nations are coming together as a united front to condemn Israel's "provocative" attacks on Palestinians following the violence at the Al-Aqsa Mosque during Ramadan and the planned eviction of Palestinian families from the Sheikh Jarrah neighborhood in east Jerusalem.
"What we have witnessed is, clearly and frankly, a provocation by the Israeli occupation, that targeted the holiest Islamic sanctities, at the most sacred time," Ahmed Aboul Gheit, the head of the Arab League, told the Associated Press.
Hamas said they have the right to respond to "the Israeli offensive and protect the interests of our people as long as the Israeli occupation continues the escalation."
"The Palestinian resistance will remain the armoured shield of the Palestinian people and will continue to fend off the Israeli aggression at any cost; the Israeli occupation has to make a recalculation and understand the equation well," Hamas said in a statement.
Over 200 rockets have been fired from Gaza since Hamas gave Israeli forces a deadline to withdraw from Al-Aqsa, the Associated Press reported. The mosque is one of the city's holiest sites and, like others in the area, hotly disputed between Palestinians and Israel as to who has a claim to them.
Media reports from around Jerusalem said that over 700 people were injured in clashes in and near the city, with 500 of those receiving some sort of treatment at local hospitals.
Israel Prime Minister Benjamin Netanyahu warned Monday that the fighting "could continue for some time," after rockets were launched toward Jerusalem, setting off warning sirens around the city.
"Whoever attacks us will pay a heavy price," Netanyahu said at the time.
For more developments on the conflict in Israel, see updates below.