Israel Warns Iran Allies Are Learning How to Fight IDF in Widening Conflict
An Israel Defense Forces official speaking to Newsweek has warned that the country's Arab neighbors and Iran-aligned militias operating from within these nations and across the region are studying how the IDF wages its war in Gaza in the event these forces become engaged in their own conflict with Israel.
Israel has rolled out land, air and sea capabilities in its ongoing battle with Gaza-based movements such as Hamas and Palestinian Islamic Jihad, which continue to fire thousands of rockets despite the bombardment. The worst conflict in years has wrought devastation and drawn international attention, some of it unwanted from the perspective of Israel, a country with an existential history of fighting multi-front wars.
"I think that all the countries and different terror organizations, of course led by Iran, that surround us, they look at this conflict, and they want to learn, learn about the IDF, its capabilities, its defense capabilities, its aerial and naval capabilities," an IDF official told Newsweek. "It's not surprising that all the eyes of the world are watching, and all the eyes of the terror organizations are watching the Gaza Strip."
As Israel's fourth major confrontation in Gaza continued to erupt, signs of unrest have already broken out along Israel's other nearby flashpoints.
Rockets fired Wednesday from southern Lebanon were intercepted by the advanced Iron Dome defense system near the Israeli city of Acre, marking the third such launch from across the northern border over the past week. On Friday, rockets reached Israeli territory from Syria, coming across yet another hostile border.
Neither incident resulted in any reported damage, but the implications were clear: nearby forces were reminding Israel that they too could strike at any time. Even closer to home, a spate of attacks conducted by Palestinians in Jerusalem and the West Bank in solidarity with fighters in Gaza signal another worrisome development for a nation besieged by foes.
"Specifically, the IDF is, of course, focused right now on the Gaza Strip, but we never forget that we have other fronts as well," the IDF official said, "either the Lebanese or Syrian front or the Judea and Samaria West Bank front, and the other farther fronts, and the IDF is always on guard on all the fronts."
The IDF official issued a warning to those trying to take advantage of the considerable resources Israel was dedicating to its fight in Gaza.
"I think it will be a mistake from their side to try and test us when we are focused on the Gaza Strip," the IDF official said. "We have the capabilities to defend ourselves, even with multiple arenas, even if we're very much focused right now on the Gaza Strip and the Gaza conflict."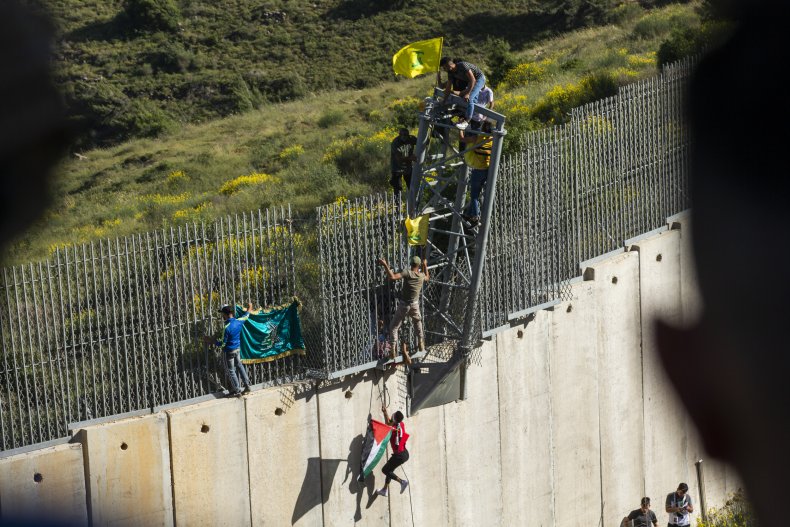 Israel displayed its capacity to use deadly force against incursions on Friday as IDF tanks opened fire on pro-Palestinian protesters who crossed the border from Lebanon, killing one man and injuring another. Israeli forces continued to open fire over the weekend as demonstrators attacked the security fence while carrying Palestinian, Lebanese, and Iranian flags, as well as that of the Iran-backed Lebanese Hezbollah movement.
The Lebanese Armed Forces have deployed to the scene in response to both the unrest on the Lebanon side of the border as well as increased Israeli military activity across it. Just as the Lebanese side declared a cautious calm on Wednesday, the latest rocket fire was answered with IDF artillery strikes across the Blue Line, which is patrolled by the peacekeepers of the United Nations Interim Force in Lebanon (UNIFIL).
"UNIFIL Head of Mission and Force Commander Major General [Stefano] Del Col is in direct contact with the parties, urging all sides to exercise maximum restraint at this critical time," Andrea Tenenti said in a statement sent to Newsweek.
"The firing has now stopped," he added. "Our peacekeepers are on the ground with the LAF to assess the situation."
Though Lebanon has fought in two of the three major wars waged by Arab coalitions against Israel since its 1948 establishment on land also claimed by Palestinians, it was Hezbollah, and not the country's standing military, that played the leading role in Israel's last two clashes in Lebanon. The most recent took place in 2006, two years before Israel fought its first war with Hamas in the Gaza Strip.
Hamas and Hezbollah were both formed in the 1980s, but have vastly different origins.
Hamas was created as an offshoot of Egypt's Muslim Brotherhood, and began its attacks on Israel during the First Intifada, a bloody Palestinian uprising that ended with the signing of the 1990s Israeli-Palestinian Oslo Accords, a treaty that ultimately failed to bring peace and was never accepted by Hamas. The largely Sunni Muslim organization today receives assistance from non-Arab Middle East titans Iran and Turkey.
The Shiite Muslim Hezbollah was formed with Iranian backing to resist an Israeli invasion of southern Lebanon initially launched in response to cross-border attacks by Palestinian groups. Unlike the other factions of Lebanon's civil war that ended in 1990, Hezbollah retained the entirety of its arsenal and has vastly expanded it to include what's estimated to be hundreds of thousands of not only rockets, but further-flying, more powerful precision-guided munitions.
A Hezbollah spokesperson recently confirmed to Newsweek that the group was closely following the events unfolding in Gaza, but said it appeared that Hamas and its allies were capable of handling the fight themselves at the moment.
"Of course, we are supporters," the Hezbollah spokesperson said at the time. "But I don't think they're in need of our people. The numbers are available. All the rockets and capabilities are in the hands of the resistance fighters in Palestine."
Hezbollah has denied that it was behind at least the first of the recent rocket attacks from Lebanon into Israel. A Lebanese official told Newsweek at the time that the rockets were believed to have originated from southern Lebanon's Palestinian refugee camp of Rashidieh, near which the Lebanese Armed Forces would later discover three rockets.
The other launches remain deliberately shrouded in mystery, as do those fired from Syria, but Hamas has nonetheless welcomed these apparent acts of solidarity.
"We welcome any resistance against the Israeli occupation wherever and whenever it is carried out," a Hamas spokesperson told Newsweek.
In Syria, an array of militias from as far away as Iraq, Afghanistan and Pakistan operate with support from Iran as part of a decade-long civil war in which the Islamic Republic has backed Syrian President Bashar al-Assad against rebel and jihadi groups. Israel has accused Iran-linked groups of transporting advanced weaponry and setting up forward bases, and has conducted hundreds of airstrikes against them.
These strikes, along with several instances of missile fire from Syria toward the Israel-occupied Golan Heights over the past few years have added to a murky conflict playing out across the Middle East between Israel and Iran. This shadowy bout has also played on Iranian land in acts of assassinations and sabotage targeting its nuclear program and out at sea with attacks on both Iran and Israel-linked vessels.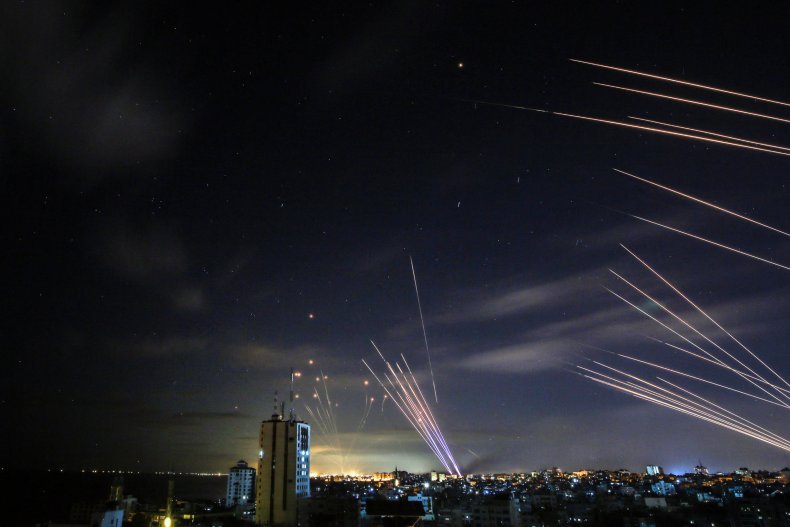 Israeli officials are so far reluctant to link the escalation in Gaza to Iran, though they acknowledge Tehran's support to Palestinian Islamic Jihad and Hamas.
"The role of Iran here is an important one," IDF spokesperson Lieutenant Colonel Jonathan Conricus told reporters on Saturday. "They are not the ones calling the shots and organizing the actual fighting. They are not the ones controlling Hamas and not even the Islamic Jihad, but they are the biggest provider of weapons, both to the Islamic Jihad, first and foremost, and, secondly, to Hamas.
This support, comes in the form of "ready-to-use weapons, standard-grade weapons that are smuggled in directly to the organizations, second, in funds, money, and third, in knowledge."
The current war in Gaza may prove an opportunity for Hamas and Palestinian Islamic Jihad to return the favor by drawing out the largest display of IDF capabilities in years.
In remarks made during a televised interview last month and still being widely circulated today in self-styled pro-resistance channels, Iran's Revolution Guard commander Major General Hossein Salami listed a series of events over the past month in which "all the vulnerabilities of the Zionist regime were demonstrated."
These included recent cyberattacks that affected dozens of Israeli firms, the alleged execution of suspected Israeli spies in the northern Iraqi city of Erbil in January, explosions at a petrochemical plant in the Israeli port city of Haifa in February, February's missile factory blast, the landing of a Syrian anti-air missile near the Dimona nuclear reactor and a recent fire that broke out near Ben Gurion International Airport.
The leading Iranian military official did not explicitly take credit for any of these events, but warned that Israel's strategic weaknesses meant "just a single operation can ruin this regime."
On Wednesday, Salami took the stage in Tehran to hail the Palestinian efforts in Gaza, delivering a speech in which he reiterated some of the mishaps that have befallen Israel and tied them directly to Israel's own intervention across the region.
"I declare to you, the people of Palestine, that our hearts are with you, and that we are all Palestinians today, and that our hands are high in the sky for your victory," Salami said to a crowd waving Palestinian and Hezbollah flags in Imam Hossein Square. "We are with you when you strike with Qassim missiles in the heart of the Zionist regime, and this is an eternal and permanent covenant."
Israel, he argued, "is broken, depressed and has lost confidence," while "a new Palestine" has emerged, the cause of whom belongs to "the entire Islamic world."
That same day, a spokesperson for the Iran-aligned Iraqi Hezbollah al-Nujaba movement teased the idea of other actors joining in on Gaza-based Palestinians' fight against Israel in an interview with a local affiliated media outlet.
"Today, this strip, this small city, is able to face groups of the Zionist entity and target the entirety of the land of occupied Palestine," Nasr al-Shammari said Wednesday. "How about if some other fronts opened, what if—in the midst of this conflict—the Syrian and Golan front opened? What if the Hezbollah and Lebanese front opened? What if the Egyptian front opened, for example?"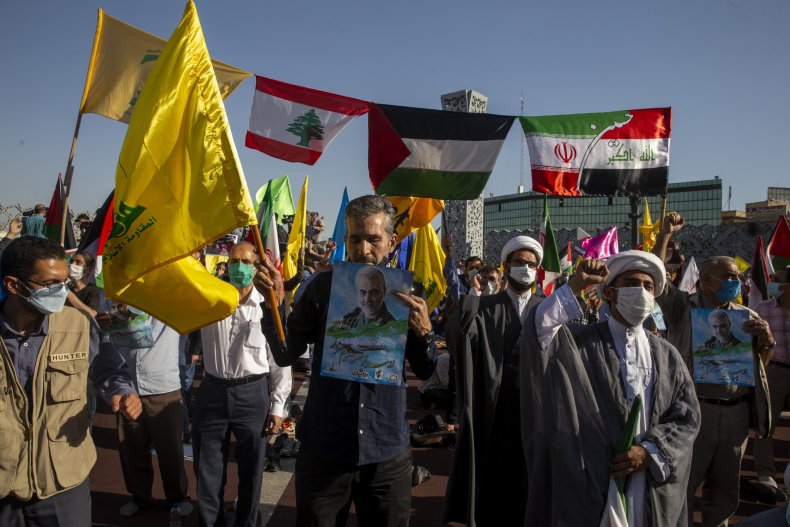 Lebanon and Syria, consumed by their own domestic turmoil, remain in a technical state of war with Israel since the first regional conflict in 1948. Egypt became the first Arab country to make peace with Israel in 1979, followed by Jordan 15 years later. The citizens of both countries have hosted major pro-Palestinian gatherings, but their governments are currently engaged in intensive talks with Israel's top ally, the United States, in an effort to bring calm.
Following consecutive U.S. vetoes of a U.N. Security Council statement calling for a cessation of hostilities, President Joe Biden spoke with Israeli Prime Minister Benjamin Netanyahu on Monday in their third call since the crisis began, and for the first time "expressed his support for a ceasefire."
As the IDF pressed on targeting enemy positions and personnel in the face of continued rocket fire from Gaza, Biden spoke with Netanyahu a fourth time Wednesday and "conveyed to the Prime Minister that he expected a significant de-escalation today on the path to a ceasefire." But the hostilities continue unabated.
Netanyahu gathered the ambassadors of some 70 nations Wednesday to deliver an appeal for stronger international support for Israel, and later delivered a video message from an IDF headquarters in Tel Aviv, which is among the cities targeted by the rockets being launched from the Gaza Strip.
"I very much appreciate the support of these governments, and I especially appreciate the support of our friend, U.S. President Joe Biden, for the State of Israel's right to self-defense," Netanyahu said. "I am determined to continue this operation until the objective is achieved to restore calm and security to you, citizens of Israel."
This article was updated to include comment from a Hamas spokesperson.