Israeli officials are concerned that Iran's position in Syria and other parts of the Middle East may be strengthened by a strategic partnership with China and the finalization of the United States' return to a multilateral nuclear deal.
Newsweek asked an Israel Defense Forces official during a press briefing Monday if Israel was concerned over the 25-year China-Iran strategic partnership agreement signed last year, coupled with indications that the U.S. may soon reenter the 2015 Joint Comprehensive Strategic Plan of Action (JCPOA).
"The short answer is 'yes,'" the IDF official replied.
The IDF official particularly raised the alarm on how these developments may empower Iran's continued ability to develop and deploy unmanned aerial vehicles (UAVs), including so-called "suicide drones," which the IDF has alleged Iran has operated both directly and through partnerships with local forces across the region, including from Syria.
The IDF official argued that this threat only continued to grow in the roughly three years that the U.S. was a party to the deal before exiting under former President Donald Trump in May 2018.
"We did see throughout the years of the JCPOA, which did not deal with the regional threats and regional proliferation of both arms and terrorist activities, that Iran was able to upgrade those capabilities that were sent out, and also to empower more proxies throughout the region," the IDF official said.
While Israel has seen no decline in such Iranian military activities even after the U.S. exit and a flood of tough sanctions against Tehran, the IDF official argued the potential influx of foreign capital may only further empower the development of such weapons.
"Iran is indigenously, continuously building, and proudly doing so, to have the capabilities to build these UAVs by the Iranian military industries and companies and internal engineers," the IDF official said.
"And having more money to do so will definitely accelerate more of both building and proliferation of these arms throughout the Middle East," he added. "And I would add to that, actually, not only the Middle East."
The IDF official argued that "potentially anything that helps to empower the Iranian economy, the money is then channeled into terror activity."
Tehran, for its part, characterizes its interests in Syria as the legitimate cooperation between two friendly states, and its ties with China as an expression of not only warm bilateral ties but a common vision for their countries, and for international affairs more broadly.
"It is a fact that countries regulate their bilateral and multilateral relations based on their common interests," the Iranian Foreign Ministry said in a statement shared with Newsweek. "Iran and China have decided to expand bilateral relations in various fields, including the economic sphere, and the criterion of these relations is the principles of international law and not the unilateral failed policy."
"It is natural that both parties benefit in this legal economic relationship," the ministry added. "Together, Iran and China have been resolutely protecting multilateralism and opposing unilateralism."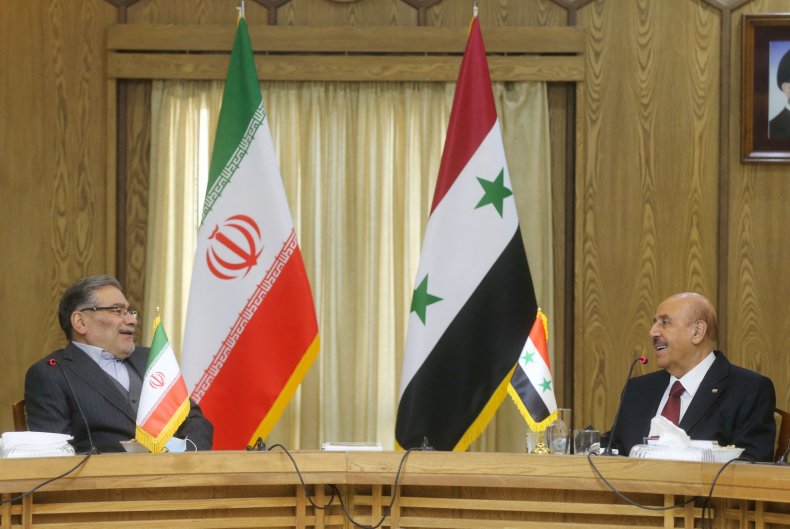 The details of the agreement between Beijing and Tehran remain opaque. But efforts to begin implementing the deal were a key talking point when Iranian Foreign Minister Hossein Amir-Abdollahian made his first trip to China in January, and then again last week when he spoke with his Chinese counterpart Wang Yi via telephone.
Only unofficial, unverified drafts of the deal have been made public, including one purported leak that outlined measures for various projects designed to enhance economic, political and security cooperation. The initiatives appear in line with Beijing's global partnership network, which includes more than 100 countries around the world.
Tehran forged its comprehensive strategic partnership with the People's Republic in 2016, just as the JCPOA began to take effect, and sought to draw in further Chinese infrastructure investment by joining China's intercontinental Belt and Road Initiative (BRI) with the signing of last year's deal.
But this arrangement is not unique to Iran. Beijing has established comprehensive strategic partnerships and strategic partnerships with a number of Middle Eastern countries, including Iran's rivals Saudi Arabia and the United Arab Emirates. And nearly every country in the region has joined the BRI, much to the chagrin of the U.S., which has attempted to caution against China's growing global ties.
Even Israel, considered an "innovative comprehensive partner" of China, has increased its cooperation with China, though it has yet to join the BRI.
But last month neighboring Syria joined the prized global initiative of Chinese President Xi Jinping, marking a potential new era in China's designs for a country that has suffered more than a decade of war. Iran, along with China's highest-level partner, Russia, has backed the government against rebels and jihadis. Like Iran, Syria faces considerable U.S. sanctions, with Washington accusing Damascus of war crimes and human rights abuses throughout the conflict.
The U.S. has scaled back its own military operations from attempting to oust Syrian President Bashar al-Assad through support for rebels to now consisting primarily of an open-ended deployment of troops backing the Kurdish-led Syrian Democratic Forces against the Islamic State militant group (ISIS) and limited strikes against key jihadi leaders. Israel, however, continues to conduct semi-regular air raids against suspected Iranian targets in the country, as well as Syrian military sites seeking to defend the country's airspace.
As recently as Sunday, the Syrian Defense Ministry accused Israel of conducting airstrikes in the country's south, near Damascus. On Monday, the Syrian Foreign Ministry claimed it was no "coincidence" that the ostensibly Israeli operation followed a deadly attack by ISIS on Syrian troops in Palmyra.
Such Israeli strikes have also occasionally drawn direct criticism from Russia, though Moscow's forces have never openly intervened against attacking Israeli jets. And even as Syria emerged as one of the few nations to openly back Russia's intervention in Ukraine amid global backlash, Israel has sought to take a measured approach to Russia, with Foreign Minister Yair Lapid condemning the war, while Prime Minister Naftali Bennett traveled to Moscow for high-level talks with Russian President Vladimir Putin.
China has hedged even further on Russia's side, abstaining from United Nations votes to condemn Moscow, while emphasizing the need to take seriously the Kremlin's concerns over what it perceives as the eastward expansion of the U.S.-led NATO alliance, and NATO military activities as a catalyst for the current crisis.
In Syria too, China has generally backed Russia's approach, while simultaneously emphasizing a diplomatic rather than a military approach to the conflict.
Asked whether China's deals with Iran and Russia, along with the breadth of interactions associated with the "comprehensive strategic partnership for the new era" with Russia, could lead to a convergence of these country's interests in Syria, Liu Pengyu, spokesperson for the Chinese embassy in the U.S., explained Beijing's positions on building mutually beneficial partnerships without the formation of tradition alliances.
"China is committed to developing partnerships and expanding converging interests with other countries," Liu said. "We believe the partnerships should be equal, peaceful and inclusive, and follow a new path of state-to-state relations featuring dialogue rather than confrontation."
We build partnership rather than alliance," he added. "We believe both countries share the same vision and those [who] seek common ground while shelving differences could be partners."
Syrian Foreign Minister Faisal el-Mekdad also responded to Newsweek's question on whether enhanced Russian and Iranian security assistance could prove useful in safeguarding potential Chinese economic interests in the country.
"We hope we'll be able to use all opportunities to ensure the economic development of Syria," Mekdad said during a Valdai Discussion Club panel that took place in Moscow late last month, just as Russia's military intervention in Ukraine began.
"Our armed forces, with the support of our friends, are able to ensure the necessary conditions," he added, "but terrorism still exists, and that's why we need solidarity from other countries."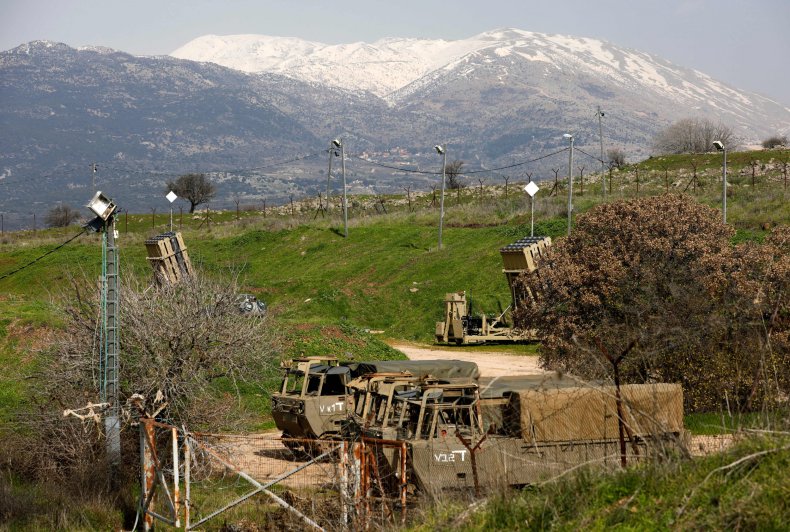 And while Beijing's cooperation with Tehran was on Israel's radar, another Israeli official told Newsweek that the country sees the JCPOA as a bigger issue than the Iran-China agreement.
Since the very inception of talks, efforts by the U.S. — together with those of China, the European Union, France, Germany, Russia and the United Kingdom — to endorse a deal with Iran in which sanctions were lifted in exchange for a severe curbing of the Islamic Republic's nuclear activities, have been opposed by Israel. Under former Prime Minister Benjamin Netanyahu, Israel was one of the few countries, alongside a number of key Arab states, to laud Trump's decision to leave the accord.
But U.S. President Joe Biden has set out to reinvigorate the deal that was struck during his time as vice president under former President Barack Obama, and has sought to allay Israeli concerns as he pursued talks being held to that end in the Austrian capital of Vienna.
The existing rift in the U.S. and Israeli positions was the subject of conversation Monday when Secretary of State Blinken met with his Israeli counterpart Lapid in the Latvian capital of Riga.
"We're united and committed to the proposition that Iran must never obtain a nuclear weapon," Blinken told Lapid at a press briefing, "and I look forward to bringing you up to date on the latest on where we are on the talks with the Europeans, the Iranians, Russia, and China on the JCPOA."
Iran has repeatedly denied any desire to acquire such a weapon, and U.S. officials see a return to the JCPOA and caps on Iranian enrichment levels as the best way to ensure Tehran that would not be possible.
On Sunday, Blinken said he felt all sides were "close" to reaching a deal, "but there are a couple of very challenging remaining issues, and nothing's done until everything's done."
Iranian Foreign Ministry spokesperson Saeed Khatibzadeh offered a similar assessment Thursday after the latest round of talks in Vienna.
"Premature good news does not substitute good agreement," Khatibzadeh tweeted. "Nobody can say the deal is done, until all the outstanding remaining issues are resolved. Extra efforts needed. Everybody is now focused on the final critical steps."
But even if a deal is reached, Israel, which is widely believed to possess nuclear weapons of its own, reserved the right to take unilateral action against its archfoe, a point emphasized on Monday by Defense Minister Benny Gantz.
"Whether or not an agreement will be signed," Gantz said, "it will not be the end of the road for us — nor should it be for the countries of the region and the world, which must continue to act against Iranian aggression."