Israeli Defense Minister Refutes Report That Netanyahu Urged Trump to Strike Iran After Losing Election
Israel's Defense Minister on Saturday denied a report that suggested Prime Minister Benjamin Netanyahu urged former U.S. President Donald Trump to carry out military strikes against Iran after he lost the 2020 presidential election.
Benny Gantz, a retired Israeli army general and the country's minister of defense, told a local media outlet yesterday that a New Yorker report which said Netanyahu encouraged U.S. action against Iran was likely "not what happened."
"I don't know of this story and I assume this is not what happened," Gantz said in an interview, according to the Jerusalem Post. Gantz added that he would have been aware of such a move, and stated that the country should not urge the U.S. to fight for them.
"We should not push America to fight for us. Iran is a regional and global problem," Gantz said in the interview.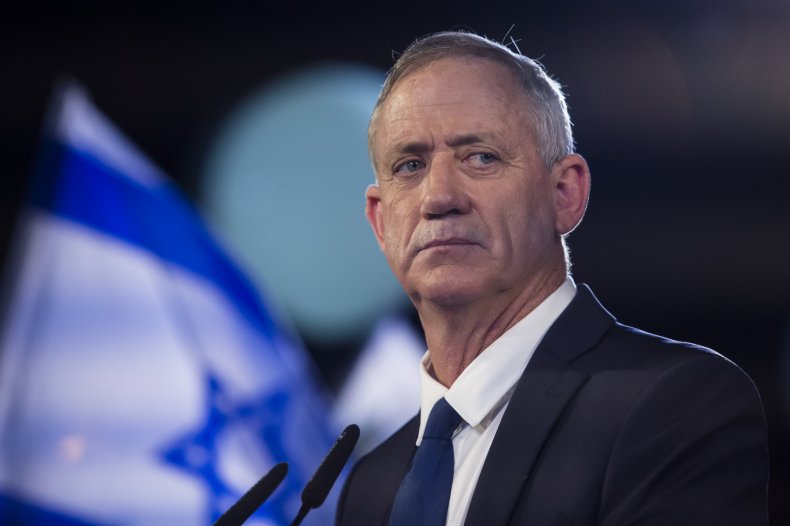 Gantz's statements come after The New Yorker published a brief report on Thursday that stated top U.S. General Mark Milley feared that Trump would take military action against Iran at the end of his presidency despite being repeatedly warned not to.
In the report, which will be further published as an upcoming book on the Trump administration, it was suggested that a number of "Iran hawks"—including Israel—also wanted Trump to carry out such efforts.
"Trump had a circle of Iran hawks around him and was close with the Israeli Prime Minister, Benjamin Netanyahu, who was also urging the Administration to act against Iran after it was clear that Trump had lost the election," The New Yorker's Susan Glasser wrote.
The report alleges that Milley feared Trump would carry out a "Reichstag moment," or manufacture a crisis in order to "swoop in," rescue the nation, and attempt to retain power, much like Adolf Hitler did in 1933.
According to the article, Milley warned Trump that if he took military action against Iran, he was "gonna have a f***ing war." The article then details how the Joint Chiefs of Staff eventually helped end the prospect of a conflict with Iran in early January.
On the January 3, Milley, along with National Security Advisor Robert O'Brien and Secretary of State Mike Pompeo, told Trump that any military action against Iran would be impossible to carry out, the report states.
"After Milley walked through the potential costs and consequences, Trump agreed. And that was that: after months of anxiety and uncertainty, the Iran fight was over," Glasser wrote.
The U.S. and Iran have faced tensions since the 1979 Islamic Revolution and hostage crisis at the U.S. Embassy that began the same year.
But under Trump, conflict between the two countries reached historic highs after the former president withdrew from the 2015 Iran nuclear deal and later ordered a drone strike that killed Iran's top general, Qassem Soleimani, in 2020.
In Thursday's report, Glasser said that the book, which is written by her and her husband, Peter Baker, is set to come out next year. Glasser said the two have conducted nearly 200 interviews for their reporting on Trump's time in the White House.
Newsweek contacted Israel's defense ministry for additional comment but did not hear back in time for publication.