Israelis and Palestinians Face off on the Football Pitch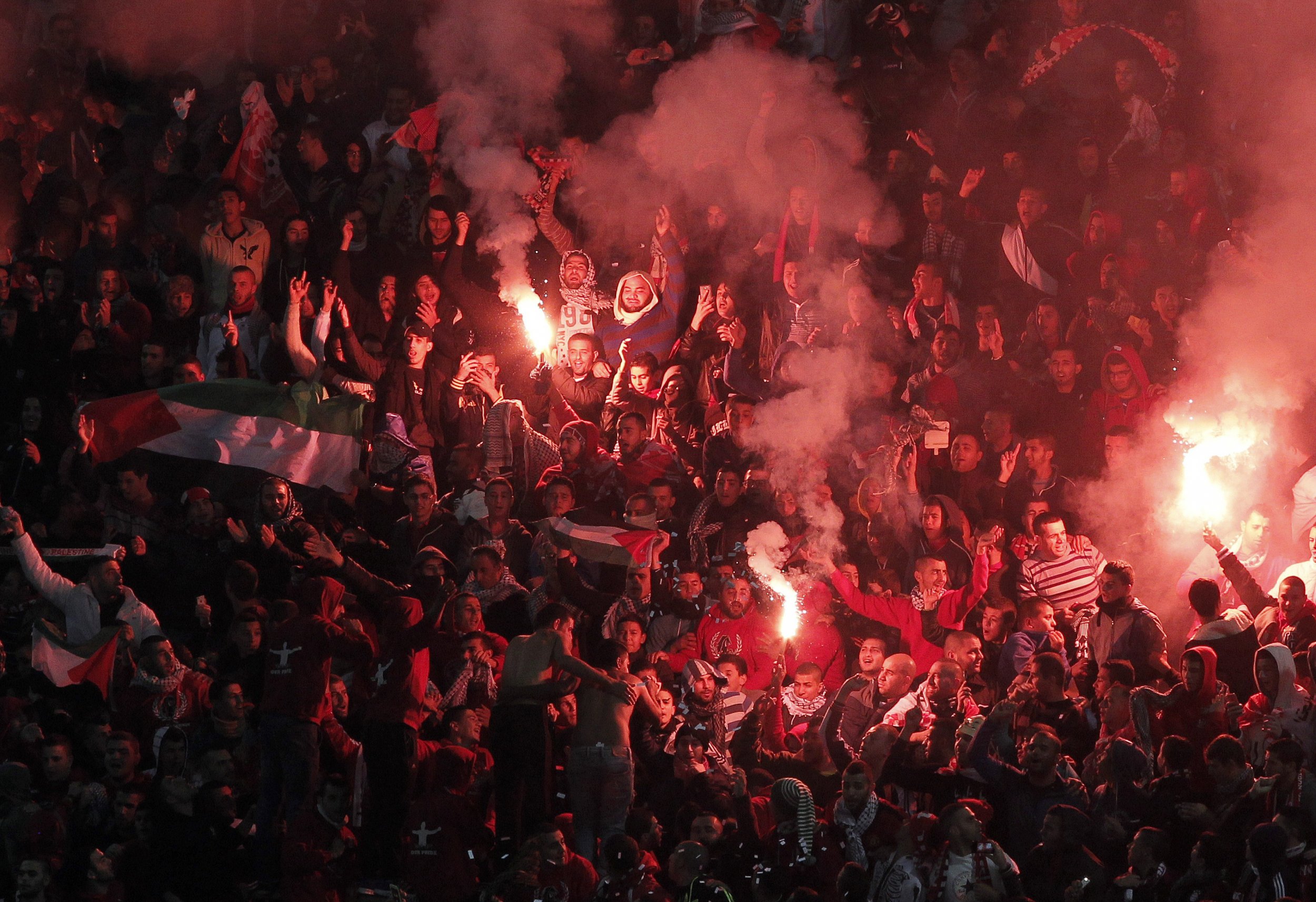 As four months of violent clashes in Israeli cities and the West Bank continue to deepen the divide between Jews and Arabs, Israel's Beitar Jerusalem football team faces off against the country's biggest Arab team, Bnei Sakhnin, on Monday night, amid heightened security.
The match, a home fixture for Beitar, will take place in the central city of Petah Tikva—60 kilometers (37 miles) away from Jerusalem's Teddy Stadium. The club was banned from playing the match in its home stadium after misconduct by a right-wing extremist group of fans, known as La Familia, in a December fixture against Israeli club Maccabi Netanya activated a suspended sentence. Approximately 8,000 Beitar fans and 2,000 Sakhnin fans are expected to descend on the Petah Tikva Stadium.
According to Shlomi Barzel, head of communications at the Israeli Football Association (IFA), the maximum police allocation at an Israeli football league match is usually 400 officers. But because of the tensions between Beitar's nationalist fans and Sakhnin's Arab Israeli contingent, authorities are deploying an extra 100 police at the Petah Tikva Stadium, at an additional cost of approximately one million shekels ($252,000) to Beitar.
"No one is willing to take a risk. We pray for the best and prepare for the worst," Barzel says to Newsweek. "We always try to make them remember that it's only football, that everything that happens outside the stadium is not relevant to the game. Because of the presence of the police, it makes it easier for the game to go well."
Kobby Barda, press officer at the Israeli Professional Football League, says the increased police presence is a response to the series of stabbing, shooting and car-ramming attacks by Palestinians that have killed 25 Israelis since October and the Israeli retaliation that has killed at least 148 Palestinians, of which Israel says more than half were attackers.
"It's going to be heavy, heavy security," he says. "We are trying to do our best to create a better environment. On the other hand, I will not tell you that nothing is happening. It is a very tense game."
While Sakhnin has Jewish players and a Jewish manager in its ranks, Beitar has never fielded an Arab player and its right-wing fans are happy for things to stay that way. They have been known to hold aloft banners that read "Beitar, Pure Forever" and chant "Death to Mohammed" at matches, and, in March 2012, attacked Arab workers at an Israeli mall. A number of La Familia members are supporters of the outlawed far-right Kach party, as well as the Kahane Chai splinter party, which is based on the Jewish nationalist ideology of Rabbi Meir Kahane.
"Can you imagine those things at Wembley?" asks Gonzalo Boye, head of the Palestinian Football Association, who used Beitar as a case study in an attempt to have Israel suspended from world football body FIFA last year. "That would be a major scandal in the [English] FA. The IFA should take action. When you put up a sign against the Arabs, against the Muslims, that is violence."
When Beitar signed two Muslim Chechen players, Zaur Sadayev and Dzhabrail Kadiyev, in January 2013, La Familia torched the club's offices, chanted against the players when they touched the ball and staged a walkout when Sadayev scored for the team. An Israeli football official, speaking on condition of anonymity to Newsweek, says that Beitar "do not take [Muslim] players because the last ones...ruined the team. It blew the club from inside. It's like an interior bomb."
And the violence isn't only directed at Arabs. In October, a Jewish Hapoel Tel Aviv fan nearly died after an axe attack that led to the arrest of three suspected La Familia members and, in July Beitar fans threw firecrackers and smoke grenades onto the pitch during a Europa League match. They injured Belgian side Charleroi's goalkeeper, forced the match to stop, and drew condemnation from Beitar's owner Eli Tabib and even Israeli Prime Minister Benjamin Netanyahu—a Beitar supporter—for damaging Israel's image abroad.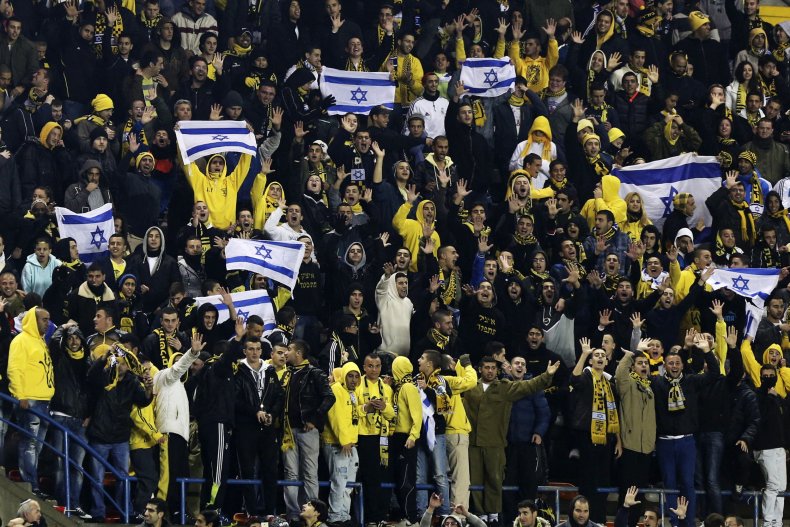 Israel's most popular Arab politician Ahmad Tibi, who will be at the match on Monday, tells Newsweek that the upcoming match will be "more sensitive, more hot" because Beitar have the "most racist and violent fans in Israel."
The country's security minister Gilad Erdan has announced the right-wing government is examining the possibility of outlawing La Familia, and one of the club's most famous supporters, Israeli President Reuven Rivlin, has condemned the extremist fan group and pledged his support for a new splinter club, Beitar Nordia—Beitar Jerusalem's original name between 1947 and 1948—which was set up in 2014 as a counter to Beitar fans' racist rhetoric.
Netanyahu and Rivlin's offices both declined to comment on Monday's match.
Beitar's management and the Israeli football league are both making extensive efforts to drown out La Familia's racism, says football league spokesman Barda. Beitar players now have "No to violence" and "No to racism" written under the numbers on their shirts and the league, in cooperation with Rivlin, initiated the Shield of Honor award, now in its second season, giving 140,000 shekels ($35,400) to the team with the season's best-behaved fans.
IFA spokesman Barzel notes that Beitar isn't alone in having some trouble-making fans. Sakhnin's Ultras have also been seen brandishing provocative banners, such as one that read "Jerusalem is Ours." Sakhnin—who is languishing in twelfth place in the league, while Beitar sits in third place—plays in the Doha Stadium, which was funded by a multi-million-dollar donation from the former Emir of Qatar, Hamad bin Khalifa Al Thani. Qatar hosts and funds the exiled leadership of Palestinian militant group Hamas, who have been at war with Israel for decades.
Monday's match will therefore bring together two sections of Israeli society that are poles apart, more than ever, after months of bloodshed. While official representatives of both clubs did not respond to questions, the fans of both sides are eagerly anticipating what is much more than just a game.
A member of a Beitar supporters group, who asked not to be named, says the match will see Israel's most successful club take on a "bloodthirsty enemy" who "time and again want to destroy the Jewish people." Politician Tibi, who says that Beitar fans chant for his death at every game, wants the match to pass "without any clashes, without any violence." But he also can't hide his hope that Sakhnin will get one over on its fiercest rival. "I hope that we will win in this game," he says. "And it will be a sweet victory."