Israeli and Palestinian Lives Come Before Land | Opinion
"We stand in solidarity with the Palestinian residents of Sheikh Jarrah in East Jerusalem. Israeli forces are forcing families from their homes during Ramadan and inflicting violence," tweeted Rep. Alexandria Ocasio-Cortez (D-NY) on Saturday. Ocasio-Cortez thus joined Rep. Rashida Tlaib (D-MI), who had spent the previous few days firing off tweets about her Palestinian identity and her loyalty to the Palestinian people. Sen. Bernie Sanders (I-VT) added his voice, asserting, "The United States must speak out strongly against the violence by government-allied Israeli extremists in East Jerusalem and the West Bank."
As an Israeli, I was dumbfounded by these statements.
Don't get me wrong; I oppose violence in all its forms, no matter who the instigators are. But I was surprised that these American officials were so riled up about a real estate dispute on the other side of the world. I was shocked at how much they misrepresented the situation in Sheikh Jarrah, but was unsurprised by their shared narrative: that there is only one party at fault, and that villain is the State of Israel.
However, the conflict in Sheikh Jarrah—"Shimon HaTzadik," in Hebrew—predates the establishment of the State of Israel.
Sheikh Jarrah is a neighborhood in Jerusalem where Jews legally purchased land in Jerusalem well before the founding of the modern State of Israel in 1948. After Israel declared independence, Jordan then illegally occupied most of Jerusalem. Under this foreign occupation, Jewish land was managed by the Jordanian government as "enemy assets." Jordan then gave large swaths of this stolen land to Arab civilians, who have inhabited it for decades.
So, why is #SheikhJarrah trending on Twitter in 2021?
Israel's Supreme Court was set to decide this real estate dispute among private Israeli and Palestinian citizens this very week. (The date has since been postponed in an attempt to lower tensions.) Several Israeli individuals, including one far-right politician, Itamar Ben Gvir, arrived in the neighborhood with these expected court cases looming.
These rulings could not have come at a worse time, and the agitators knew that. This past Monday night marked Jerusalem Day—an Israeli national holiday commemorating the reunification of Jerusalem in 1967 and the subsequent establishment of Israeli control over the Old City. Meanwhile, Wednesday is Eid al-Fitr, Friday is "Quds Day" and Saturday is "Nakba Day." These are emotional days for both Palestinians and Israelis.
People worldwide sometimes say they would kill to live in a neighborhood, but in Jerusalem, it's not just a turn of speech. The worst, most tribal among us have been willing to shed blood over land.
Last week, on May 2, Israeli teenager Yehuda Guetta was murdered by a 44-year-old Palestinian terrorist. The 19-year-old was walking down the street with two of his friends when the terrorist gunned him down. His friends were also shot and injured.
Three days later, during the manhunt for Guetta's killer, Palestinian teenager Saeed Odeh was killed by Israel Defense Forces (IDF) soldiers after reportedly hurling Molotov cocktails at them.
But you will not hear about young Guetta's merciless slaughter from American politicians—even though it is arguably what escalated the present round of violence. We Israelis learn from a young age that our blood is cheap. Our murders go unreported and unmourned by the media and those who want to preserve a one-sided narrative about Israel.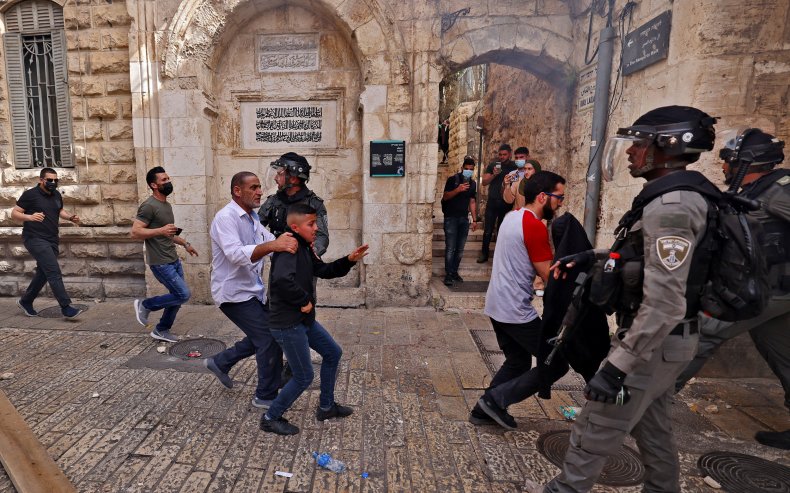 Instead, videos go viral of destruction at Al-Aqsa Mosque and the Temple Mount. These places are sacred to countless Jews and Muslims, but nothing in either religion is as sacred as human life itself.
When it comes to the Israeli-Palestinian conflict, people always prioritize property over people. Protesters hold candles in the street over a few disputed houses, but light no flames to the children who have been slaughtered.
Yesterday morning, a Jewish man driving in Jerusalem was mobbed by Palestinian protesters. If you watch the footage, it's apparent that the protesters were trying to lynch him. A few hours later, Hamas launched an anti-tank missile at an Israeli civilian. As that man was rushed to the hospital in Israel, the Gaza-based terrorist group proceeded to fire over 150 more rockets at Israeli civilians.
Although those rocket attacks were not successful, we need to be clear about what they were: over 150 attempted murders. A few of the rockets landed in Jerusalem; two hit a Bedouin Israeli village, and one exploded near Abu Ghosh, an Arab-Israeli town. One rocket failed to hit its Israeli targets and instead exploded in Gaza, killing an entire family—including three Palestinian kids.
Hamas is clear about its murderous intentions; it is a terrorist group that calls for the genocide of all Jews worldwide in its founding charter. However, Palestinian protesters cheered on these attacks, chanting for Hamas to "bomb, bomb Tel Aviv."
Meanwhile, some protesters throw firebombs and rocks at Israeli civilians. I know that might seem benign—just rocks, right? But it's not benign to the parents of the seven-month-old baby girl now being treated by the Hadassah Medical Center after a stone hit her head.
Again, to reiterate—this is a dispute over a few houses.
Yesterday, Israeli police wielded tear gas, stun grenades and rubber bullets against protesters. The military retaliated against the Palestinian attacks by targeting Hamas's rocket launchers, two military posts and eight individual Gaza-based terror operatives. The IDF added on its Twitter account: "Terror targets civilians, we target terror." But still, this means more innocent people, including children, will die. Too many already have.
It's not lost on me that Sen. Sanders, Rep. Ocasio-Cortez and Rep. Tlaib were mute to the violence inflicted on Israeli civilians by Hamas and other terrorists—though the rote airstrike condemnations are already rolling in. As rapper Cardi B once said: "No one notices when you're being provoked, just when you retaliate."
There are no clear heroes or villains to this story. Both the Arab-Muslim residents and the Jewish residents of Sheikh Jarrah have legitimate claims—and a human right to live in Jerusalem, or anywhere else, regardless of their ethnoreligious background.
Perhaps there actually is one villain; violence, bloodshed and murder. There will be no winners in this 100-year war. We've all lost too much—too many lives.
This property dispute is not as important as the lives that are being lost. Human beings will always be more important than property. There is no justification for terrorism or murder, and we need to collectively mourn all those who have died.
Leaders and public figures of all stripes would do well to stop finger-pointing and cease fanning the flames.
Hen Mazzig is an Israeli writer and a senior fellow at The Tel Aviv Institute. Follow him on Twitter: @henmazzig.
The views expressed in this article are the writer's own.