Is It Ever OK to Say 'Happy Memorial Day'? Americans Split Over Sentiment
Today (May 30, 2022), is Memorial Day, a day to honor all those who gave their lives in service to their country.
While it may seem natural to wish someone a "Happy Memorial Day," Americans remain split over whether it is an appropriate phrase to use to mark the national day of remembrance.
For many families who have lost loved ones, the day is a somber one and a period of reflection, not a joyous time as the sentiment may suggest.
What Is Memorial Day?
Formerly known as Decoration Day, the origins of the federal holiday can be traced back to the post-Civil War era, when a group of Union army veterans, the Grand Army of the Republic, called for a day to remember the lives of those who died defending their country.
It was traditionally observed on May 30, until Congress passed the Uniform Holiday Act in 1968.
Memorial Day is now observed on the last Monday in May, and some have criticized the celebratory atmosphere that the three-day weekend lends the holiday, which is often marked with cookouts among friends and family, and sales across major retailers.
Is It Ever Appropriate To Say 'Happy Memorial Day'?
Veterans groups have mixed opinions on whether it is disrespectful to use the phrase on the federal holiday.
The Code of Support Foundation (COSF), a U.S. non-profit organization that works to ensure members of the military, veterans, caregivers and surviving families receive the support they have earned through their service and sacrifice, calls on Americans to remember the true meaning of Memorial Day, and to "seek ways to honor our nation's heroes who died in service to our great nation."
"Plan a visit to a military cemetery or war memorial, attend local activities hosted by local veteran groups, or simply take a moment to learn more about those who serve our nation," the group urges.
COSF CEO and Co-Founder Kristina Kaufmann told Newsweek that for some, the meaning of Memorial Day is deeply personal and not a day of celebration, and therefore it isn't appropriate to wish someone a "Happy Memorial Day."
"Instead, Code of Support suggests you use this day to reflect and remember those who have died in service to our nation—both on and off the battlefield: 'On Memorial Day and every day, I remember and thank those who made the ultimate sacrifice and their families,'" said Kaufmann.
Kaufmann said Memorial Day is a day to mourn a dear grandparent, parent, spouse, child, sibling, cousin, or friend who died in service to the nation.
"As a former wartime Army wife, I take the day to speak out-loud the names of the 24 service members and veterans I knew personally, who made the ultimate sacrifice. I also think of their families' sacrifice to our nation," she said.
"To those who have felt this loss, Code of Support Foundation would like to extend our sincere condolences to you, and gratitude for your loved one. We will never forget."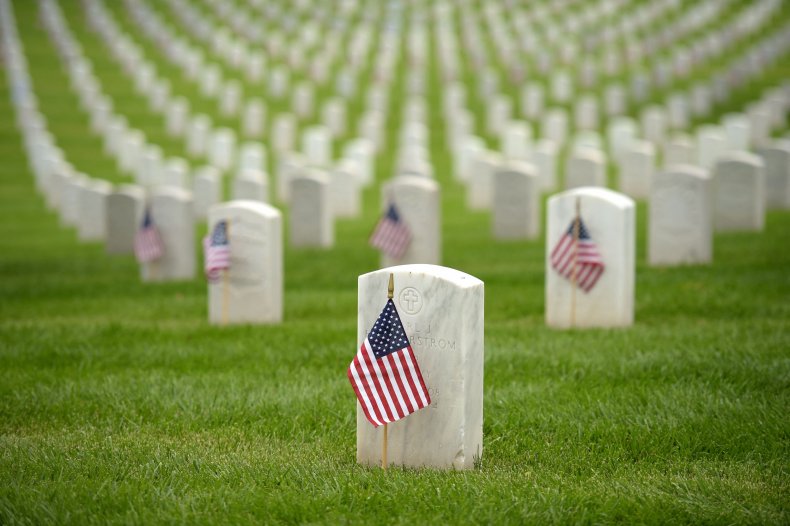 Speaking to TODAY Parents, Amelia Greene, whose father U.S. Army Major General Harold Greene, was killed in 2014 at a training facility in Kabul, Afghanistan, said Memorial Day is "really not happy for me."
"I've gotten 'Happy Memorial Day' in promotional emails from brands and it's really distressing to hear, because it is a day to memorialize people who died in war," said Greene.
"Memorial Day is a day off work, it's the start of summer, it's a time for celebration, but for anybody who has lost a loved one at war, it's one of the worst days of the year, aside from the day that they were killed," Greene said.
She added, "One of the most hurtful things to hear or see when you've lost a parent is 'Happy Memorial Day.' This is something that I've really struggled with since losing my dad."
In contrast, Flags of Valor, a veteran owned company, suggested that Americans should be able to say "Happy Memorial Day" especially if it "comes from a place of grateful joy for the life we live today that was provided by the sacrifices of generations before."
"On Memorial Day, take time to reflect on the men and women who gave it all for us. Find a way to memorialize this for yourself and your family," Flags of Valor said.
Update 05/30/22, 3:32 a.m. ET: This article was updated with comment from Kristina Kaufmann.