'It Was A Betrayal': Two Grand Jurors in Breonna Taylor Case Say They Were Never Presented With Option To Indict Officers For Murder
Two Kentucky grand jurors involved in the Breonna Taylor case said they were never given the opportunity to charge the officers in question for murder, and felt betrayed by the decision to only indict one officer for wanton endangerment.
In an exclusive interview with CBS This Morning, the two jurors, who chose to remain anonymous, said they felt the case was being covered up, and that they were not given the chance to indict the officers fairly.
"They didn't give us the charges up front," said one of the jurors after he described listening to over 20 hours of testimony.
"Then to say that these are the only charges [wanton endangerment] that they're coming up with, it's like 'what did we just sit through?' And then to be told that we're not charging them with anything else, to me, it was a betrayal," he added.
The death of 26-year-old Breonna Taylor at the hands of Louisville police in March prompted an investigation by the Kentucky Attorney General's Office and Federal Bureau of Investigation into three officers: Sgt. Jonathan Mattingly, Detective Myles Cosgrove, and former Detective Brett Hankison.
Of the three, only Hankison was charged for three counts of wanton endangerment, and none of the officers faced more severe charges.
But the two jurors felt that decision did not accurately represent the views of the jury.
"They never gave us the opportunity to deliberate on anything but the charges for Hankison. That was it," said one of the jurors.
"As a matter of fact, when they announced that those were the only charges, it was uproar in that room. There were several more charges that could have gone forward on all of those officers, or at least the three shooters," he continued.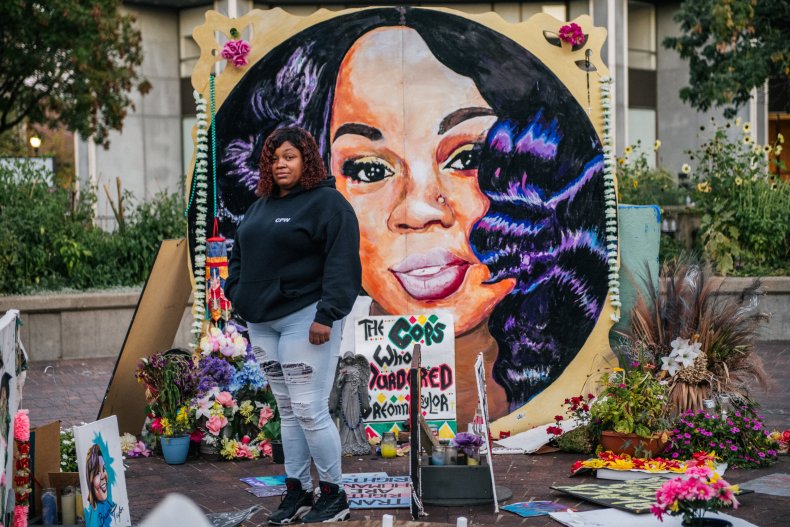 Kevin Glogower, the anonymous grand jurors' attorney, said that normally, grand jurors are presented upfront with the charges, so they can listen to the facts of the case with an open mind.
But in this case, he said, the jurors were not given that opportunity.
"What happened here was, it was done in the complete reverse," he said. "From a legal perspective, it looked like they weren't following the grand jurors, and they only wanted the grand jurors to follow them, which is contrary to the actual rule."
The decision sparked outrage across the country, prompting thousands of protesters from California to New York to take to the streets and voice their anger.
In a poll released in October by the Huffington Post and YouGov surveying 1000 registered voters, 41 percent of people said they thought the grand jury indictment was too lenient on the police.
Two police officers were shot following the indictment in Louisville, but the gatherings remained largely peaceful as activists chanted "say her name," and demanded justice for Taylor and her family, as well as a call for police reform.
The two jurors said they felt prompted to speak out about their experience after listening to Kentucky Attorney General Daniel Cameron give a press conference which falsely represented their views.
"While there are six possible charges for indictment under Kentucky law, these charges are not applicable to the facts before us, because our investigation showed, and the grand jury agreed, that Mattingly and Cosgrove were justified in their return of deadly fire," Cameron said.
But the two jurors were outraged by this statement, and said they were never told there could have been six possible murder charges placed against the officers.
"The first time I heard the words 'six possible murder charges' was in that news conference. It was not presented to us," said one of the jurors.
"I really felt like this was all Cameron. This was up to him, we didn't really get a choice in that at all, so I was livid," he continued.
Both of the jurors believed there was enough evidence for stronger charges against the officers, including murder, attempted murder, and manslaughter.
"As we were listening to [the evidence], we were sure this was leading up to something like that," said one of the jurors.
Among the evidence in the testimony included a 911 call from Breonna Taylor's fiance, Kenneth Walker, who told the operator he fired a warning shot at what he thought were intruders breaking into his home at 1:00 am. In response, police fired 32 bullets.
Both jurors said they found Walker credible, and believed he did not know that police were at his door. Oppositely, they said they did not find the police credible, and that there were too many inconsistencies in their statements.
"It was a mess. It didn't seem to me that there was any organization, or almost any leadership in the whole operation," said one juror.
"From the evidence I heard, this thing started out down hill to begin with," added the other juror. "It was one mistake, right after the other, right after the other. They covered it up...I felt like there should have been a lot more charges on them, but they covered it up."
Cameron has yet to respond to these accusations, but last month, he told a local Kentucky TV station that if the jury "wanted to make an assessment about different charges, they could have done that."
On Wednesday, Hankison is scheduled to appear in court for a pre-trial hearing on the wanton endangerment charges.