Italy's Far-Right Leader Matteo Salvini Demands 'Armored' Ports Across Europe After Immigrant Arrested Over Deadly Police Station Fire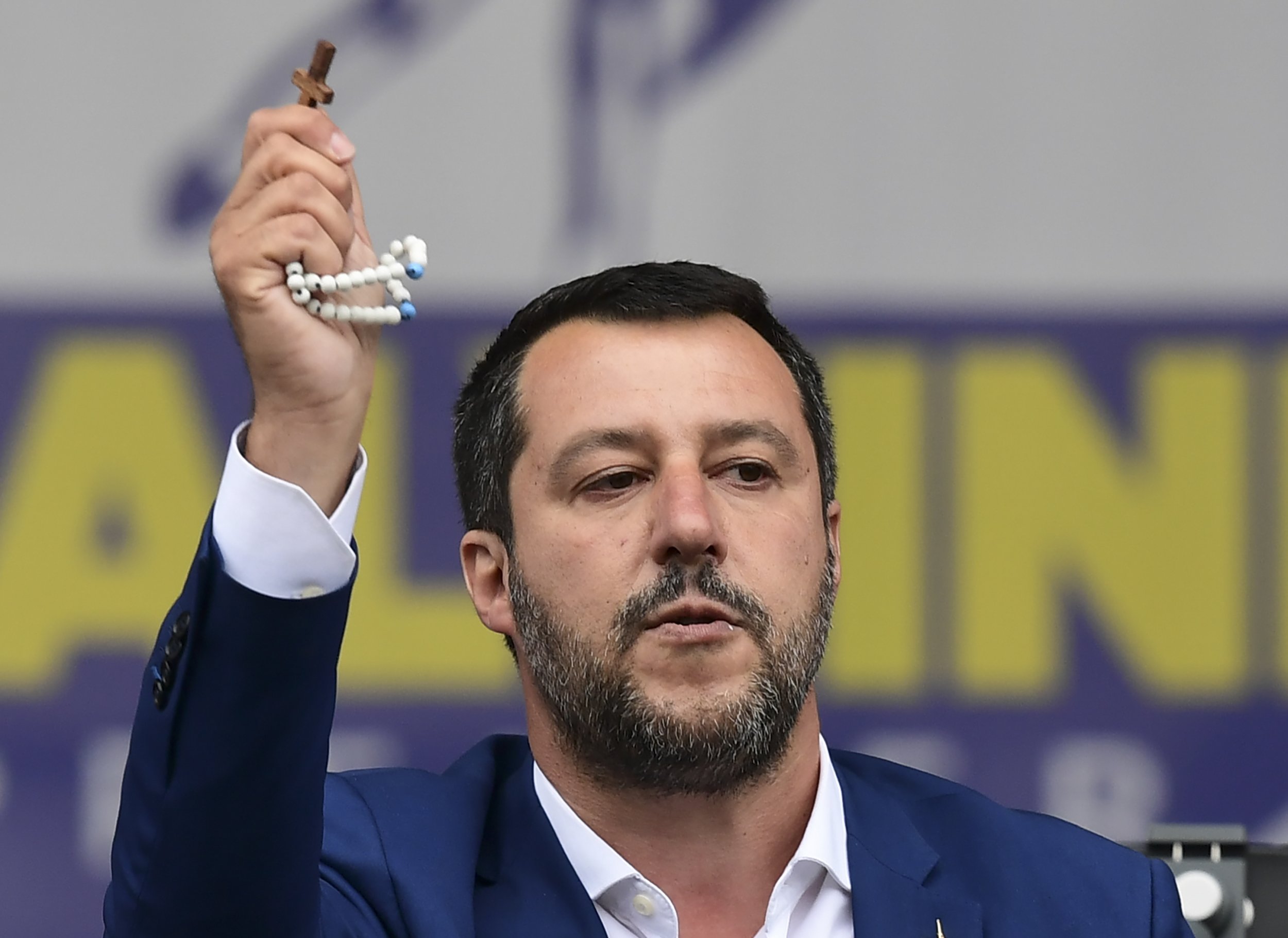 Italy's deputy prime minister Matteo Salvini, chairman of the far-right Lega Nord party, called for all the ports in his country and across Europe to be "armored" after police arrested a young North African immigrant in connection with a deadly arson attack.
Salvini, who is also Italy's interior minister, is a hard-line nationalist whose party is in a coalition government with the Five Star Movement, a populist anti-establishment party. His electoral success has inspired and emboldened far-right parties across the continent.
With the approach on Thursday of European Parliament elections, in which far-right parties anticipate making significant gains, Salvini and Lega Nord are ramping up incendiary rhetoric on hot-button issues such as immigration and justice.
A suspected arson attack at a police station in Mirandola, in Northern Italy, killed two people living in apartments above and injured more than a dozen others when the fire caused an explosion. Salvini said the arrested suspect is a minor from Morocco.
"Ports must be armored, in Italy and throughout Europe!" Salvini wrote on his Facebook page, playing on the anger felt by many Italians at the migrant crisis, which has seen boats full of desperate refugees and immigrants landing in their country to claim asylum.
"The Moroccan immigrant who with his bestiality caused the death of two women, 4 seriously injured and dozens of poisoned is a minor? I don't care, [he will] pay all the way for his bestiality!" Salvini wrote in a follow-up post.
Another of Salvini's posts said: "Does anyone want to go back to open ports? DON'T TALK ABOUT IT. Illegal immigration must be fought and cleared, no return back."
It followed an incident in which a German rescue vessel allowed all of the 47 refugees it had collected from the water off the coast of Libya to disembark at Italy's southernmost island, Lampedusa, against Salvini's instructions. Salvini had said only 18 of the refugees, including children, could enter the country.
He threatened to take action against those who aided the refugees. Salvini has blocked access to Italy's ports for NGO ships carrying refugees, claiming he is saving lives by deterring human traffickers. However, NGOs supporting refugees say Italy's refusal to uphold its humanitarian responsibilities leads to a greater loss of lives.
In Milan, on Saturday, Salvini hosted a rally of nationalist parties from all over Europe, including Marine Le Pen's National Rally from France and Joerg Meuthen of the Alternative for Germany.
Le Pen and Salvini are spearheading efforts to unite all the nationalist parties of Europe into a single grouping within the European Parliament that, if the elections are successful, could transform it into perhaps even the second largest within the legislature.
"It is a historic moment important enough to free the continent from the illegal occupation organized by Brussels for many years," Salvini told the Milan rally, the Associated Press reported
Salvini accused European leaders including German Chancellor Angela Merkel, French President Emmanuel Macron and EU Commission President Jean-Claude Juncker, of "betraying Europe...by constructing a Europe of finance and uncontrolled immigration," AP reported.
The Italian leader is one of the first members of The Movement, a Brussels-based organization founded by former White House chief strategist and Breitbart executive editor Steve Bannon to fuel the rise of populism and nationalism in Europe and all over the world.
However, European nationalists suffered recent embarrassment when its allies in Austria's government succumbed to a political scandal around Russia.
Austria's Vice Chancellor Heinz-Christian Strache, leader of the far-right Freedom Party, resigned after a 2017 video emerged showing him offering government contracts to a woman posing as the niece of a Russian oligarch.
Strache also discussed with her ways to avoid party financing laws. By Monday, every Freedom Party minister in Austria's coalition government had resigned over the corruption scandal. Strache did not appear at the Milan rally with other leaders.
Austria, led by Chancellor Sebastian Kurz, of the conservative People's Party, was in political crisis as its government fell apart. Fresh elections are due in September.