It's So Cold in Texas That Trees Are Exploding, Sounding 'Like Gunshots'
An arctic cold front in north Texas lowered temperatures to a point that caused trees to explode, prompting residents to compare the resulting noises to "gunshots."
As temperatures dropped to 18 degrees Fahrenheit, 14 degrees below freezing, Lauren Reber—a resident of Princeton, a town north of the Dallas metroplex—said she spent the night listening to "loud pops" that reverberated through her neighborhood, she told KXAS-TV.
"We listened to them all night. Sounds like gunshots going off," she said.
The cold temperatures cause the sap inside of trees to freeze, expanding beyond what the tree bark can contain. The expanding sap can split the trees where their branches connect to the main trunk. However, the freezing sap can also cause massive tears in the main trunk, according to Arbor Experts, a professional tree care company in Dayton, Ohio.
But even though "exploding trees" can rupture the bark, leaving "frost scars" on their surface, the trees themselves don't literally burst into splinters. Nevertheless, ice buildup on tree branches can cause heavy limbs to fall, threatening people and objects below.
In Reber's case, the trees sent limbs falling into her yard. Another fallen tree crashed onto her neighbor's truck, and several other icy branches began weighing down power lines. Utility crews had to remove the limbs before they cut power to the neighborhood.
Her barn, weighted under a sheet of ice, also collapsed, destroying it. One of the local energy transformers caught on fire, cutting off heat to her house. Now her only means of heat is a propane heater, because her firewood is frozen, as well as the heater in her SUV, which also allows her to power her phone.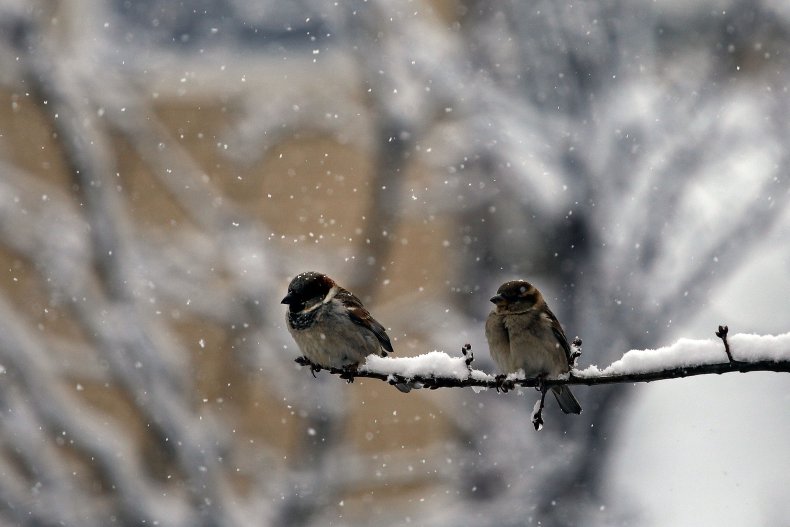 The winter storms left about 40,000 Texans without power by Thursday. That afternoon, Texas Governor Greg Abbott issued a disaster declaration in 17 counties.
Brad Jones, the interim president and CEO of the Electric Reliability Council of Texas (ERCOT)—the group that manages Texas' power grid—reassured state residents that the energy grid wouldn't fail during the storms, unlike in 2021.
"This grid is more reliable than it ever has been in the past," Jones said on Tuesday. "We feel very comfortable with their level of readiness. We are ready for this storm. We'll be prepared for this."
When snowstorms hit the state in February 2021, the grid's failure knocked out power for 4.5 million homes and businesses for days. The power outage contributed to the deaths of over 240 Texans.
Additionally, the extreme cold caused some homes' pipes to burst, leaving some areas without water for days. The icy road conditions made it difficult for work crews to repair the troubled areas.
Before the current cold front hit, Abbott said that he couldn't guarantee that the coming winter storms won't result in localized power outages.
"No one can guarantee that there won't be a load shed event," Abbott said, according to the Texas Tribune. "But what we will work and strive to achieve—and what we're prepared to achieve—is that the power's going to stay on across the entire state."
Since last year, 99 percent of state power plants have been inspected, according to the Public Utility Commission of Texas (PUCTX). The state's power grid and transmission infrastructure now exceeds federal winterization standards, PUCTX Chairman Peter Lake said on Tuesday.
Newsweek contacted PUCTX for comment.