White House Paves Path to Potentially Damning Ivanka Trump Jan. 6 Interview
On Tuesday, the White House opened the door for a potentially damning Ivanka Trump interview with the House select committee investigating the January 6 attack.
"The White House has decided not to assert executive privilege over the testimony of Jared Kushner and Ivanka Trump," communications director Kate Bedingfield told reporters during the daily press briefing.
Bedingfield added that President Joe Biden has called for a "full, fair accounting" of what took place on January 6, 2021, and that executive privilege should not be used to "shield Congress or the public information about an attack on the Constitution itself."
The panel investigating the U.S. Capitol riot has asked Ivanka, former President Donald Trump's daughter who served as an advisor during his administration, to voluntarily sit down for an interview. Chairman Bennie Thompson said that Ivanka was "present in the Oval Office" on the day of the riot and "observed at least one side" of a reported call with Vice President Mike Pence as the president tried to convince Pence to stop the electoral vote count.
General Keith Kellog has testified to the committee that he and Ivanka were present in the Oval Office during the call with Pence on January 6, 2021. Kellog said Ivanka turned to him and called Pence a "good man."
New records recently turned over to the committee revealed a nearly eight-hour gap in the former president's phone log from that day.
Multiple news outlets reported Monday that Kushner, the ex-president's son-in-law and also a senior aide in the administration, is expected to appear voluntarily before the select committee. His testimony could come as soon as Thursday, according to ABC News.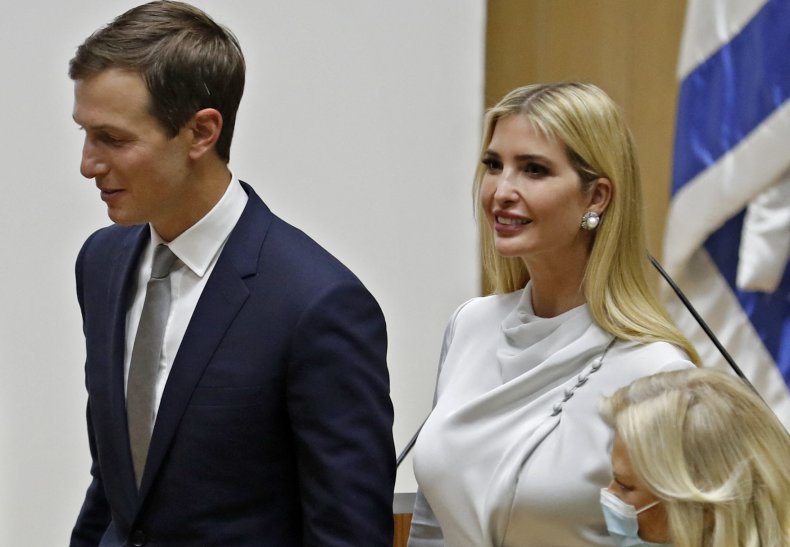 In more bad news for Donald Trump, a federal judge said Monday that he "more likely than not" committed a felony by attempting to illegally obstruct Congress on the day of the riot. U.S. District Court Judge David Carter made the determination in a ruling ordering Trump ally John Eastman to turn over emails to the House committee.
Legal experts told Newsweek the ruling doesn't have any direct legal impact on the former president but could add pressure on the Department of Justice to bring criminal charges against him.
Members of the House select committee voiced frustration with the Department of Justice this week, specifically Attorney General Merrick Garland, telling officials to "do your job" after former White House chief of staff Mark Meadows wasn't criminally charged for contempt of Congress.
Their call comes as they plan to send two criminal referrals seeking contempt charges against Dan Scavino and Peter Navarro. Scavino served as White House deputy chief of staff in the Trump administration, while Navarro was a trade adviser.
Newsweek reached out to Thompson for comment but didn't receive a response before publication.