What Trump Was Doing on Jan. 6 During Nearly 8-Hour Gap in Phone Records
White House records turned over to the House select committee investigating the January 6 Capitol attack have revealed a nearly eight-hour gap in former President Donald Trump's phone log from that day, sparking questions as to whether Trump and his team communicated on burner phones or other backchannels that day.
The gap spanning seven hours and 37 minutes between 11:17 a.m. and 6:54 p.m. was first reported by CBS News and the Washington Post.
While the documents show that there were no calls placed to or by Trump in those 457 minutes, testimony from other officials and public reporting from the day of the attack tell a different story about the then-president's calls on January 6, 2021.
Here's a timeline of where Trump was and who he spoke with during that missing time period:
The phone log blackout begins at 11:17 a.m.
11:17 a.m. — A page from Trump's private daily schedule, released to the House panel by the National Archives earlier this year, shows handwritten notes that the then-president was slated to speak with then-Senator Kelly Loeffler, a vocal Trump supporter during the 2020 presidential election.
Loeffler had initially vowed to supporters that she would challenge the electoral college votes, but abandoned those plans after the Capitol riot, saying "the events that have transpired have forced me to reconsider" on the Senate floor that night. Shortly after, she was defeated by Democrat Raphael Warnock in Georgia's Senate runoff election.
11:20 a.m. — The same schedule also includes a call to former Vice President Mike Pence. General Keith Kellogg testified to the House committee that both he and first daughter Ivanka Trump were present in the Oval Office during the call.
According to Kellogg, Ivanka "turned to [him] and said, 'Mike Pence is a good man'" at the end of the conversation.
The House panel has requested an interview with Ivanka as part of its probe.
12:00 p.m. — Trump begins speaking to his supporters at the "Save America" rally in the Ellipse, near the White House.
1:11 p.m. — After speaking for more than 70 minutes, the then-president concluded his remarks, urging his supporters to march to the Capitol and saying that he would go with them. The private schedule suggests he had always anticipated returning to the White House and that there were no plans for him to go to the Capitol after his speech.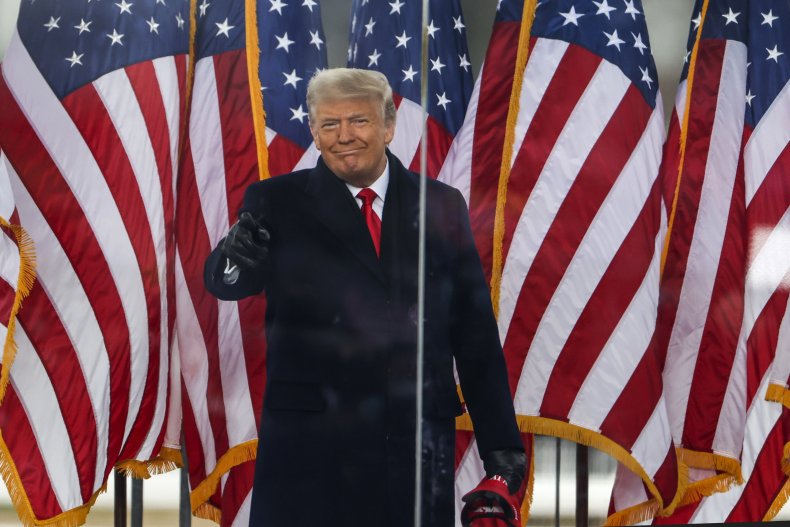 1:19 — Trump's motorcade arrives at the White House as the crowd from the rally moves up Pennsylvania Avenue. The New York Times reported that upon arrival, Trump "went to the Oval Office and watched news coverage of a situation that was growing increasingly tense."
1:49 p.m. — Trump tweets a video of himself at the rally as the Metropolitan Police Department officially declares a riot on the Hill.
2:12 p.m. — Pence is escorted off the Senate floor as the pro-Trump mob breeches the Capitol, breaking windows and entering the building. A few minutes later, House Speaker Pelosi is also ushered off the House floor.
2:24 p.m. — Trump continues tweeting about his vice president: "Mike Pence didn't have the courage to do what should have been done to protect our Country and our Constitution, giving States a chance to certify a corrected set of facts, not the fraudulent or inaccurate ones which they were asked to previously certify USA demands the truth!"
At some time around this tweet, his daughter was allegedly called to speak with her father and urge him to "take a course of action" about the riot. Both Senator Lindsey Graham and former White House chief of staff Mark Meadows said they asked her to reason with her father.
2:26 p.m. —Trump phones Senator Mike Lee of Utah thinking that he had called newly-elected Senator Tommy Tuberville of Alabama, according to call logs Lee provided to Congress during Trump's second impeachment proceedings.
Tuberville told Politico that during the call, he informed Trump that Pence had just been whisked away by his security detail. The call lasted less than 10 minutes.
2:38 p.m. and 3:13 p.m.— Trump sends another two tweets calling on people to remain peaceful and respect "our great men and women in Blue."
3:29 p.m. — Ivanka responds to a tweet from CNN's Kate Bennett, who questioned the first daughter's use of the term "patriot" in a since-deleted tweet.
3:30 p.m. — Then-House Majority Leader Kevin McCarthy tells CBS News' Norah O'Donnell that he has spoken to Trump.
"I told him he needed to talk to the nation," the Republican leader said. "I told him what was happening right then."
3:36 p.m. — Former White House press secretary Kayleigh McEnany announces via Twitter that Trump has ordered the National Guard to the Capitol.
4:17 p.m. — Trump finally addresses his supporters at the Capitol through a pre-taped video from the Rose Garden.
"I know your pain. I know you're hurt," he said to the camera. "We love you. You're very special. You've seen what happens. You've seen the way others are treated."
"I know how you feel, but go home, and go home in peace," he added.
6:01 p.m. — Trump sends a final tweet, cementing the day's place in American history.
"These are the things and events that happen when a sacred landslide election victory is so unceremoniously & viciously stripped away from great patriots who have been badly & unfairly treated for so long," he wrote. "Go home with love & in peace. Remember this day forever!"
The 7-hour gap in records ends at 6:54 p.m.
The records obtained by the House panel also show that former White House chief strategist Steve Bannon spoke with Trump twice on January 6, 2021, although it is unclear at what time those calls took place.