House Investigator Calls for FBI to Review Ivanka Trump and Jared Kushner's Use of Personal Email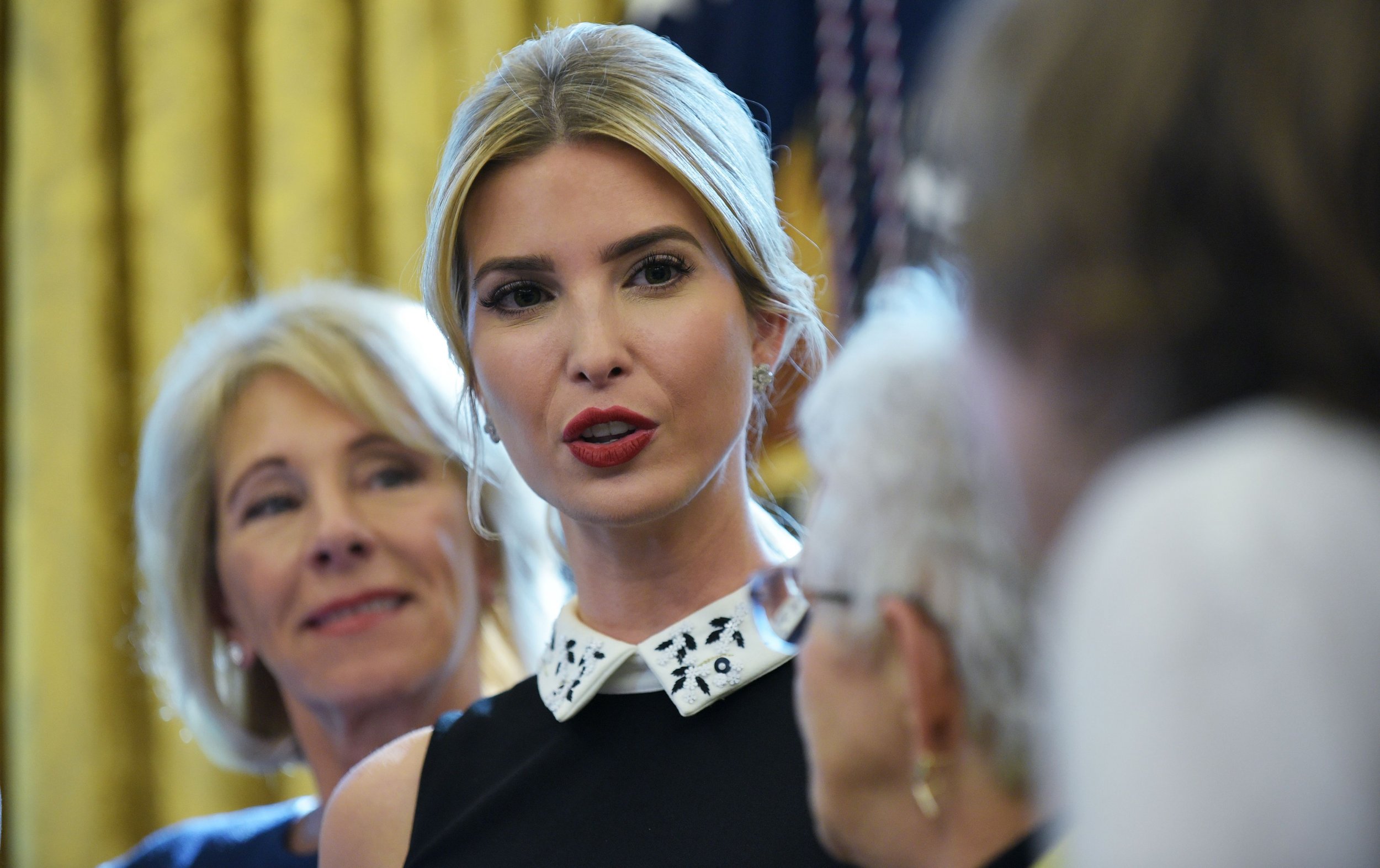 Updated | The top Democrat on the House Committee on Oversight and Government Reform has asked the FBI to review the use of private email by Ivanka Trump and Jared Kushner to determine if either of them sent or stored classified or sensitive information.
In a letter to FBI Director Christopher Wray on Thursday, Representative Elijah Cummings said, "I am writing to request that the Federal Bureau of Investigation (FBI) conduct a security review to determine whether any classified or sensitive information was transmitted or stored on private email accounts or nongovermnental servers by senior White House officials—including but not limited to Senior Advisor to the President Jared Kushner, and Advisor to the President Ivanka Trump." He also called for the FBI to "determine whether any of these nongovernmental systems or private devices were or are vulnerable to attack by cyber criminals."
Related: Ivanka Trump used personal email for government work
As Cummings noted in his letter, Politicoreported in September that Kushner had used a private email account for government work. His lawyer, Abbe Lowell, later told news outlets that Kushner had sent or received "fewer than 100 emails from January through August" from a personal account, and that those emails consisted mainly of "forwarded news articles or political commentary, and most often occurred when someone initiated an exchange by sending an email to his personal rather than his White House address."
The day after that report, Newsweek disclosed that Ivanka Trump had used a personal email account for government work on at least one occasion in February. In response, the White House pointed out that she was not an administration employee at the time. But The New York Times reported soon after that she continued to use a non-government email account after taking on her more formal role. The Times also said four additional current or former White House officials had used personal email accounts for government work: Stephen Bannon, Reince Priebus, Gary Cohn and Stephen Miller.
Following the initial Politico report, Cummings wrote to Kushner, requesting that he preserve his emails in order to abide by the Presidential Records Act and the Federal Records Act, and that he provide additional information about his email use. Representative Trey Gowdy, the top Republican on the House Oversight Committee, joined Cummings on a follow-up request.
On Tuesday, Newsweek reported that a private email account used by Trump and Kushner appeared to have been hosted by the Trump Organization. This would raise security and ethics concerns, according to analysts. (A spokesperson for the couple has denied that the email account passed through the Trump Organization server.)
In addition to writing to the FBI director, Cummings on Thursday wrote to Trump and Kushner, requesting more information about their actions and again calling on them to preserve emails. He sent an additional letter to GoDaddy, which he said at one point hosted one of the email accounts, and one to the Trump Organization, which reportedly hosted the account later on. The letter to the Trump Organization was addressed to Donald Trump Jr., son of President Donald Trump.
The letter to the FBI director could become the most consequential if the bureau decides to investigate the matter, as it did with Hillary Clinton. "The FBI has conducted counterintelligence investigations in the past to examine the use of private family domains and non-governmental servers for official government business," Cummings wrote, citing the Clinton case. "I ask that the FBI conduct a similar review in this instance."
Clinton's use of a personal email system for government work, which included private servers and tens of thousands of emails, was a focal point of Trump's election campaign against her. His supporters would chant "lock her up" in reaction to the issue, and when they did so at an event in September, the president responded, referring to the attorney general: "You've got to speak to Jeff Sessions about that."
Asha Rangappa, an associate dean at Yale Law School and a former FBI special agent specializing in counterintelligence investigations, says that for the FBI to open an investigation, "they need a predicate. On the criminal side, they need some reasonable basis to believe this could have been a violation of a crime." For a counterintelligence investigation, she adds, "they would need some kind of nexus to a foreign intelligence service." (Newsweek has published work by Rangappa.)
The FBI typically does not comment on requests from members of Congress, but provides responses directly to those members. White House press secretary Sarah Huckabee Sanders has said that administration counsel has briefed the officials on email rules.
Separately from the effort by Cummings, Representatives Ted Lieu and Don Beyer, both Democrats, wrote to White House counsel Don McGhan on Thursday asking that the Trump administration revoke the security clearances for Ivanka Trump and Kushner given the reports about their emails.
Correction: This article previously incorrectly stated that the Hillary Clinton email investigation was not a counterintelligence probe. The investigation involved a counterintelligence aspect.