Donald Trump Supporters Want Him to Fire Ivanka and Jared Kushner 'to Save His Presidency,' 'Kushner, Inc.' Author Claims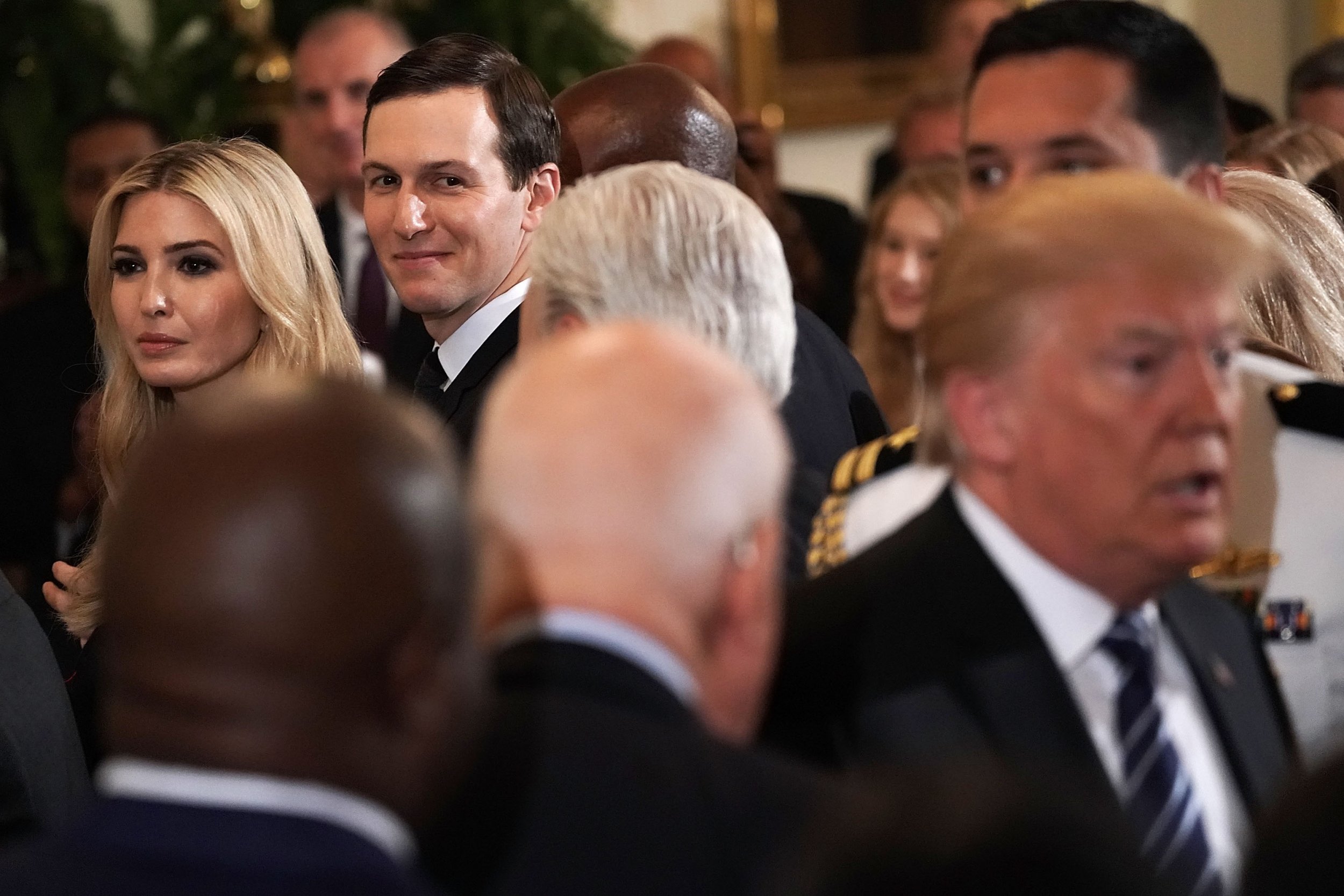 The author of a new book on Ivanka Trump and Jared Kushner claimed President Donald Trump wanted to fire the couple from their roles as White House advisers because they were a liability, but when the opportunity came, he "couldn't pull the trigger."
Vicky Ward, a journalist and the author of Kushner, Inc., which was published by St. Martin's Press on Tuesday, discussed the revelations in her book on CNN's New Day program Wednesday morning.
Ivanka Trump is an adviser on women and business, while Kushner advises on foreign policy, with a focus on the Middle East. Ward said Trump supporters want him to fire his daughter and son-in-law from the White House "to save his presidency."
"You can't underestimate the dangers of these two," Ward told CNN of Ivanka Trump and Kushner when asked why she thought the president should read her book.
"And I think that, actually, he knows that. He after all—I report in the book—asked John Kelly, then the chief of staff, when he was coming in, send my children home.
"He understood that they were a liability to him. He hated the negative press they garnered, particularly over Jared's inability to fill out his security clearance forms. He also really hated it when they got all the negative press about using private email servers.
"Then they'll go and do something helpful and he drops the subject for a while. But the interesting thing is that John Kelly did what he was asked. He made life really unpleasant for Jared and Ivanka. They were ready to leave. And it was Trump who couldn't pull the trigger."
The White House did not respond immediately to a request for comment.
The couple are currently the focus of a scandal over their top secret White House security clearances.
Trump ordered Kushner's approval, The New York Times reported, despite the opinions of Kelly, former White House counsel Don McGahn and the CIA that they should not be given security clearances. CNN reported that President Trump also demanded Ivanka Trump receive top-secret security clearance.
House Democrats on the oversight and judiciary committee are investigating the circumstances around the pair's security clearances.
But Representative Elijah Cummings, a Maryland Democrat and chairman of the House oversight committee, accused the White House of "an unprecedented level of stonewalling, delay and obstruction" by refusing to hand over documents or witnesses.
In November, Ivanka Trump and Jared Kushner faced criticism after she used a personal email account shared by the couple to send hundreds of messages about official White House business.
President Donald Trump had repeatedly attacked Hillary Clinton, his Democratic rival in the 2016 presidential race, over her use of a private email server for government business while she was secretary of state. He nicknamed her "Crooked Hillary."
Ethics officials at the White House learned of Ivanka Trump's use of a personal email account when reviewing correspondence between Cabinet agencies, The Washington Post reported. She subsequently stopped.