First daughter Ivanka Trump's friend and former partner in her fine jewelry line, a New York diamond heir, has been sued by the Justice Department for allegedly taking part in a massive fraud scheme to deprive the federal government of tens of millions of dollars.
The Justice Department lawsuit, filed last month, alleges that Moshe Lax, who was Trump's partner in Ivanka Trump Fine Jewelry, his sister and late father were involved in a several "sham transactions" intended to evade more than $60 million in unpaid tax liabilities, Politico reported on Friday.
According to the complaint, Lax and his family members were behind 10 schemes intended to hide their assets from the Internal Revenue Service, among other creditors, and "make it appear as though the Estate was insolvent."
The suit does not name Trump but alleges that one of the 10 schemes involved Lax transferring about $21 million in interest in Madison Avenue Diamonds—a business that Trump helped run under her fine jewelry company name—from his father's estate to a holding company without receiving anything for the transaction.
Lax made a fraudulent transfer of some equity in Madison Avenue Diamonds between 2008 and 2012 while Trump had a hand in the business, according the suit.
Trump's brand, which she shuttered earlier this summer, did not immediately respond to a request for comment from Newsweek on Friday.
A spokesperson for the brand told Politico: "The issues in this case have nothing to do with Ivanka or the Ivanka Trump brand. These licensing arrangements were terminated by the Ivanka Trump brand in 2016 prior to Ivanka entering government service."
In her 2010 memoir, The Trump Card, Trump wrote of Lax: "My new associate was an entrepreneur through and through. I admired that about him." In fact, Lax became more than Trump's business partner—he introduced her to Jared Kushner, whom she married.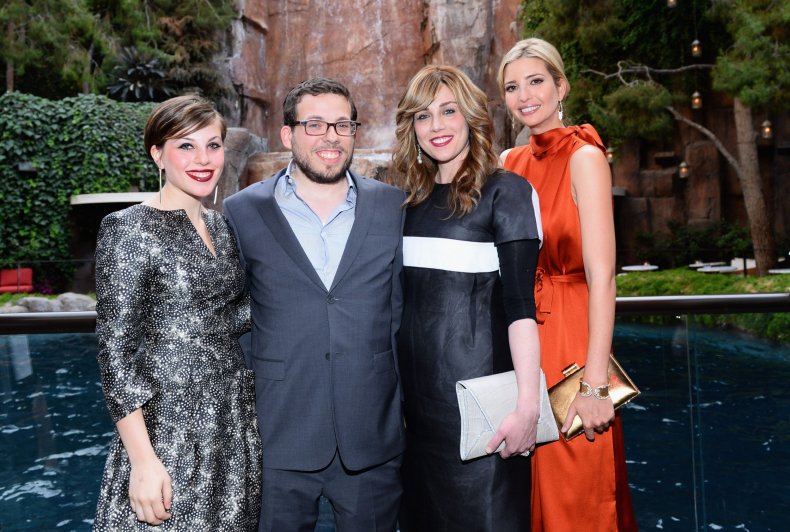 The Justice Department lawsuit is just the latest controversy involving Trump's now-defunct jewelry line.
Diamonds from the line were allegedly used in a massive money laundering and fraud scheme to the tune of $100 million, according to a federal court filing reported by GQ last December.
In that case, the Al-Saris family, who controlled a multibillion-dollar Emirati oil-trading empire, allegedly borrowed more than $100 million from the Commercial Bank of Dubai, defaulted on the debt and hid assets in shell companies they used to buy diamonds, including some from Trump's line.