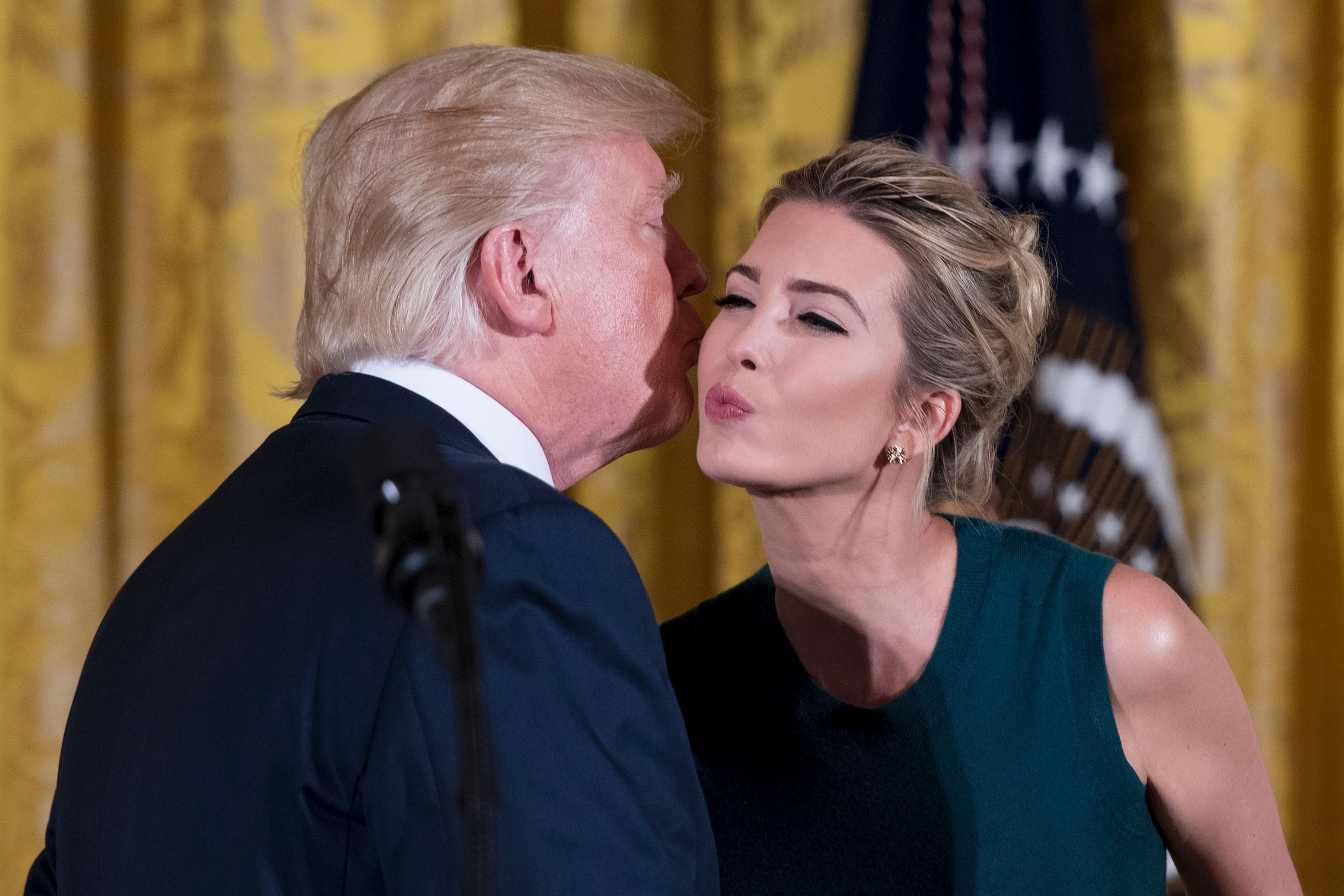 Like father, like daughter?
Time in the White House has made first daughter Ivanka Trump more like her father President Donald Trump, Maggie Haberman, a White House correspondent for The New York Times told Katie Couric and co-host Brian Goldsmith in a podcast released on Thursday.
"She has gone from being sort of a somewhat resentful daughter to really being in many ways the spitting image of him—not physically, obviously, but she's him without a lot of the the flash and style," Haberman said of Ivanka Trump.
"She has a very similar set of grievances, she has a very similar sense that people are being unfair to her," Haberman said. "She's a lot like him."
Related: Is Ivanka Trump Staying at the White House in 2018? President's Daughter Updates Twitter Location and Profile
Ivanka Trump believes that her dad has "got a genius" and that he can intuit things that other people cannot, and "she is very riveted by it," said the journalist who joined the Times in 2015 and worked as a political reporter at Politico for five years prior to her current position.
Haberman said she doesn't think the first daughter is happy about how her father is being perceived and some aspects of his governance.
The two have disagreed on policy issues, notably on Roy Moore, a Republican Alabama Senate candidate who lost the race to Democrat Doug Jones in the red state after being hit with sexual misconduct allegations. Trump endorsed Moore, while his daughter criticized the candidate, saying, "There's a special place in hell for people who prey on children."
"She has always tried to refine his style," Haberman said of the daughter and father.
Haberman added that Ivanka Trump and her husband Jared Kushner, both White House advisors, are "difficult to read" and unlike each other—Kushner is "very sort of chill and flat and speaks as little as possible."
"But this is not the life that they wanted and none of this is what they thought was going to happen," Haberman continued. "Like him, she believed they would walk in be treated sort of differentially and she's been a little surprised at how D.C. really is."
The interview, recorded on January 8, is part of a series of unscripted conversations Couric and Goldsmith are doing with newsmaking "wonder women." Upcoming guests include Kara Swisher of Recode, actress Laverne Cox, Congresswoman Maxine Waters and actress and comedian Amy Schumer.