What Did Ivanka Trump Accomplish In The White House In 2019?
President Donald Trump's daughter and senior adviser Ivanka Trump has suggested that she may not return to her role at the White House if her father wins a second term in office in 2020.
In a Face the Nation interview with CBS News' Margaret Brennan, Ivanka Trump said that her "kids and their happiness" would be her "top priority."
"My decisions will always be flexible enough to ensure that their needs are being considered," she said. "They will really drive that answer for me."
With Ivanka Trump potentially being out of the picture in a post-2020 election White House, we are taking a look back at the presidential adviser's political record over the past year.
Economic empowerment
As the White House notes in a profile of Ivanka Trump, her role in the Trump administration over the the past few years has focused on "education and economic empowerment of women and their families," as well as "job creation and economic growth through workforce development, skills training and entrepreneurship."
Whereas her husband, Jared Kushner, who is also a senior adviser to the president, focuses on both domestic and foreign policy issues, Ivanka Trump's role has largely centered around domestic matters.
With her personal experience as an entrepreneur and businessperson, Ivanka Trump has sought to carve out a clear role focusing on economic empowerment and growth.
Under the banner of her "Women's Global Development and Prosperity Initiative," during 2019 Ivanka Trump traveled to Ethiopia, Ivory Coast, Morocco, Argentina, Colombia, Paraguay. She also promoted the initiative in a speech to delegates at the Concordia Annual Summit which took place alongside the 74th United Nations General Assembly in September.
While the first daughter may have ramped up her efforts in 2019, her productivity was not quite as high as her father appeared to claim in November, when he credited Ivanka Trump for single-handedly managing to create "14 million jobs" under his administration's "Pledge to America's Workers" program.
Making the claim during a speech at the Economic Club of New York, Donald Trump said that when Ivanka Trump "started this, two and half years ago, her goal was 500,000 jobs."
"She has now created 14 million jobs," Donald Trump claimed. "And they are being trained by these great companies, the greatest companies in the world because the government cannot train them."
Many journalists and Twitter users were quick to question where the president had got his numbers, with journalist James Fallows branding the assertion a "lunatic" claim.
As Forbes sought to clarify, America saw a net gain of around 6 million jobs since Donald Trump took office, raising questions around how Ivanka Trump could have created more than double that number of jobs herself.
It was noted that what Ivanka Trump was claiming was the pledge of over 300 companies to create training and other opportunities numbering around 6.3 million.
Of course, this was not a distinction that Donald Trump sought to make when he claimed that his daughter had been responsible for the creation of 14 million jobs.
North Korea and the G20
Perhaps Ivanka Trump's most high-profile outings of the year were to the G20 Summit in Osaka, Japan, and the North-South Korea Demilitarized Zone.
In Osaka, on June 29, Ivanka Trump took to the stage of a women's empowerment event as a number of world leaders watched on to discuss women's empowerment initiatives.
Ivanka Trump and Kushner also joined President Trump for a number of meetings during the summit, notably with Chinese President Xi Jinping and other top Chinese and U.S. officials who were discussing trade issues.
The G20 story that gathered the most headlines, however, was the clip of Ivanka Trump engaging in conversation with British Prime Minister Theresa May, Canadian Prime Minister Justin Trudeau, French President Emmanuel Macron and International Monetary Fund leader Christine Lagarde.
Critics were quick to point out that the short clip of the exchange cast Ivanka Trump in an awkward light as she seemingly struggled to insert herself into the conversation.
A mere day away from the G20, and Ivanka Trump was accompanying President Trump in his historic meeting with North Korean Dictator Kim Jong Un in the DMZ. Ivanka Trump fielded interviews with the press and described the experience of stepping into North Korea as "surreal."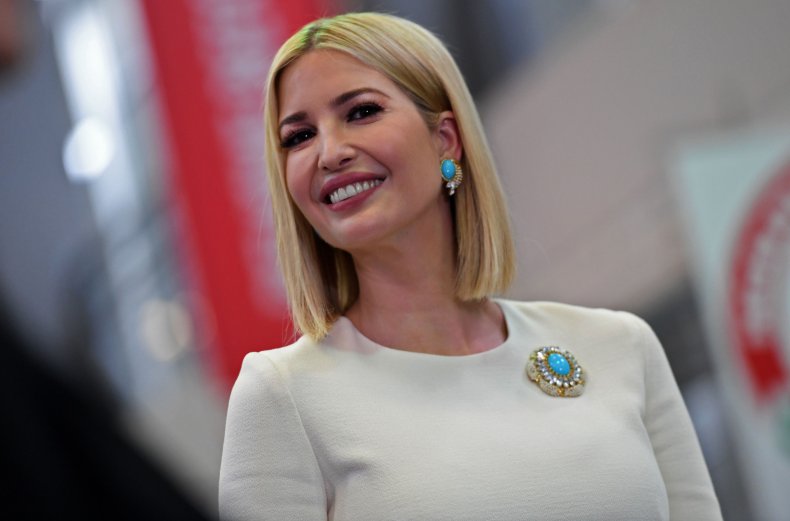 Personal email controversy
While Ivanka Trump has sought to define her role in the White House as being economy-facing, in 2019, much of the public's focus was still on a November 2018 report from The Washington Post highlighting that she had shared her schedule with childcare providers through her personal email.
After it was flagged that the action could represent a violation of federal records rules, Ivanka Trump saw widespread backlash, particularly given her father's repeated attacks on 2016 presidential rival Hillary Clinton over her use of private email.
A spokesperson for Ivanka Trump's ethics counsel had said that her emails had been sent out before she had been made aware of the federal records rules, which require that communications pertaining to government business be sent within 20 days to a work account to be permanently archived.
No emails had ever been deleted, the spokesperson said, adding that the emails had also been retained in an "official account in conformity with records preservation laws and rules."
Immigration 'portfolio'
Ivanka Trump also faced intense backlash over her championing of family values, while failing to do more to address her father's own record on seeing immigrant families separated at the U.S. border and forced to wait in often dangerous border towns in Mexico while their immigration cases are processed in the U.S.
While the first daughter had previously said she was "vehemently against family separation," in her recent interview with Brennan, Ivanka Trump skirted further questioning on the issue, saying it was not part of her "portfolio."
Asked about the hundreds of children who still have yet to be reunited with their families after being separated at the U.S.-Mexico border under Donald Trump's "zero tolerance" rule, Ivanka Trump said "immigration is not part of my portfolio, obviously."
The first daughter added: "I think everyone should be engaged. And the full force of the U.S. government is... is committed to this effort to border security, to protecting the most vulnerable.
"That includes those being trafficked across our border, which this president has committed to countering and combating human trafficking in an incredibly comprehensive, aggressive way."
Despite Ivanka's attempts to distance herself from her father's immigration policies, the first daughter has been the target of widespread condemnation for continuing to preach the importance of family values while her father's administration continues to crack down on immigrant families.