Ivory Coast Attack: Four French Nationals Among 18 Dead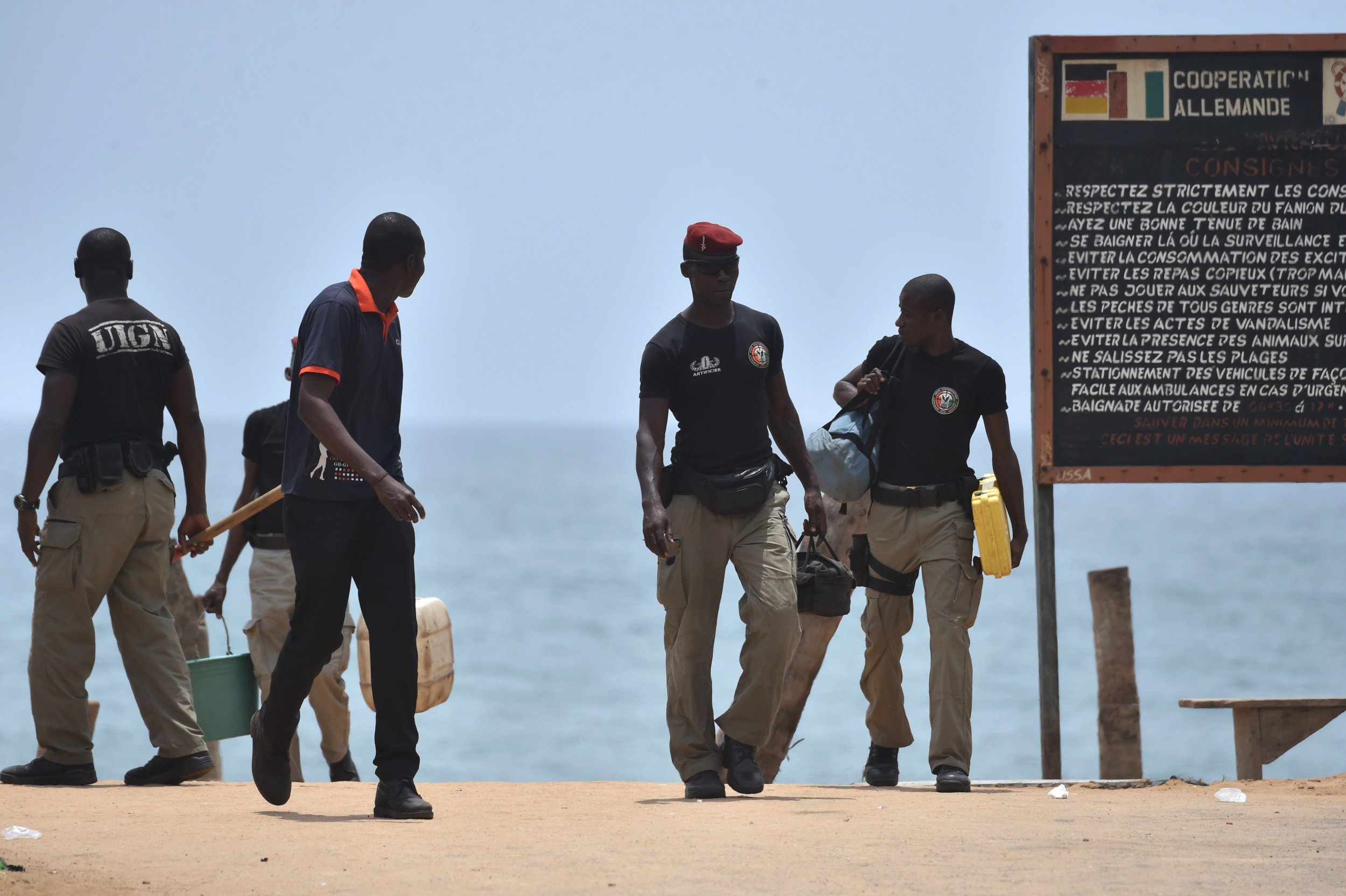 Francois Hollande says that four French nationals were among 18 people killed in an Al-Qaeda attack on a popular beach resort in Ivory Coast on Sunday.
Al-Qaeda's North African branch, Al-Qaeda in the Islamic Maghreb (AQIM), claimed responsibility for the attack in the coastal resort of Grand Bassam. Fifteen civilians and three special forces were killed, as well as three gunmen who carried out the attack, Ivorian Interior Minister Hamed Bakayoko said on Monday.
Video footage from a beachside hotel shows holidaymakers fleeing as gunshots are heard and a man with the gun, apparently disguised as a waiter, entering the hotel bar and firing shots.
People from at least six countries were killed in the attack, the first such instance in the cocoa-producing West African state. A statement from President Hollande's office announced the French death toll on Monday following a phone call between Hollande and Ivory Coast President Alassane Ouattara. The French foreign and interior ministers are due to arrive in the Ivorian commercial capital Abidjan on Tuesday to "demonstrate France's solidarity" with its former colony, the statement added, according to France 24.
The attack is the third large-scale incident involving AQIM in the past four months. In November, gunmen from an AQIM splinter group called Al-Mourabitoun killed 20 people in a siege of the Radisson Blu hotel in the Malian capital of Bamako. AQIM also claimed responsibility for an assault on Burkina Faso's capital Ouagadougou in January, in which at least 28 people were killed during attacks on a hotel and cafe.
Ouattara, who defeated former president Laurent Gbagbo in controversial elections in 2010, pledged on Monday to work with regional partners to combat the growing risk of militancy. "Ivory Coast will not allow itself to be intimidated by terrorists" and would work with its neighbors and "other international partners" to nullify the threat, said Ouattara in a statement broadcast on radio and TV on Monday.
Further details of the attack are beginning to emerge. One eyewitness, Christian Eddy, told Reuters that four men arrived at a beachside bar in the resort on Sunday. Two waited outside while the other pair drank beets in the bar, and the group communicated in Arabic before launching the attack, he said.