Is Bam Margera in 'Jackass Forever'?
The Jackass team are back for Jackass Forever—but not everyone returns for the fourth movie.
Frequent cameo-maker Rip Taylor died in 2019, while Ryan Dunn died in a car accident the year after the release of Jackass 3D (the new film ends with a tribute to him).
Very much alive, however, is Bam Margera, who has had a very public falling out with his former co-stars and franchise director Jeff Tremaine. After reports of the Viva La Bam star being fired from the movie and Tremaine filing a restraining order were made public, fans of the franchise have been left wondering whether the star would appear at all in the new movie.
Here's all you need to know about whether Margera is in the movie, plus exactly what happened to stop him being one of its main stars.
Does Bam Margera appear in Jackass Forever?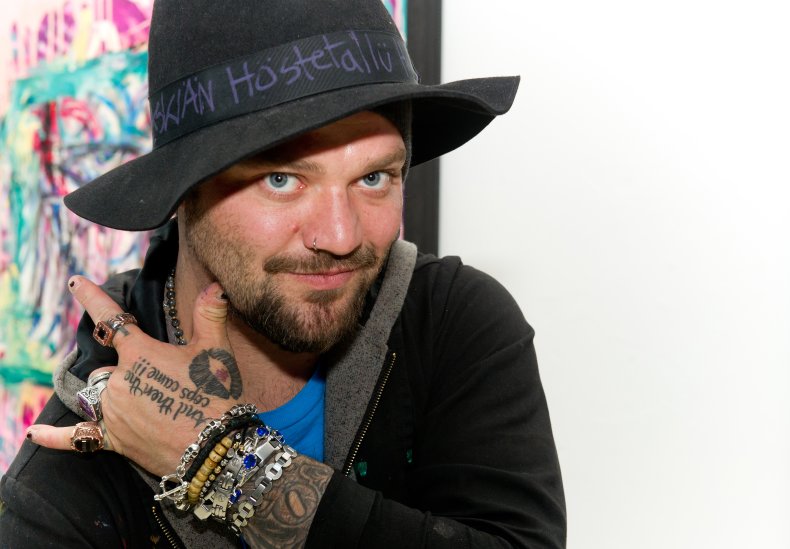 Technically yes, though everyone but the most eagle-eyed fans may have difficulty spotting him.
In the Jackass Forever credits, there are about 50 credited cast members, and right near the end, Margera's name is included.
In January, Variety reported that the star would appear in one stunt in the film—but even that seems to be archive footage taken from a previous Jackass movie. Per IMDb, however, he is still credited as the "writer" behind a number of the stunt concepts seen in the final film.
He said of this in an Instagram video: "I wrote them so many ideas, and if I'm not in the movie and they use my ideas, how do you think that will make me feel?"
In that same piece (an interview with Johnny Knoxville), it was claimed that Margera had exited the film after testing positive for Adderall. This chimes with Margera's own Instagram videos about the incident in February 2021, in which he claimed that the movie's distributors Paramount had subjected him to random urine tests and made him check into two rehab facilities.
Prior to that, Margera said in a podcast interview with Knockin' Doorz Down that Paramount did not trust him to be in the film, but Tremaine had fought for him to be included.
In the Variety piece, Knoxville said of his co-star: "We wanted him all throughout the movie, but unfortunately that's not the way it worked out. It's really heartbreaking. I love Bam. We all love Bam."
Over the course of 2021, however, things noticeably soured between Margera, Tremaine and Knoxville. In May, Tremaine filed a restraining order against Margera, which was extended to three years in June. In August, Margera sued Knoxville, Tremaine and multiple other producers of the film for wrongfully firing him. This was six months after the stunt star had said in one of his videos "the last thing I want to do is be in a court room with Jeff Tremaine, I love him."
Jackass cast member Steve-O replied to one of Margera's (now deleted) Instagram videos by writing: "Everyone bent over backwards to get you into the movie, and all you had to do was not get loaded. You've continued to get loaded, it's that simple."
Jackass Forever is in cinemas now.