All the Newbies Joining 'Jackass Forever' From Machine Gun Kelly to Eric Andre
The cast of Jackass Forever are getting older, so they've recruited some newcomers and celebrities to help lighten the load.
Johnny Knoxville, Steve-O, Wee Man and friends are all returning for the new movie, but Jackass veteran Bam Margera is unlikely to appear after he claimed he was fired from production back in February 2021, and has since filed a lawsuit against the production for wrongful dismissal.
Ryan Dunn will also be absent after he died in a car crash in 2011.
There are new cast members joining the movie, which is out in theaters on February 4, 2022, as well as some celebrity guest appearances too.
Here's a rundown of everyone confirmed to appear in Jackass Forever.
New Jackass Cast Members
The Jackass boys have been performing stupid stunts for over twenty years now and naturally, they're not as nimble and active as they used to be. Luckily, some fresh blood has been recruited to the team meaning there should be no stunt too difficult for them to perform.
In May 2021, Knoxville confirmed to GQ who he and fellow Jackass producers Jeff Tremaine and Spike Jonze had found to join the crew.
He said: "We reached out to friends and found Jasper Dolphin from the Loiter Squad, his dad 'Darkshark' [Compston Wilson] who is hilarious.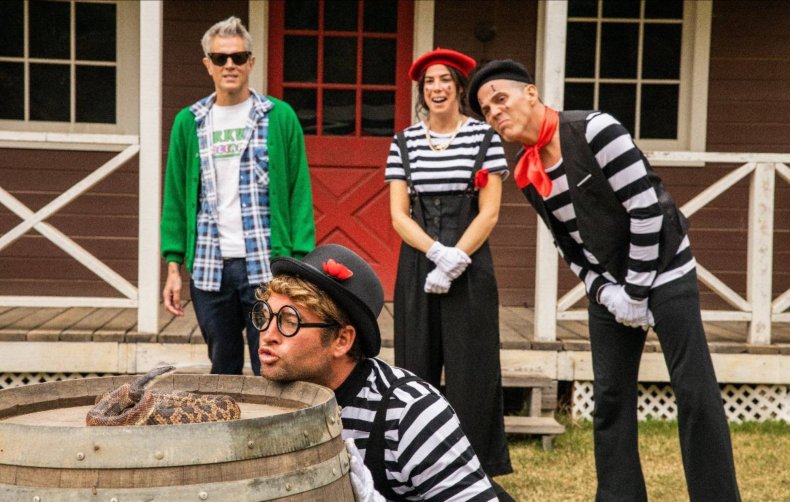 "We have Eric Manaka, who was in Action Point with me," he continued, "Zach Holmes, who I was aware of just from seeing crazy things on the internet."
He also confirmed that stand up comedian Rachel Wolfson and Sean "Poopies" McInerney were joining too.
Poopies has already participated in some Jackass stunts during a special Shark Week program. During those stunts, he suffered a serious injury when his hand was bitten by a shark.
Celebrity Guest Appearances in Jackass Forever
The latest trailer for Jackass Forever reveals a number of celebrity cameos from comedians, musicians and athletes.
Eric Andre, who recently worked with producer Tremaine on his Netflix hidden camera movie Bad Trip, can be seen saying "aw man, I'm on Jackass" before later getting pranked with an inflatable surprise.
Machine Gun Kelly is also seen in the trailer, getting hit with a giant hand and launched into a swimming pool. Tyler, The Creator appears too, seemingly given an electric shock by a piano.
Other celebrities confirmed to appear include Mythbusters' Tory Belleci, DJ Paul, Chris Raab and The Dudesons. Reports also suggest that ex-athletes Tony Hawk, Matt Hoffman and Shaquille O'Neal will appear too.
The Jackass OGs Returning
It wouldn't be a Jackass movie without the original members of the crew who've been with the franchise since the TV series first aired on MTV in October 2000.
Knoxville of course fronts the movie but he'll also be joined by Jackass veterans Steve-O, Wee Man, Chris Pontius, Dave England, 'Danger' Ehren McGehey and Preston Lacy.
Jackass Forever will be released in movie theaters on Friday, February 4, 2022.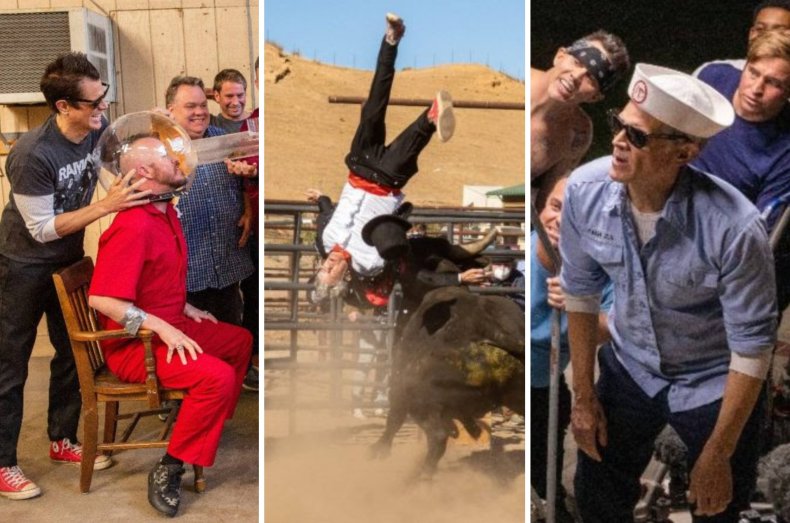 This article was updated on 01/12/2022 at 04:30 ET to correct the film release date.