When 'Jackass Forever' Will Be Streaming
Jackass Forever is finally coming to theaters after many delays—and more than 10 years after the last movie starring Johnny Knoxville, Steve-O and the rest of the gang.
With a whole decade to plan the latest set of stunts, the danger (and stupidity) levels are higher than ever. The trailer sees Knoxville get fired out of a cannon, rematching with a bull, while the movie sees the crew messing with scorpions, spiders and snakes—as well as each other's bodies.
Right now, Jackass Forever is only in theaters—and there's no cinematic experience quite like seeing someone getting their testicles pummeled in extreme close-up on a 50-foot screen. Should you want to wait until the fourth Jackass film comes to streaming services, however, it is set to be available to watch online very soon.
Here's when viewers will be able to stream the new Jackass movie—and when they will be able to watch the extended Jackass 4.5 version.
When Can You Watch 'Jackass Forever' Online?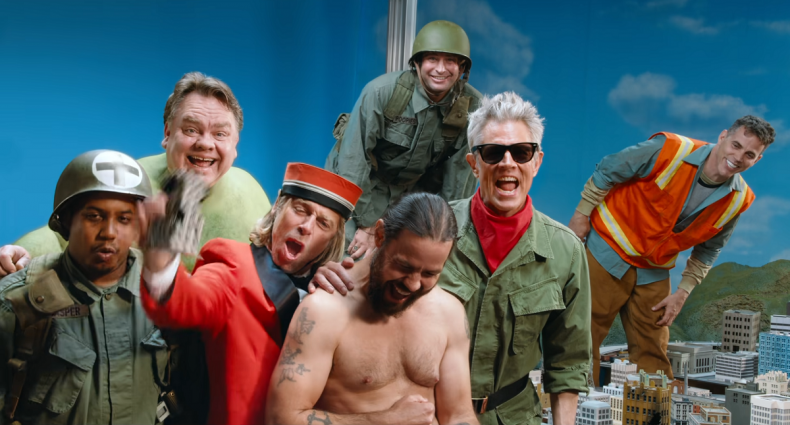 Currently, the only place to watch the fourth Jackass film is in theaters—but we have a very good idea of when the streaming release date will be.
Before the pandemic times, movies traditionally had a 90-day cinematic window in which they played only in theaters, before coming to home entertainment (aka DVD and Blu-ray) and video on demand (Amazon, Google Play, YouTube etc). Three or four months after that, they would finally come to streaming.
The pandemic (and the major entertainment companies launching streaming services) changed all that, meaning that fans will not have to wait seven months to watch Jackass Forever online. A number of distributors decided to dramatically shorten the time between a film coming to theaters and it coming to streaming.
Jackass Forever makers Paramount are among the companies that did this. In early 2021, the company announced that its movies (starting with A Quiet Place Part II) would stream on the streaming service Paramount+ between 30 and 45 days after they came to theaters. As the year went on, and cinema visitor numbers improved somewhat, this became 45 days for many of its releases.
As such, if Paramount+ decides to release Jackass Forever 45 days after its February 4 cinema release date, then it should be available to watch online from March 21, 2022.
It should be noted, however, that this date has not been confirmed by Paramount yet. The company's most recent release was Scream, which came to theaters on January 14. This should have meant the film would be on Paramount+ from February 28, though it was missing from the streamer's February releases list. However, it is possible that it is being held for March 1—and if it is, then that should also mean that Jackass Forever will come to the service later that month.
Can I Watch 'Jackass Forever' Online for Free?
Though the fact that Jackass 4 is a Paramount release means it is very unlikely to come to Netflix anytime soon, there is a silver lining—viewers will be able to watch it for free.
At time of writing, Paramount+ offers a seven-day free trial for new subscribers. After that, the service costs $4.99 a month for its Essential plan (which has ads and no live CBS stations) or $9.99 a month for the full package, which offers ad-free streaming and livestreams of CBS networks.
Subscribers can also pay annually to save some money on each package. The two packages cost $49 and $99 a year respectively.
When Will 'Jackass 4.5' Come Out?
Each of the three previous Jackass films have followed up their movies with a .5 version that includes more stunts cut from the original version.
Jackass Forever is to be no exception. Director Jeff Tremaine confirmed to Screen Rant that an extended edition of the film was coming. He has not yet confirmed exactly when.
With Jackass 3, the initial DVD release was on March 8, 2011, with Jackass 3.5 coming out on June 14 of that same year. As the Jackass Forever Blu-ray is set to come out in early April, a summer release for 4.5 seems likely.
Jackass Forever comes to theaters of February 4. All the Jackass movies (and .5 extended editions) are streaming now on Paramount+.