Willow Smith Reacts to 'Pushback' Over Rock Album After Jada Death Threats
Willow Smith has followed in her mom Jada Pinkett Smith's footsteps in more ways than one.
Smith, 21, released her genre-bending album Lately I Feel Everything in 2021 and will this year follow it up with Coping Mechanism, her first entirely rock album.
Coming out on September 23, the singer revealed she received some pushback from her record company when she started her foray into rock music.
Her mom Pinkett Smith also faced harsh criticism, including death threats, when her nu metal band Wicked Wisdom joined the Ozzfest lineup in 2005.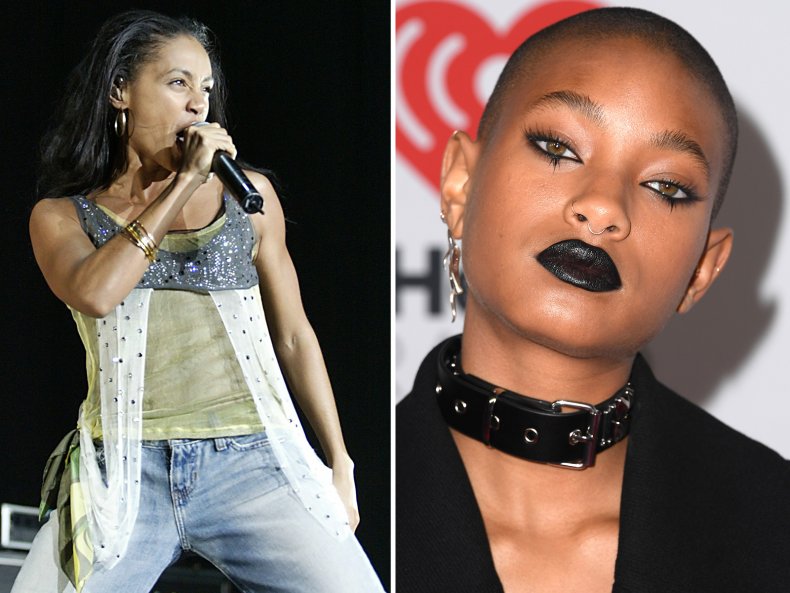 "Oh, my goodness. She was getting death threats. It was a crazy amount of stuff going on," Smith told Glamour.
"I remember being like, 'Yo! People are really upset about this, they're mad that a Black woman wants to do metal and is in the space. Like that was activism."
Despite having a huge fanbase and solid sales under her belt, not even Smith could get the enthusiastic support of her record label.
"When I wanted to do a rock album, there were a lot of executives that were like, 'Hmm...'," she revealed.
"If I had been white, it would've been completely fine; but because I'm Black it's, 'Well... maybe let's just not'—and making it harder than it needs to be. If I go through that, every single other Black artist is getting the pushback [too]."
The young star said touring with her mom helped to shape her rock sound and credited Pinkett Smith with influencing her music tastes.
"That was my first experience with music touring," Smith said of the 2005 Ozzfest tour.
"And just watching her as a Black woman in this crazy metal scene. I was like, 'Hell, yeah!' I loved it. My mom showed me everything. I still go to her now like, 'You got any new stuff for me to listen to?'"
Pinkett Smith herself opened up on the death threats she received at the turn of the century.
She also admitted she let her actor husband, Will Smith, "deal" with the nasty trolling.
"The Ozzfest kids were like, 'Hell no,' and I got tons of death threats," she told Metro in 2011.
"I didn't pay attention to them, Will dealt with it. I just thought it was people on their computers with nothing better do to than spew stupid crap. It got to the point my husband considered, but never did which I respect him for, asking me not to do it."
Pinkett Smith said people eventually accepted her band and attributed her own bravery to her success.
"When I played metal music, I was mocked," she said. "I got death threats when I was added to the Ozzfest lineup but I stuck with it. At the end of that, people got on board.
"Me doing metal was one of my biggest learning experiences. A lot of my success is down to not being afraid.
"I came to Hollywood by myself when I was 18. If my mother had thought 'What's going to happen?' and kept me in the house, I'd never have had the life I have."
Will Smith made headlines around the world defending Pinkett Smith at the 2022 Academy Awards when he famously stormed the stage to slap comedian Chris Rock in the face after he joked about her hair.
Pinkett Smith suffers from alopecia and Rock joked at the March 27 ceremony she should audition for G.I. Jane 2 on account of her bald head.
She rolled her eyes at the joke and Smith walked on stage to slap Rock, before returning to his seat and repeatedly saying "keep my wife's name out your f***ing mouth."
Pinkett Smith broke her silence on the incident in June, during an episode of her Facebook show, Red Table Talk.
"This is a really important Red Table Talk on alopecia. Considering what I've been through with my own health and what happened at the Oscars, thousands have reached out to me with their stories. I'm using this moment to give our alopecia family an opportunity to talk about what it's like to have this condition and to inform people about what alopecia actually is," Pinkett Smith said during the show.
She added: "My deepest hope is that these two intelligent, capable men have an opportunity to heal, talk this out and reconcile."