When Did Jada Pinkett and Tupac Date as Will Smith Discusses 'Raging Jealousy'
Will Smith has opened up about his wife's relationship with the late Tupac Shakur, describing his "raging jealousy."
The Fresh Prince of Bel-Air actor and Jada Pinkett Smith have been one of Hollywood's most famous couples for decades after tying the knot in 1997.
However, in recent months they have spoken about their open relationship and non-monogamous marriage.
Now, Smith, 53, has released a tell-all memoir where he speaks frankly about the late rapper's relationship with Pinkett Smith in the '90s.
"Though they were never intimate, their love for each other is legendary—they defined 'ride or die,'" he writes in Will.
"In the beginning of our relationship, my mind was tortured by their connection. He was PAC! And I was me."
Did Jada Pinkett and Tupac Shakur date?
Despite always being very open about her love for the late rapper, Pinkett Smith has maintained that they were never more than extremely close friends.
The two met at the Baltimore School for the Arts in the 1980s and became close.
"I know that most people want to always connect it in this romance thing, but that's just because they don't have the story," Pinkett Smith said of her relationship with Shakur in a 2017 interview with Sirius XM host Sway Calloway.
In 2018, she called their connection "precious" and admitted that they kissed before but didn't enjoy it.
"You know, it's so funny because now being older, I have more of an understanding of what that was between us," she said per Pop Sugar.
"When you have two young people that have very strong feelings, but there was no physical chemistry between us at all, and it wasn't even just for me—it was him too," she explained.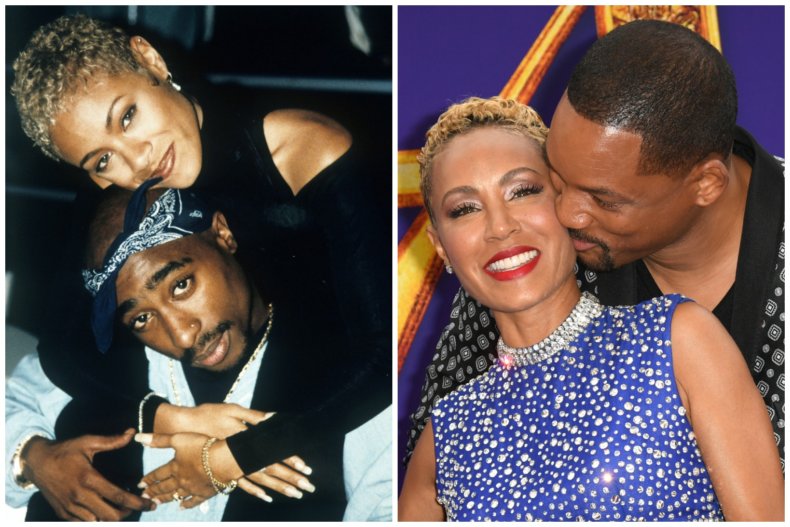 "There was a time when I was like, 'Just kiss me! Let's just see how this goes,' and when I tell you it had to be the most disgusting kiss for us both."
Smith continued in his candid memoir: "Pac was like Harry—he triggered the perception of myself as a coward. I hated that I wasn't what he was in the world, and I suffered a raging jealousy: I wanted Jada to look at me like that."
He added: "If she chose me over Tupac, there was no way I could be a coward. I have rarely felt more validated. I was in a room with Tupac on multiple occasions, but I never spoke to him. The way Jada loved 'Pac rendered me incapable of being friends with him. I was too immature."
Opening up about their open marriage earlier this year, Smith told GQ: "Jada never believed in conventional marriage. Jada had family members that had an unconventional relationship. So she grew up in a way that was very different than how I grew up.
"There were significant, endless discussions about 'What is relational perfection? What is the perfect way to interact as a couple?' And for the large part of our relationship, monogamy was what we chose, not thinking of monogamy as the only relational perfection."