Jaime Harrison Endorsed By Oldest Newspaper in South Carolina as Polls Show Him Leading Lindsey Graham
Jaime Harrison, the Democratic congressional nominee challenging South Carolina Senator Lindsey Graham in the upcoming general election, confirmed his campaign received an official endorsement from The State on Monday morning.
The State is a daily newspaper based in Columbia, South Carolina's capital city. Initially established in 1891, it is the state's oldest newspaper and it's second-largest by circulation after the Post and Courier.
"We started as a 17-point underdog. Today, I'm honored to accept the endorsement of the oldest newspaper in South Carolina, @thestate. Change is coming, folks," Harrison wrote on Twitter alongside a link to The State's endorsement, written by members of its editorial board and published earlier on Monday.
"One of the biggest newspapers in the state knows we can win this," added the Democratic nominee.
The State's endorsement comes as Harrison gains increasing momentum along the campaign trail. With eight days left until Election Day, polling data indicates Harrison has narrowed what was once a sizable gap in voter support for his candidacy versus Graham's, with some of the most recent survey's placing the Democratic challenger ahead of his GOP contender.
A Morning Consult poll conducted between October 11 and 20, which collected responses from likely South Carolina voters, gave Harrison a 2-point advantage over Graham. Meanwhile, The Economist's election forecast, last updated on Sunday, anticipated Graham will earn support from 51 percent of voters, and Harrison from 49 percent. The latest figures pointed to a much closer race than those released just last month. On September 25, The Economist's forecast gave Graham an estimated 66 percent of votes, compared to Harrison's 34 percent.
The Democratic politician's campaign has broken fundraising records since then, reporting the highest third-quarter earnings sum ever received by a U.S. Senate candidate. Although Graham's third-quarter fundraising total amounted to less than half of his opponent's, it reportedly set its own record for quarterly donations among Republican senatorial campaigns.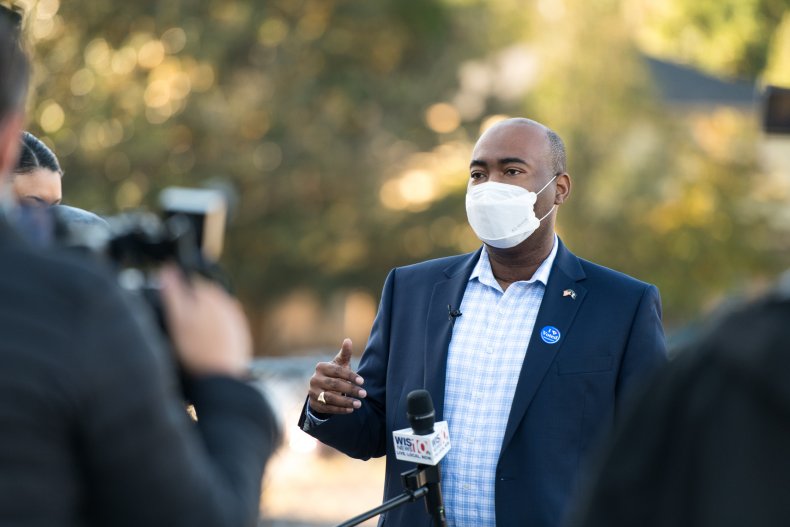 First elected to the Senate in 2003, and later elected chairman of the Senate Judiciary Committee, Graham initially led Harrison by significant margins in early election forecasts. While most polls conducted over the past month indicate the incumbent's advantage over Harrison is, at least, smaller than it was previously, some still place Graham ahead of his Democratic opponent.
Results of a New York Times/Sienna College poll, released October 15, suggested Graham led by 6 percentage points. Other election forecasts, such as those released by RealClearPolitics and Cook Political Report, currently rate South Carolina's election race "a toss-up" ahead of November 3.
Newsweek reached out to Harrison and Graham's campaigns for comment, but did not receive replies in time for publication.