Lindsey Graham Laments Out-of-State Donors Contributing to Dem Opponent's Campaign: 'Trying to Take Me Out'
Republican Senator Lindsey Graham issued another plea for campaign donations during a Fox News interview Saturday, acknowledging his Democratic opponent's fundraising haul just over one week ahead of South Carolina's Senate election.
"You know, my opponent's raised $109 million to take me out," Graham told Fox News' Jeanine Pirro, a former New York judge, during his recent appearance. "They want the Senate so badly. They're trying to destroy this president who's had the best presidency since Ronald Reagan. So, help me."
Jaime Harrison, the Democratic challenger, is racing against Graham for a U.S. Senate seat representing South Carolina. Soon after Harrison's campaign reported record-breaking third-quarter fundraising numbers—with $57 million in donations received throughout July, August and September, the earnings surpassed quarterly sums accumulated by any other senatorial candidate—polling data released last week indicated the candidate was leading Graham by 2 percentage points.
Graham, who first assumed his Senate seat in 2003, raised $28 million during the third quarter. Although lower than his opponent's earnings, Graham's fundraising total reportedly established a quarterly record for Republican senatorial campaigns. Both Harrison and Graham have continued to raise money throughout October.
Guy King, a spokesperson for Harrison's campaign, confirmed the Democratic nominee had raised $86 million throughout the current election cycle in a statement sent to Newsweek earlier this month, when news of the quarterly fundraising record first broke. The campaign has received at least $22 million in subsequent donations since then, according to FEC documents accounting for the first two weeks of October. Graham's campaign reportedly raised $15 million over the same time period.
Graham has decried out-of-state donations to Harrison's campaign for weeks, while the Senate Leadership Fund, a Republican super PAC led by supporters of Kentucky Senator Mitch McConnell, pledged to give millions to the Republican incumbent.
During his Fox News interview, Graham reiterated criticisms related to Harrison's campaign donors.
"Liberals hate my guts," Graham told Pirro, noting the backlash he has faced from Democrats in response to his defense of Supreme Court Justice Brett Kavanaugh, general allegiance to President Donald Trump and current push to confirm Amy Coney Barrett to the high court.
"They're trying to take me out," he said. "Every liberal in the country is sending money to South Carolina. South Carolina's not for sale, but I need people listening to this program who believe in President Trump and conservatism to help me to finish strong...don't let San Francisco buy South Carolina."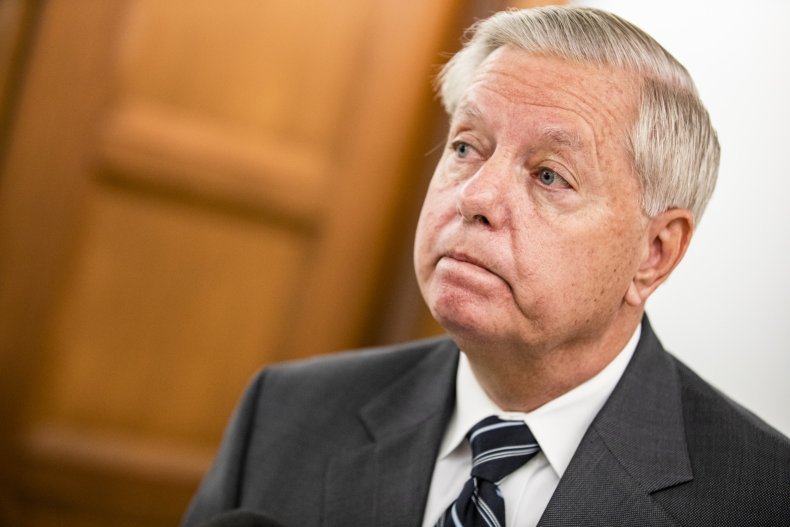 Graham touched on a number of issues during his latest Fox News appearance, including Democratic presidential nominee Joe Biden's proposed approach to environmental policy, which he referred to as "the dumbest idea in the world."
"We're going to cripple our economy in the name of saving our environment," he said.
The South Carolina Republican also praised Barrett, Trump's third Supreme Court nominee since his presidency began, and said he is "not going home until we get her on the court." A confirmation vote is expected to take place Monday.
Newsweek reached out to Graham and Harrison's campaigns for additional comments, but did not receive replies in time for publication.