Jaime Harrison Spent $60 Million on Campaign as Polls Show Him Leading Lindsey Graham
Jaime Harrison, the Democratic candidate in South Carolina's race for U.S. Senate, said he spent $60 million on campaigning in the third financial quarter as recent polls show him leading incumbent Lindsey Graham.
South Carolina's Senate race is shaping up to be one of the most contentious in the country, with Harrison challenging Graham, who's held the office since 2003, in the historically red state. While the majority of recent statewide polling has found Graham in the lead, a new Morning Consult poll had Harrison out in front.
The data intelligence company surveyed approximately 926 likely voters across the state from October 11 to 20, finding that 47 percent of respondents said they'd vote for Harrison, while 45 percent chose Graham.
Similarly, two partisan polling groups found Harrison with 1-point leads in recent surveys. Data for Progress conducted a poll between October 8 and 11, with Harrison receiving 47 percent of voters' support, compared to Graham's 46 percent. GBAO Strategies and the Democratic Senatorial Campaign surveyed likely voters from September 24 and 28. Forty-eight percent said they'd vote for Harrison, compared with 47 percent who chose Graham.
Harrison's small lead comes amid massive amounts of money spent by his campaign in an attempt to boost his notoriety both in South Carolina and around the U.S. The Democrat told the Associated Press on Thursday that he spent $60 million during the third financial quarter.
Harrison raised $57 million in that same time frame, the most ever brought in by a Senate candidate in a quarterly fundraising period, the AP reported. Some people questioned whether he would ever be able to spend that much money, citing South Carolina's smaller size and inexpensive media markets, according to the AP.
But the Democrat had to fork over the funds if he wanted to compete with Graham, a longtime politician, and Harrison's campaign essentially spent the money as quickly as it came in, the AP reported.
"Yes, we raised $57 million, but we spent $60 million," Harrison said. "But that is what we had to do in order to get this thing to toss-up status, in order to bridge the gap."
The campaign spent the majority of the third-quarter money ($34 million) on television advertising, according to a memo shared with the AP. Another $8 million was allocated for space on digital advertising platforms and $2.2 million went to radio advertising aimed particularly at Black voters.
With less than two weeks until the November 3 election, Harrison is not planning to slow down his messaging. His campaign told the AP it has booked about $4 million in television advertising throughout the state for the upcoming week.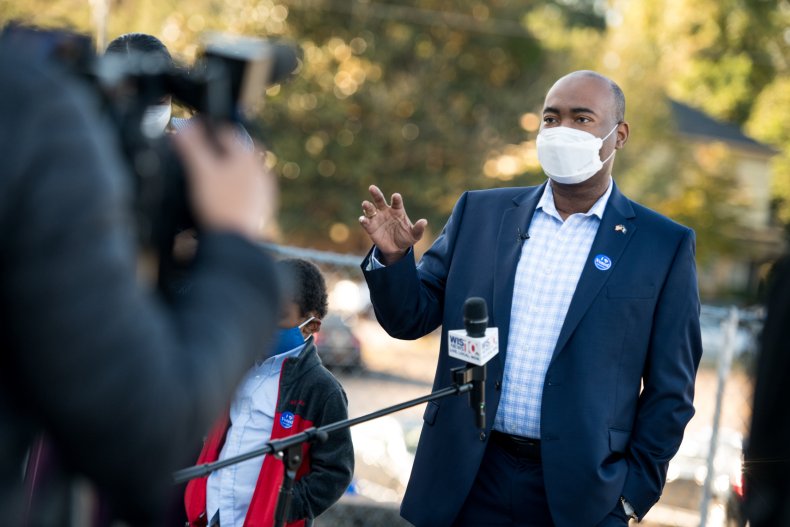 Graham, in comparison, brought in $28 million in the third financial quarter—the most ever raised in a single quarter by any Republican Senate candidate in the U.S., according to the AP.
Still, the amount still doesn't hold up to Harrison's $57 million, and other notable GOP leaders are scrambling to fill the gap. Next week, Republicans have reserved $11 million in ad time in South Carolina, the AP reported.
Some of that money came from the Senate Leadership Fund, a Republican super PAC established in 2015 by allies of Senate Majority Leader Mitch McConnell to "protect and expand the Republican Senate Majority," according to FactCheck.
"We're pushing hard, but Mitch McConnell has come in," Harrison told the AP. "The only reason that he's pouring as much money as he is into this race is because he sees what we see, which is Lindsey Graham is in danger of losing this seat."
South Carolina's Senate race is one of nine states in which the GOP incumbent is at risk of losing their seat to a Democratic challenger, leading many pundits to predict that the chamber could flip.
Nevertheless, Graham's campaign maintained that it has everything it needs to reach voters ahead of Election Day.
"Our campaign will have the resources we need to get our message out to voters," Graham campaign spokesman T.W. Arrighi told the AP last week. "National Democrats will invest more than $100 million of out-of-state money to buy the race, but the voters of South Carolina know a liberal Democrat when they see one."
Arrighi echoed this sentiment in a tweet Thursday responding to Harrison's spending record.
"Jaime Harrison burned through $60 million trying to buy a Senate seat from his basement last quarter," Arrighi wrote. "For those inquiring minds curious about where all that money came from, we dug through the reports for you...HINT: It wasn't from SC."