CNN host Jake Tapper questioned Representative Michael McCaul (R-TX) Sunday over why he previously voted for a commission to investigate a 2012 attack in Benghazi, Libya, but not for an independent probe into the January 6 assault on the U.S. Capitol.
McCaul was one of 175 GOP representatives who voted last week against forming a bipartisan commission to investigate the events of the Capitol riot. While the bill was able to pass in the Democratic-led House, it failed in the Senate Friday when 35 Republicans voted against the legislation through a filibuster.
On State of the Union, Tapper pressed the Texas Republican on why he voted against the bill, which would have been modeled after the 9/11 commission in order to investigate the facts and circumstances that led to the January 6 attack. Five people died as a result of the violence, when a mob of Donald Trump supporters sought to disrupt the congressional certification of Joe Biden's electoral victory.
The CNN host pointed out that in 2014, McCaul was one of several Republican lawmakers who pushed for a similar House-led investigation into an attack on a U.S. consulate in Benghazi that occurred two years earlier.
At that time, McCaul said "We owe it to the victims, their families and the American people to find out the truth. We must have justice, and we must have accountability. It is my hope a Select Committee will produce both."
On Sunday, Tapper said he agreed with that statement, but added "I wonder why you don't have the same feeling here about this commission?"
In response, McCaul said that while January 6 was a "dark day in American history," he believes the attack should be investigated only by the Department of Justice, rather than a politically appointed committee.
"I view this not as an overview of policy like the 9/11 Commission did. It's a criminal investigation. A criminal case. In my judgment, that properly falls within the purview of the Department of Justice, where I worked for many years, rather than a politically appointed commission," McCaul stated.
McCaul added that by focusing on the DOJ probe, the investigation would avoid being "tainted" by politics. The Texas Republican also noted that he was the first lawmaker to call for such an investigation.
When reached for comment on Sunday, a representative for McCaul pointed Newsweek to a statement from the Texas Republican in which he reiterated that claim.
"The events of January 6 were nothing short of an assault on our Democracy. That is why I called for an investigation by the Department of Justice – to bring those individuals to justice," McCaul said after he voted against the commission.
"The Department's investigation has led to the arrests of more than 400 individuals thus far and I trust we will see more arrests as their investigation continues. If we, as a body, want to see justice, we must allow federal investigators to complete their probe without interference from Congress and ensure they are equipped with the tools to fully prosecute," he added.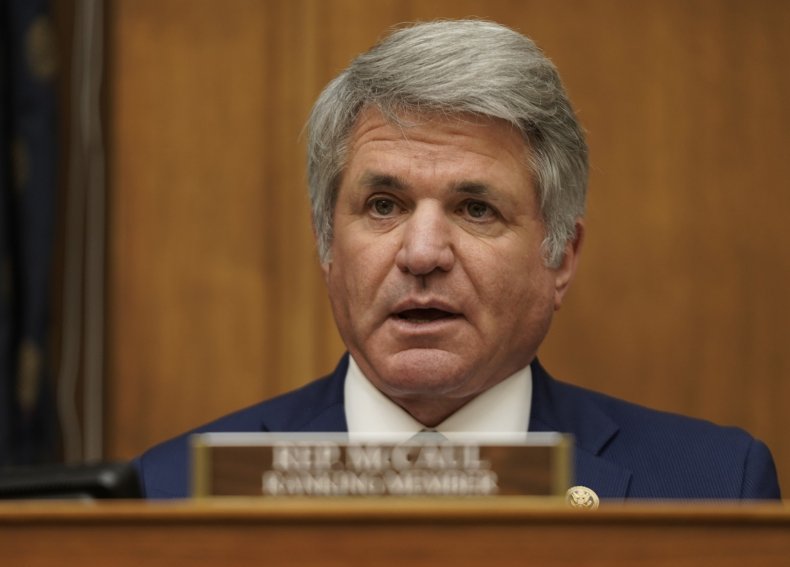 Only six Republican senators joined all Democrats on Friday in a 54-35 vote in favor of the bill. But under Senate filibuster rules, at least 60 lawmakers would have needed to vote in favor of the legislation for it to be passed.
Now, Democrats are seeking alternative paths to form an investigative commission, which could include the creation of a select committee in the House. Other lawmakers are pushing for President Joe Biden to form a presidential commission in order to investigate the deadly riot.
"Honoring our responsibility to the Congress in which we serve and the Country which we love, Democrats will proceed to find the truth," Democratic House Speaker Nancy Pelosi said on Friday, suggesting that the House would move forward with an alternative path.