James Comey Howard University Speech Interrupted With 'I Love Being Black' Chants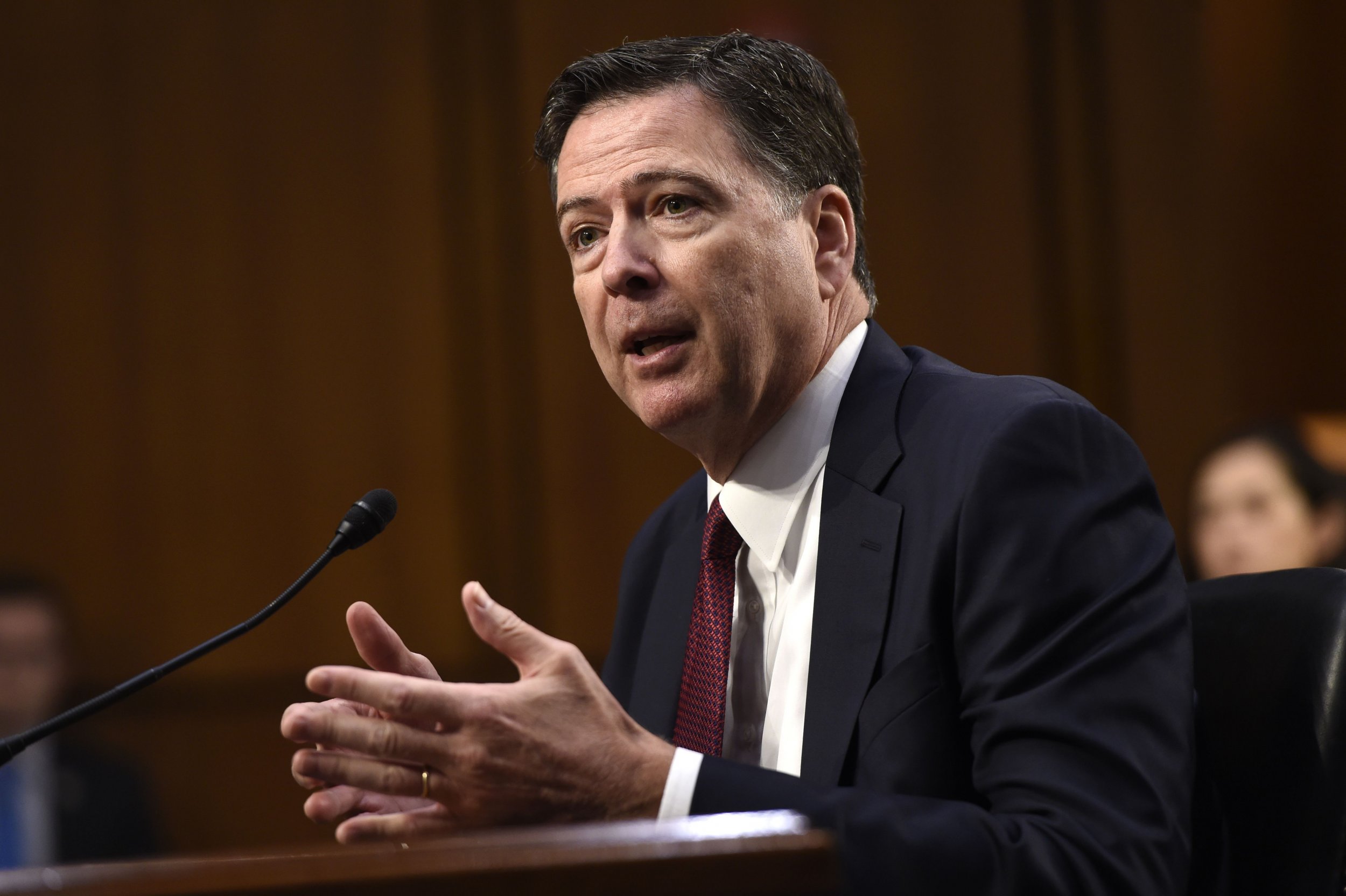 Updated | Activists at Howard University interrupted former FBI Director James Comey seconds after he began to deliver the keynote address at the school's convocation ceremony on Friday.
Standing at the back of the room with their fists raised, the activists began chanting, saying, "We are here to reclaim this space," and "No justice, no peace," among other phrases. Later, they repeated, "I love being black." When the chanting began to quiet down, Comey said, "I hope you'll stay to listen to what I have to say. I just listened to you for five minutes." Soon after, others in the room began chanting, "Let him speak."
Related: Did acting FBI director get money from Hillary Clinton?
The speech was Comey's second public appearance since President Donald Trump fired him in May, and the first since his widely anticipated testimony before the Senate Intelligence Committee in June.
Some opposed the former director's appearance at the historically black college in Washington, D.C., because of law enforcement's relationship with the black community.
In May 2016 during a speech, Comey spoke of a "viral video effect" that he said he believed had caused police officers to be hesitant to do their jobs. Media accounts of his comments referred to this as a "Ferguson effect," a reference to the 2014 fatal shooting of Michael Brown by a white police officer in Missouri. Comey had made similar comments about the so-called effect earlier.
"I love the enthusiasm of the young folks," Comey said about 15 minutes after the chanting began. "I just wish they would understand what a conversation is." He then began his prepared remarks, appearing to strain to speak above the chanting, which continued.
In his prepared speech Friday, he spoke about how students can use their time at Howard "to train yourself to become a well-rounded citizen of the world." The chanting lasted throughout the entire speech. At the end, Comey said, "Welcome to Howard…. I look forward to adult conversations about what is right and what is true." He received a standing ovation.
The group behind the demonstration is HU Resist. "Today, we take back convocation," the group posted on Facebook around the time the chanting began. "Howard University has always loved to dance with White supremacist government and agencies, but we will shuck and jive no longer.... We want to rededicate today's convocation to the lives of those that have been murdered by the FBI and other agencies of the state."
Speaking during the ceremony after Comey, Howard University President Wayne Frederick said, "Mr. Comey, I know you've battled more than one war before, and I have to tell you, we appreciate you being here at Howard University and delivering your remarks." Asked for further comment, a spokeswoman for the school pointed to the remarks by Frederick.
Comey had been FBI director since 2013. Toward the end of his tenure, he became known for his public disclosures, including about the bureau's investigation into Hillary Clinton's use of a personal email system, and its probe into Russian meddling in the 2016 presidential election and possible coordination with the Trump campaign.
Beside delivering the keynote address at convocation, Comey will serve as an endowed chairman in public policy at Howard. In that role, he will lead and conduct a series of five lectures, the school has said. He is donating the $100,000 compensation that comes with the position to a scholarship fund at the school.
Other than appearing at the congressional hearing, Comey has kept a low profile since his firing. In August, Flatiron Books announced it is publishing a book by Comey, in which he will share "his never-before-told experiences from some of the highest-stakes situations of his career in the past two decades of American government," the publisher said. The book is scheduled to come out on May 1.
Trump has called Comey "a leaker" for giving a memo he wrote to a friend to pass along to a reporter. White House press secretary Sarah Huckabee Sanders has suggested the Justice Department look into prosecuting Comey. Robert Mueller, the Department of Justice special counsel who is investigating Russian meddling in the 2016 presidential election and possible coordination with the Trump campaign, is said to be looking into whether Trump obstructed justice by firing Comey.
On August 2, Attorney General Jeff Sessions swore in Comey's successor, Christopher Wray.
This article has been updated to include a response by a spokeswoman for Howard University.