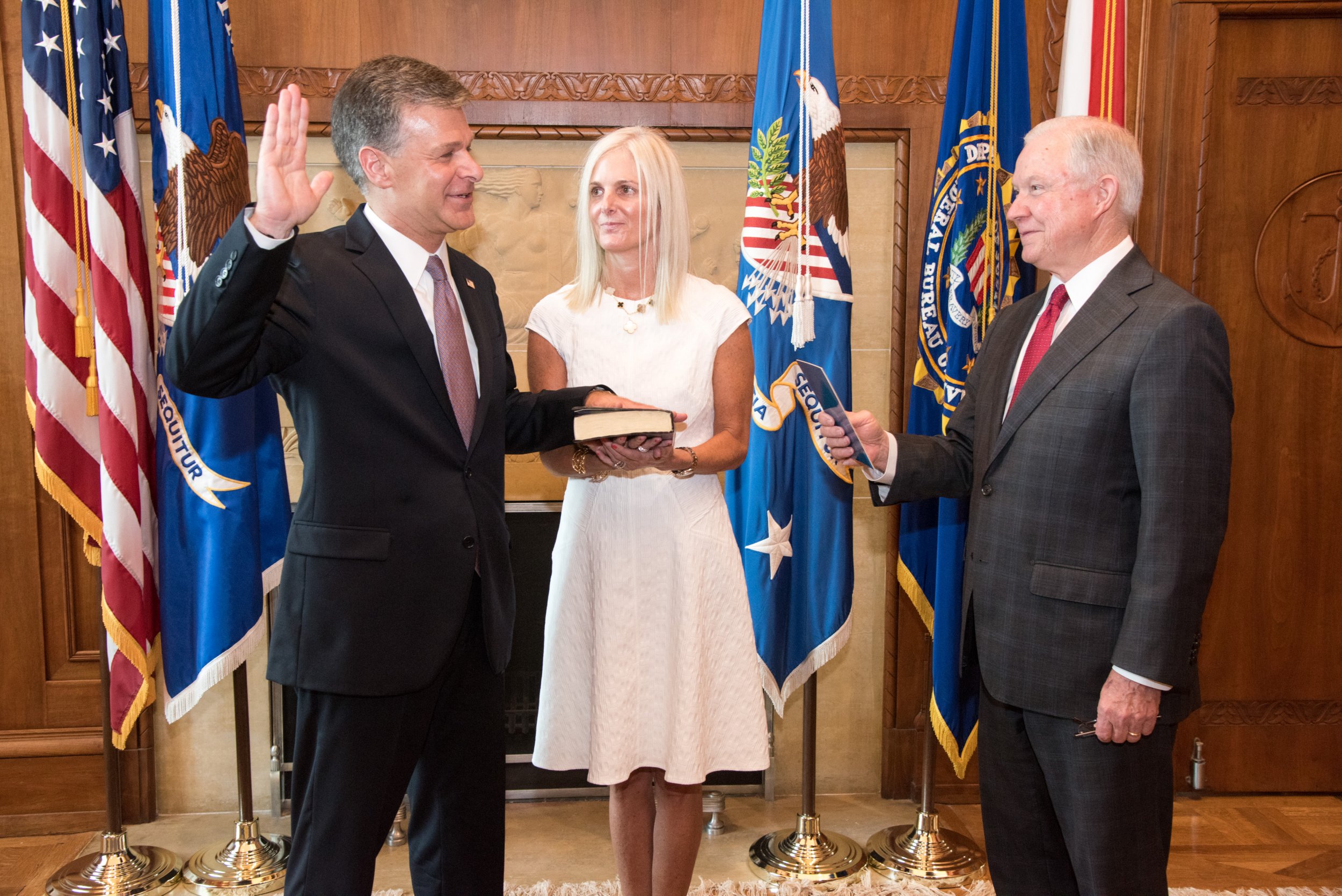 The Department of Justice on Wednesday held a private swearing-in ceremony for Christopher Wray, President Donald Trump's pick for FBI director, almost 24 hours to the minute after the Senate confirmed him. Though it is not unprecedented to hold the ceremony in private, the move from confirmation to swearing-in was the fastest in the modern history of the bureau.
Since 1973, the average length of time between Senate confirmation and swearing-in has been 26.8 days—before Wednesday. For James Comey, Wray's predecessor, 37 days passed. Comey was sworn in exactly 12 years after his predecessor, Robert Mueller, had taken the post. In that case, no acting director served between the two directors.
Related: Christopher Wray confirmed by Senate
While the Wray swearing-in happened quickly, his confirmation took more time than average. At 36 days, that process was the second-longest in the modern history of the FBI. Only Comey's took longer, at 38 days.
Attorney General Jeff Sessions led the ceremony on Wednesday. "Chris has the experience and the strength of character that the American people want in an FBI Director and I congratulate him for being overwhelmingly confirmed to that post and look forward to working with him every day to keep America safe," Sessions said in a statement after the ceremony. "I am confident that the FBI, the premier investigative agency in the world, is in great hands with Director Chris Wray at the helm."
"It is the honor of a lifetime to serve as director," Wray said in a statement on Wednesday. "I long ago grew to know and admire the FBI from my earliest days as a line prosecutor to my years as assistant attorney general. I am excited, humbled and grateful, therefore, to have this chance to work side by side again with these fine professionals for the good of the country and the cause of justice."
The quick and quiet confirmation happened amid a period of tension for the Justice Department. In late July, Trump criticized Sessions on multiple occasions, and in an interview with The New York Times, the president said about Deputy Attorney General Rod Rosenstein, "Who is he?" Trump and his associates are lawyering up in response to a Justice Department special counsel investigation into Russian meddling in the 2016 presidential and possible coordination with the Trump campaign. And Trump has brought renewed attention to claims that Andrew McCabe, who was acting FBI director prior to the swearing-in and will return to his previous role as deputy director, received money from Hillary Clinton.
"The country is crying out for someone who is of the highest integrity...someone for whom they can have great confidence to restore the position of the FBI to what it's always been," J. Michael Luttig, a former United States court of appeals judge under whom Wray once clerked, has told Newsweek. "What you need is someone exactly like Chris Wray."