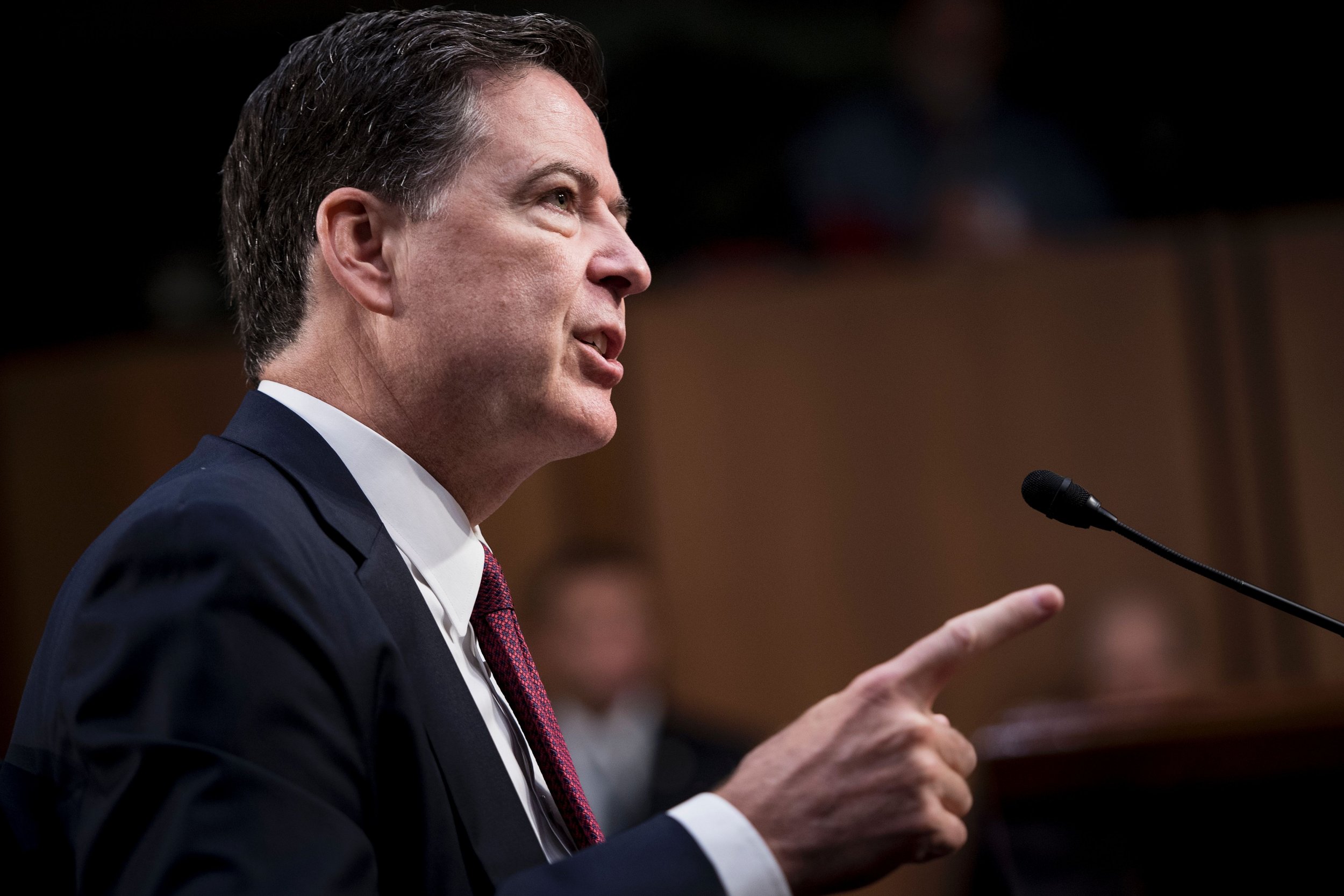 Updated | Special Counsel Robert Mueller's team has reportedly interviewed former FBI Director James Comey as part of its probe into Russia's possible coordination with President Donald Trump's 2016 campaign.
The New York Times reported on Tuesday that Mueller's team interviewed Comey last year and questioned him about memos he wrote following interactions with Trump.
The details of those memos have previously come to light in news reports and in a Senate Intelligence Committee hearing featuring Comey last June. In the memos, Comey says that Trump told him to back off from the bureau's probe into former National Security Adviser Michael Flynn.
Mueller's team, which took over the FBI's investigation into Russia and the Trump campaign last May, just more than a week after Trump fired Comey, has since gotten a guilty plea from Flynn for lying to federal agents about his meetings with Russians.
The report about Comey's questioning came hours after the newspaper reported that Mueller's team had also interviewed Attorney General Jeff Sessions.
Related: Sessions Latest To Face Trump-Russia Questions
Trump and his allies have scrutinized Comey over those memos after the former FBI director testified that he had given a memo to a friend in order for the friend to pass along to a reporter. In response, Trump called Comey a "leaker," and White House Press Secretary Sarah Huckabee Sanders suggested that the Department of Justice should look into the matter.
In May, Trump tweeted, "James Comey better hope that there are no 'tapes' of our conversations before he starts leaking to the press!" In response, during his Senate Intelligence Committee testimony weeks later, Comey said, "Lordy, I hope there are tapes."
More than half of the memos Comey wrote about his encounters with Trump contain classified information, The Hill reported last July, citing officials familiar with the documents. A U.S. district court judge is currently reviewing the memos in order to decide whether the government should release them to news outlets.
In addition to Trump's alleged coordination with Russia, Mueller's team is believed to be looking into whether Trump obstructed justice by firing Comey while the FBI's Russia probe was underway.
Comey succeeded Mueller as head of the FBI in 2013. His opponents have claimed that he and Mueller are friends, representing a conflict of interest, but people who know both men have told Newsweek that the claim is untrue.
Following the Times report on Tuesday, The Washington Post reported that Mueller is seeking to interview Trump about the departures of Flynn and Comey. The Post cited two people familiar with Mueller's plans.
This article has been updated to include details from a report in The Washington Post.