James Comey (Probably) Tweets Cryptic Captions From Secret Account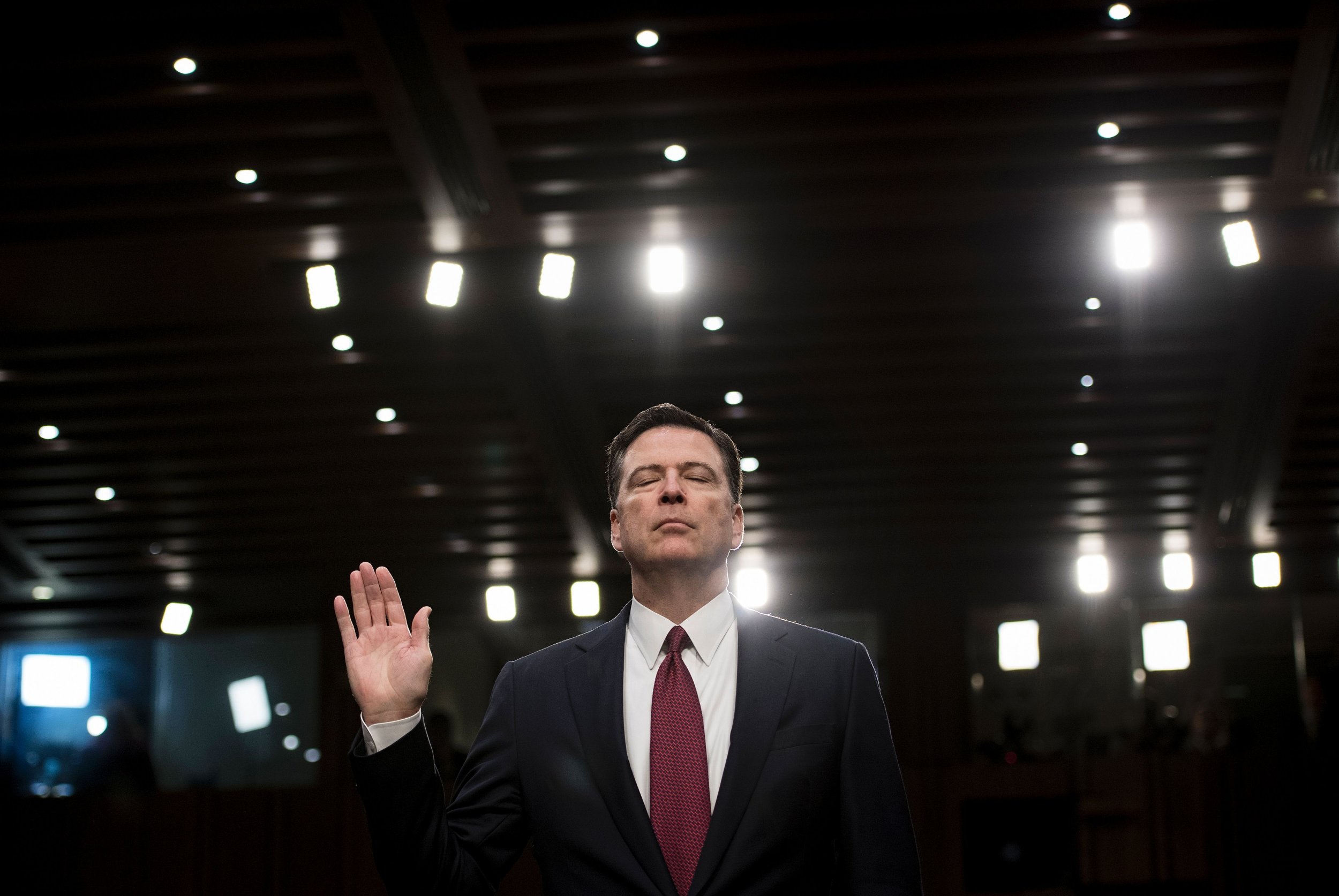 It looks like James Comey has sent another message into the Twittersphere from beyond his government-job grave.
User @FormerBu posted two messages this week, breaking his silence since March and bringing the total number of mysterious tweets on the account to three. On Wednesday, the user—who has the name Reinhold Niebuhr but is suspected to be Comey—put up a river photo and wrote, "Beautiful fall day at West Point. Lone kayaker on the Hudson." He tweeted another picture on Thursday, but the caption this time was a little sassier.
"Little Round Top, Gettysburg. Good place to think about leadership and values," @FormerBu wrote.
If @FormerBu seems like he's subtweeting someone, that's because he probably is—and it's probably the White House. President Donald Trump fired Comey from his position as FBI director in May. Besides giving testimony before Congress in June, he's been hard to track down ever since.
But why do so many people think that @FormerBu/Reinhold Niebuhr is Comey?
It all started earlier this year, when the former G-man admitted to having a secret Twitter account. Eventually, a wide-ranging (and kind of creepy) Gizmodo investigation pinpointed the likely account, then with the name Reinhold Niebuhr and the Twitter handle @projectexile7. The FBI wouldn't confirm Comey's profile to Gizmodo, but after the story broke he tweeted his first-ever message: a link to fbijobs.gov and a meme of Will Ferrell saying, "Actually, I'm not even mad. That's amazing." Then ... nothing.
Other people have pointed out that Comey may have chosen the name Reinhold Niebuhr, a theologian who died in 1971. Comey double-majored in religion and chemistry at College of William and Mary, and wrote a thesis on Niebuhr.
The username has now been switched to @FormerBu for reasons unknown, according to Paste Magazine. But one of Comey's close friends, journalist Benjamin Wittes, alerted his followers to Wednesday's sudden activity.
"Look who's tweeted again..." Wittes wrote. "I've never confirmed the identity of the holder of this account and I'm not going to start now. I will say that (you) won't regret following it."
Why Comey would choose this week to decide to (probably) use Twitter wasn't clear from the cryptic posts, though he has been in the news recently. On Monday, the FBI released a document that showed Comey drafted a statement about the end of his probe into Hillary Clinton's use of a private email server before the agency actually interviewed her. Trump later tweeted about it, writing that "as it has turned out, James Comey lied and leaked and totally protected Hillary Clinton. He was the best thing that ever happened to her!"
His name came up again on Wednesday. Attorney General Jeff Sessions told the Senate Judiciary Committee that he didn't know anything about Comey's termination, which came as the FBI chief was investigating potential contacts between the Trump campaign and Russians who interfered in the 2016 election.
As for @FormerBu, Paste pointed out that it's plausible Comey would be at West Point: There's an important award ceremony there Thursday night. But Comey heading to Gettysburg makes less sense. Amid the speculation, Wittes joked that "if @FormerBu is not, in fact, James Comey, this is the best gag ever for getting Twitter followers."
So maybe @FormerBu is Comey, or maybe it's just someone with Wittes connections who enjoys subtweeting and random nature photos. The world may never know.