James Comey Would Send Clinton Email Letter Even if He Knew It Would Help Trump Win
Former FBI Director James Comey has no regrets about announcing days before the presidential election that the FBI was reviewing additional emails related to the Hillary Clinton email probe—stating he would send the letter again even knowing Donald Trump would win.
In an incident Clinton herself has partially blamed for her losing the election, Comey informed members of Congress shortly before the election that the FBI had found additional emails linked to the investigation, then stated two days before that election that it had uncovered no new or incriminating information in the emails.
In an interview with ABC's George Stephanopoulos for a special edition of 20/20 on Sunday, as part of the media tour for his new book, A Higher Loyalty, Comey said he would have acted in the same way even if he had known it would help Trump win.
Stephanopoulos asked: "If you knew that letter would elect Donald Trump, you'd still send it?"
"I would. I would," Comey replied. "In fact, that was a question asked by one of my best people—a deputy general counsel in the FBI who is a very thoughtful and quiet person, who didn't speak a lot. And that—that morning we were making that decision, she asked, 'Should you consider that what you're about do to may help elect Donald Trump president?'" he added.
"'That's a great question," Comey said he told the deputy general counsel. "But the answer is not for a moment because down that path lies the death of the FBI as an independent force in American life. If I ever start considering whose political fortunes will be affected by a decision, we're done. We're no longer that group in America that is apart from the partisans, and that can be trusted. We're just another player in the...in the tribal battle," he added.
Despite maintaining he did the right thing in sending the letter, the former FBI chief said he felt his decision left him "totally alone."
"It was a very painful period. Again, my whole life has been dedicated to institutions that work not to have an involvement in an election. I walked around vaguely sick to my stomach, feeling beaten down," Comey told Stephanopoulos.
"I felt like I was totally alone, that everybody hated me," he continued. "And that there wasn't a way out because it really was the right thing to do."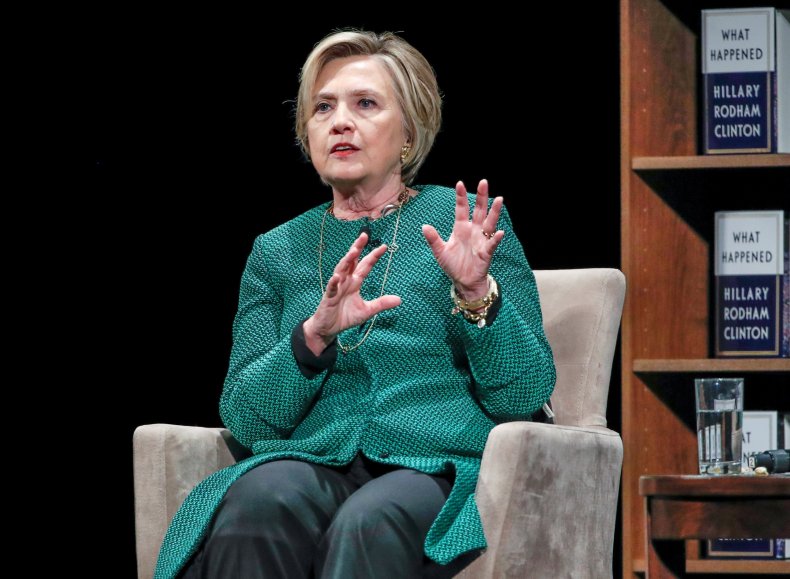 Clinton has discussed Comey's decision to announce a reopening of the email probe so close to the election in her own book What Happened and stated at an event reported by CNN that: "He dumped that on me on October 28, and I immediately start falling."
However, Comey said his belief that Clinton would win the presidential election "must have been" a factor in his decision to send the letter.
"I don't remember consciously thinking about that, but it must have been," Comey said. "Because I was operating in a world where Hillary Clinton was going to beat Donald Trump. And so I'm sure that it was a factor. Like I said, I don't remember spelling it out, but it had to have been, that she's going to be elected president, and if I hide this from the American people, she'll be illegitimate the moment she's elected, the moment this comes out."
Comey was dismissed by the president in May 2017, and excerpts from his new book, which is released on April 17, have largely lashed out at Trump. However, Comey also discusses the Clinton investigation and his handling of it, The Guardian reported.
James Comey Would Send Clinton Email Letter Even if He Knew It Would Help Trump Win | U.S.