James Corden Says This Is His Favorite 'Carpool Karaoke' Episode
James Corden has enjoyed front-seat sing-alongs with a veritable list of Hollywood's biggest stars since Carpool Karaoke debuted with Mariah Carey on The Late Late Show in 2015.
And the British TV personality has now revealed that his favorite episode of all the dozens he has since recorded was with none other than the legendary Sir Paul McCartney.
In an interview with Bill Whittaker of 60 Minutes, the talk show host was asked what his favourite Carpool Karaoke was, to which he responded: "Well, there's so many. I mean, doing it with Paul McCartney will probably take some beating from me personally. It was just a day I'll never, ever forget."
Asked what stood out about the episode, Corden said: "All of it... Sometimes I think if that was an auction prize what would it go for, you know, and I'm at work."
The episode in question debuted on YouTube in June 2018, and has so far been viewed more than 61 million times since it was uploaded onto The Late Late Show's channel.
Carpool Karaoke has welcomed an exhaustive list of stars, including Adele, Celine Dion, Madonna, Britney Spears, Stevie Wonder, Lady Gaga, Jennifer Lopez, Elton John, One Direction, BTS, Ariana Grande, and former first lady Michelle Obama, among others.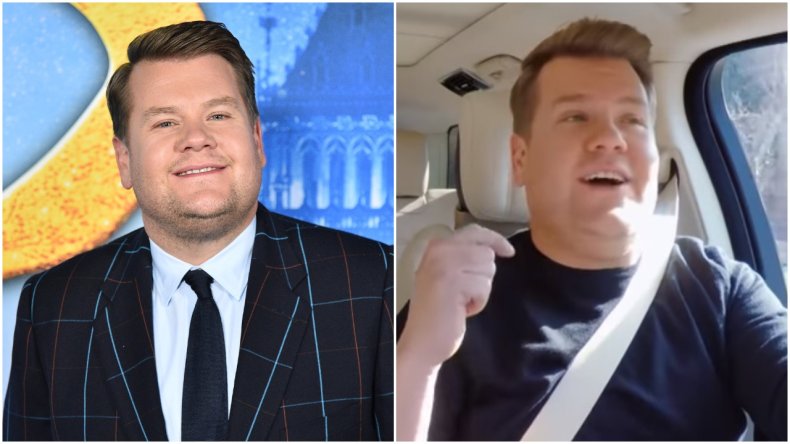 In each episode, Corden is usually seen offering a celebrity a ride to work, before they enjoy a fun-filled chat and sing-along session while driving around together.
Speaking about Carpool Karaoke on 60 Minutes, Corden said: "The core of it really isn't the songs. The core of it is the intimacy of the interview. That these are some of the most famous people on Planet Earth. You know, the biggest singers in the world and they're in an environment which is completely humanizing."
Asked by Whittaker if it was initially difficult to move his high-profile guests from the traditional studio setting to the passenger seat of a car, Corden said: "Hard, are you're joking? Of course it was! Imagine getting that call.
"You're, like, Adele's publicist. Like, "Yeah, so it's a host whose show is completely unproven. They've never hosted a show before. We'd love you to just get in a car and drive around and sing your songs. And we're not really sure about the insurance on this one.
"You know, it was crazy. I mean, we managed to get Mariah Carey and I will always be indebted to her for saying yes. So I genuinely honestly don't know if we're having this conversation if she hadn't said yes. I think it's that important to our show."
Marveling at the show's growth, he added: "I think when the show started we were in, I don't know, eight or ten countries. And I think now we're in over 100 countries. It's utterly bemusing to me how far that reaches."
After interviewing the cast of Friends for last month's HBO Max special Friends: The Reunion, Corden drove them around the Warner Bros. lot in a golf cart.
Jennifer Aniston, Courteney Cox, Lisa Kudrow, David Schwimmer, Matt LeBlanc, and Matthew Perry clapped and sang along to The Rembrants' catchy track "I'll Be There for You," the famous Friends theme song.