James Dolan Threatens to Ban Alcohol at MSG in Bizarre Interview
Fans might only be able to purchase non-alcoholic beverages at an upcoming New York Rangers hockey game, if Madison Square Garden (MSG) CEO James Dolan gets his way.
Dolan, who also owns the Rangers and New York Knicks, appeared in an interview on WNYW on Thursday and addressed a variety of topics. His ongoing lawsuits and how he's handling those lawsuits—by banning any attorneys involved in the firms suing MSG from entering the venue through facial recognition software—dominated much of the conversation.
In addition to going after the lawyers suing MSG, Dolan also plans to one-up the New York State Liquor Authority (SLA) after a complaint was filed with the authority. The SLA issues licenses for the sale of alcoholic beverages.
The lawsuit began after shareholders protested a 2021 merger between MSG Networks and MSG Entertainment. Later, lawyers involved in the lawsuit learned that they were banned from entering the New York City venue until after the lawsuits were complete.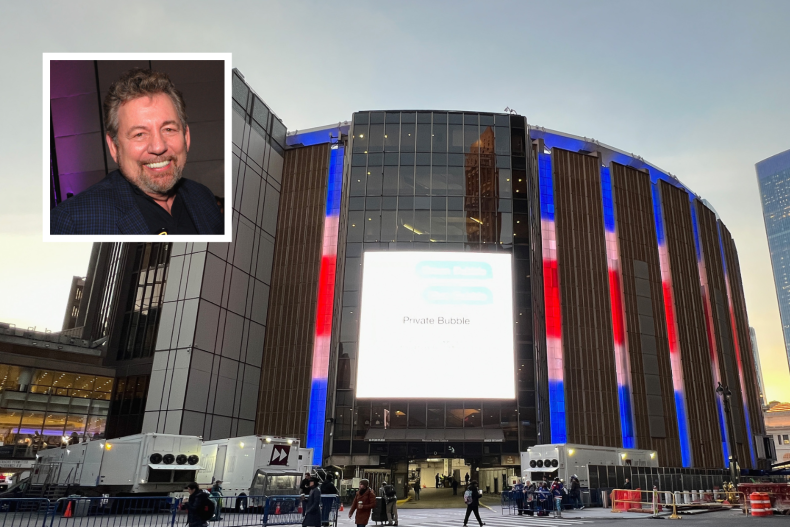 MSG used facial recognition software to recognize the lawyers and then prevent their entry. One lawyer filed a complaint with SLA, arguing that as part of MSG's liquor license agreement, the venue must allow the general public to enter. The lawyer said those involved in lawsuits against MSG are still considered members of the general public.
In response to the complaint, SLA issued a letter to MSG in December advising that if the conditions in the complaint were true, SLA might revoke the venue's liquor license in the future.
If MSG is found to be in breach of its liquor license, it could be fined up to $10,000 for each violation or lose its liquor license for up to two years, according to the New York Law Journal.
Dolan told WNYW that he had a plan to address the situation. He said he believed SLA issued the letter as a publicity stunt, so he plans to offer the publicity in a different way.
"I have a little surprise for them," Dolan said during the interview. "So, what we're going to do, is pick a night, maybe a Rangers game, and we're going to shut down all the liquor and alcohol in the building."
Dolan said since he's been sober for 29 years, not serving liquor won't bother him. At all the sites where alcohol is normally sold inside the venue, a flier will be displayed that advises fans if they want to drink at a game to call SLA CEO Sharif Kabir. The flier, which Dolan showed during his onscreen interview, includes Kabir's email and phone number.
"Tell him to stick to his knitting and what he's supposed to be doing and stop grandstanding me," Dolan said.
The SLA said all establishments licensed by the organization are expected to comply with the laws.
"After receiving a complaint, the State Liquor Authority followed standard procedure and issued a Letter of Advice explaining this business' obligation to keep their premises open to the public, as required by the Alcoholic Beverage Control Law," the SLA told Newsweek.
Dolan said although liquor sales are important, the venue doesn't make the majority of its money from alcohol.
"Take it away. People are still going to come to the games," he said. "We don't make all our money on alcohol."
Newsweek reached out to Madison Square Garden for comment.
Update 1/26/23, 3:53 p.m. ET: This story was updated with a statement from the State Liquor Authority.