'Dead by Daylight' Update: James Sunderland and Pyramid Head Blight Skin Revealed
Dead by Daylight has returned to Silent Hill for the second time, adding a new skin for Pyramid Head and finally bringing James Sunderland into the asymmetrical multiplayer game.
Dead by Daylight's first batch of Silent Hill themed DLC (licensed by Konami) was released in June 2020. This premium chapter introduced Midwich Elementary School as a claustrophobic location for online matches and Silent Hill 3's Cheryl Mason as a playable survivor.
However, the biggest draw was undoubtedly that the franchise's mascot, Pyramid Head, joined the killer roster, where he now sits alongside legendary horror villains like Freddy Krueger, Michael Myers and Leatherface.
Dead by Daylight has since moved on to other crossovers (most recently with the Hellraiser IP) but has intermittently added to its Silent Hill offering every now and then. For example, in September 2020 Cybil Bennett debuted as an alternative costume for Cheryl Mason.
Over a year later, there has now been yet another big update, just in time for Halloween. On this occasion, fans are being treated to a new "Blight" look for Pyramid Head, as well as a James Sunderland cosmetic option.
Pyramid Head Blight Outfit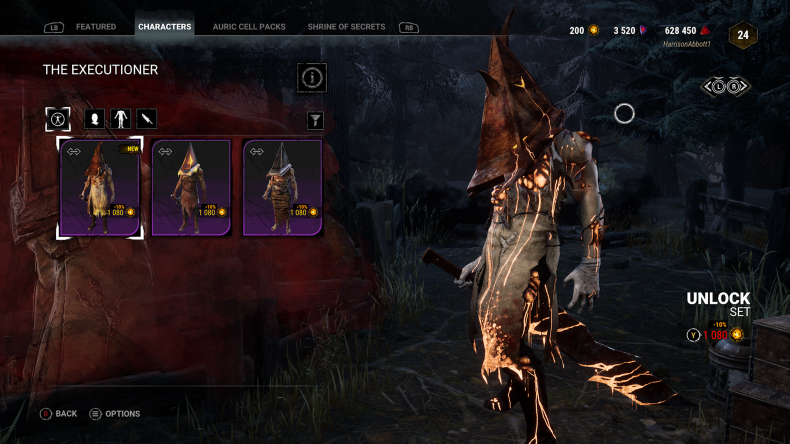 Pyramid Head (aka The Executioner) already had a couple of alternative costumes in Dead by Daylight, but his newest look is particularly gruesome.
Categorized as a "very rare" outfit, it sees the demonic entity consumed by pustules that are leaking orange sap. It is part of a collection of matching skins that have previously launched for other killers, including The Trapper, The Doctor and The Huntress. The basic idea is that each of these characters has been infected with a "putrid serum" that has caused them to mutate and go into a frenzy.
With 10 percent off at the time of writing, the Pyramid Head Blight outfit is going for 1,080 auric cells. For context, this equates to just a little under $10.
James Sunderland Skin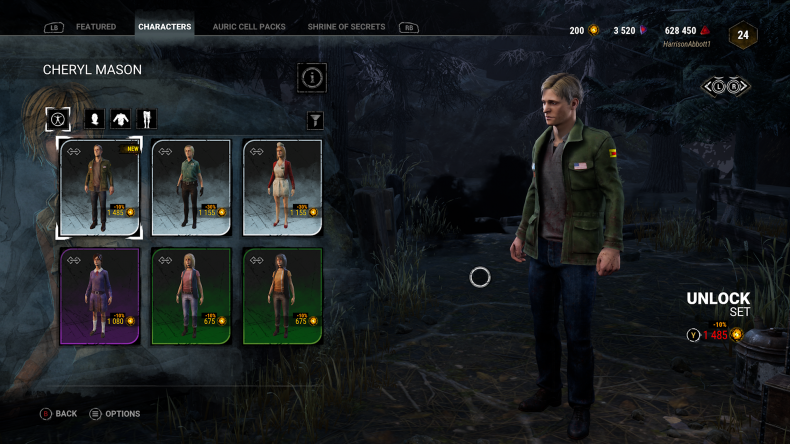 James Sunderland is a fan favorite, having featured as the protagonist of the critically-lauded Silent Hill 2 (a game that, alongside Dead by Daylight itself, appeared in our list of the scariest horror releases of all time).
While players will obviously be excited to play as this iconic hero, it is worth tempering your expectations ever so slightly. After all, James is not being marketed as a brand-new survivor and is instead just an alternative outfit for Cheryl Mason.
In other words, he does not have any unique abilities, perks or stats in Dead by Daylight and is purely a cosmetic item. The same thing applied for Alessa Gillespie and Lisa Garland when they were added to the game, as they too were released as just different permutations of Cheryl.
If you are still interested in picking up the James Sunderland skin, it is priced at 1,485 auric cells at the time of writing (again, this is reduced by 10 percent). It is hard to do an exact conversion, but this roughly translates to a cost of $14.
Speaking about the new content, Dead by Daylight's Product Store Manager Rose Li said: "As one of the original characters in the Silent Hill series, James Sunderland has been in the works for quite a long time. Things happen, deadlines shift to accommodate different content, and even though this was a release we had first envisioned for July, Halloween actual feels like the perfect moment to bring James into our game along with a grisly new look for Pyramid Head."
In related news, Dead by Daylight is currently in the middle of its Midnight Grove Halloween event. Among other things, this has introduced pumpkins that can be smashed for extra XP, a new survivor called Mikaela, and a variety of deals and discounts in the item store.
Dead by Daylight is available now on PC, Xbox One, Xbox Series S, Xbox Series X, PlayStation 4, PlayStation 5 and Nintendo Switch. It is also included as part of the Xbox Game Pass service.